For two days this week, a gathering of experts met at Harvard to discuss how to control the spread of tobacco — a lawful product that when used as directed kills half its consumers.
By the end of the conference, "Governance of Tobacco in the 21st Century," a few recommendations for international controls stood out: Consider public health a basic human right, and tobacco promotion a violation of that right. Embed tobacco governance in global trade agreements. Persuade corporations to stop regarding Big Tobacco as a legitimate corporate enterprise, worthy of all trade, legal, and social protections.
Also: Tax tobacco revenue at least $200 million a year, and use the money to implement governance. Finally, set a goal to reduce rates of adult smoking prevalence to less than 5 percent by 2048.
Each step is "a tiny ripple of hope," said conference emcee Gregory N. Connolly. "When these ripples gather, they will create a torrent that will take out the biggest tyrant" — a phrase he used for the tobacco industry. Connolly, who helped develop tobacco regulations two decades ago in Massachusetts, is the director of the Center for Global Tobacco Control at the Harvard School of Public Health (HSPH).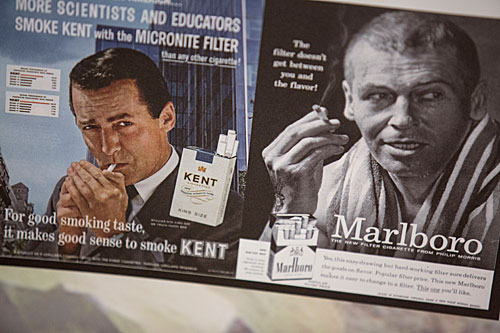 With 250 registrants from 35 countries, the conference at the Radcliffe Institute for Advanced Study drew experts from diverse vantage points, including public health, trade, finance, agriculture, and law. They included representatives from the World Health Organization (a conference co-sponsor, along with HSPH and the Harvard Global Health Institute), the International Monetary Fund, the World Bank, and the World Trade Organization.
"All the right people are in one room," said Harvard's Allan Brandt, a professor of the history of science and the Amalie Moses Kass Professor of the History of Medicine. His landmark cultural and social history, "The Cigarette Century," appeared in 2007.
The conference took place in the context of some grim realities.
During the 20th century, tobacco use across the world killed 100 million people. By the end of the 21st, if trends continue, the death toll from tobacco will reach 1 billion.
Then there's the economic cost of coping with tobacco-related diseases, projected at $47 trillion in the next two decades alone. The costs come from lost productivity, premature deaths, and the fact that smokers live in poor health for more years than non-smokers.
Tobacco consumption has a disproportionate effect on developing countries, where 82 percent of the world's 1.1 billion smokers live; where smoking rates rose 18 percent in the last decade (compared with a 10 percent decline in rich nations); and where by 2030 four of five tobacco-related deaths will occur.
Meanwhile, experts fear that global free trade agreements expand tobacco markets and give added legal protections to tobacco companies.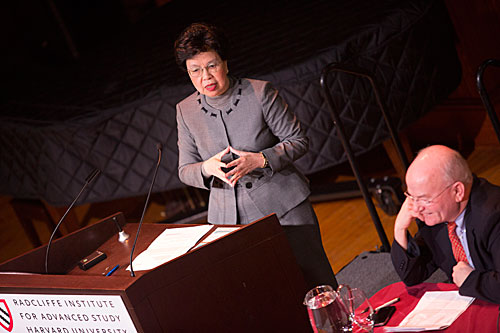 In the face of the "unprecedented carnage" caused by tobacco, said John Seffrin, CEO of the American Cancer Society, there are only two choices: outlaw the industry or heavily regulate it. In the conference's strongest words, he added, "We must begin to treat the industry as the unpunished, unrepentant criminals they are."
Seffrin joined a lineup of first-day speakers who together gave a picture of both the victories and the challenges of present-day governance efforts.
WHO Director-General Margaret Chan hailed two recent developments: Japan selling its tobacco holdings and Russian President Vladimir Putin proposing tough new tobacco legislation.
She also praised what could be the speediest and most efficient engine of tobacco governance: the Framework Convention on Tobacco Control (FCTC), adopted by the United Nations in 2005. It was the first international treaty negotiated by WHO, and the first global treaty "to regulate a product of mass consumption," she said. One hundred and seventy-six nations are party to the FCTC, accounting for 90 percent of the world's population.
Country by country, regulations to govern tobacco are working, said Nkosazana Dlamini-Zuma, chairperson of the African Union Commission. Laws have been in place in South Africa since 1993, and have helped reduce the prevalence of smoking — an activity that "has lost its glamour," she said.
Nicola Roxon, the former attorney general and minister of health in Australia, shared the story of her country's "plain packaging" law for tobacco products, which was passed in 2011 and survived a court challenge in 2012. The resulting cigarette packages are "fairly confronting," she said — they carry images of tumorous gums and the dying, set off by warnings in big type and on brown packages. "Cigarette packs are no longer alluring, exciting, or colorful."
Australia's plain packaging — a strategy about to be adopted in New Zealand as well — will test the limits of how far Big Tobacco will go in defending the "intellectual property" of its image, said Roxon, as well as how far non-tobacco companies will go in defending a corner of capitalism that kills so many people.
The issue will also test the strength of a strategy commonly used of companies whose products are limited by regulation — that such laws encourage a "nanny state" eager to move on to regulating fast food and other legal products.
About 6 million people die each year worldwide from tobacco-related causes, most of them in low-income countries. But European Union (EU) official Bernard Merkel reminded the assembly that about a third of the 500 million citizens in the EU's 27 nations still smoke. "It's not an easy business getting prevalence rates down," he said.
Current EU law limits product placement, TV ads, and sponsorship for tobacco products. But new legislation was proposed in December, and if passed would widen strictures, change packaging, ban additives, and confront the issue of electronic cigarettes. Then will come the legal challenges, said Merkel.
Good science about the efficacy of governance programs remains a necessity — and the results robustly show that regulations work, said economist and physician Jeffrey E. Harris, a smoking and health researcher at the Massachusetts Institute of Technology. He offered parallel data sets from programs in Massachusetts and Uruguay. In both places, following programs to govern tobacco, smoking rates declined. There is also some evidence to support related declines in rates of heart and respiratory disease.
All of these messages will get out to the world, said conference organizer Monique Bertic, project director at the Center for Global Tobacco Control. A Harvard monograph is expected by this summer, and will be widely distributed in print and electronically.