A group of Harvard computer science students is working to improve Tanzanian health, applying programming skills this month to help educate health care professionals and get patients to their appointments on time.
The students are part of a new fellowship program, Tech in the World, begun by a pair of junior computer science concentrators, Brandon Liu and Joshua Lee. The two traveled to Tanzania on Christmas Eve with some "founding fellows," junior Salvatore Rinchiera and senior Christian Anderson, as well as junior Mateus Falci, a visual and environmental studies concentrator, who videographed the experience.
Two weeks into their monthlong stay, the group had already completed two planned projects. The first was to create a better patient database for a partnering organization, the Association for Private Health Facilities, a network of more than 100 private health clinics. The second was to add functionality to software used by some of those clinics that allows them to better visualize data for things like the number of forms being submitted and the completeness of those forms.
The trip "has far exceeded expectations, definitely," Liu said.
The group has begun work on additional projects, including a system that sends text reminders of appointments to patients. Another project overhauls educational software created by a second partner, the Bienmoyo Foundation. The association uses the software to augment in-person health care training across the country, and contains information on diabetes, AIDS, and other health conditions.
"I've been thrilled at what they've done," said Lucien Wu, executive director of Bienmoyo Foundation and a 2010 Harvard graduate. "There's a lot of awareness among NGOs [nongovernmental organizations] that tech can be a big lever [in global health], but it's not their area of expertise."
The group is also reaching out to local computer science students. Twice a week, two members visit the Dar es Salaam Institute of Technology (DIT) to talk about computer science-related topics with students. On Monday, Lee and Rinchiera talked to about 40 students about computer security, an experience Rinchiera said was as valuable to him as the programming work.
"My perspective is that going to DIT is one of the cooler things we have going here," Rinchiera said. "We're trying to figure out how to extend that [relationship] after we leave."
Rinchiera, who was visiting Tanzania for the first time, said he has been both surprised and pleased with how quickly the programming work has proceeded.
"This has been a very cool experience for me," he said.
The students are staying in Dar es Salaam, Tanzania's largest city, about a 10-minute walk from the offices of the association, where they have been given space to work. They walk in each morning after breakfast, then split up to program, visit DIT, or travel to sites such as hospitals and health clinics to better understand how computers are used there. They reconvene over supper to talk about that day and prepare for the next. The visit is not all work, however, since trips are planned to the island of Zanzibar and to a game park, Liu said.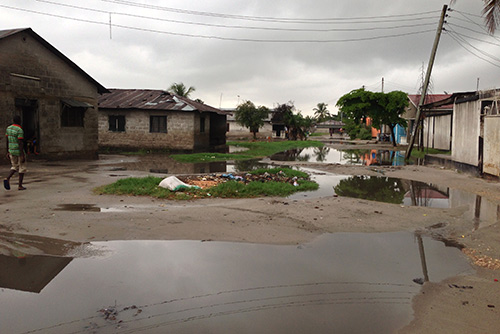 The fellowship resulted from an idea Liu had last summer while serving an internship in San Francisco and sharing an apartment with Lee. After reading about the global health work of Kolokotrones University Professor Paul Farmer in Haiti, Liu began thinking about how computer scientists might help to solve global health's daunting problems. He and Lee fleshed out the idea of a fellowship and sought funding over the fall.
"I wanted to apply tech skills to global health, but wanted a team with me," Liu said. "That's how it developed."
Liu said that the organizers selected the projects carefully to ensure that they could be completed in the limited time available and that, once completed, the host organization would use them.
Should the pilot program be successful, Liu and Lee see the Tech in the World fellows system spreading to other universities, perhaps in a chapter system. The program has been supported by several Harvard faculty members and by the Harvard Global Health Institute, which provided earlier training for the group.