Calling on Harvard students to "dedicate today to figuring out how to dedicate your lives," Joseph P. Kennedy III kicked off Wintersession's "Public Interested?" conference on Saturday, speaking about his life in public service and urging audience members to create their own careers by following their passions.
"There is no road map. It's an organic process," the Massachusetts congressman told the crowd of roughly 300 at the Science Center. "In public service, you're going to be working on problems that are as deeply entrenched as they are divisive. If there were an easy answer, somebody would have figured it out."
"It was incredibly motivating to start the day by hearing Congressman Kennedy talk about how our generation is needed in government to change it," said ImeIme Umana '14, president of the Student Advisory Board at the Institute of Politics.
"Public Interested?", a collaboration of the Center for Public Interest Careers, Institute of Politics, Office of Career Services, Office for Sustainability, Phillips Brooks House Association, Public Service Network, Undergraduate Council, and Harvard Alumni Association — coordinated by Gene Corbin, assistant dean of public service at Harvard College — brought together more than 225 undergraduates and 75 alumni. The day featured a panel discussion with recent alumni, Big Public Service Ideas talks by top leaders in the field, and workshops covering human rights and public interest law; public and global health; education and youth work; social entrepreneurship and nonprofit management and consulting; government, public policy, and military service; advocacy and organizing; international development; philanthropy and socially responsible investing; and green careers.
"The private sector tends to have more resources for recruiting, and students have indicated that they want more opportunities to explore public interest fields," said Corbin. "This conference was an amazing example of our public service and career advising offices and organizations collaborating to demonstrate that Harvard College is increasing support for students considering public interest work."
" 'Public Interested?' has provided a tremendous boost to our efforts to further establish pathways for students to pursue public interest work," said Travis Lovett, director of the Center for Public Interest Careers. "When you bring service-minded alumni and idealistic students together, amazing transformations take place."
Philip Lovejoy, the Harvard Alumni Association's deputy executive director, noted that alumni are an incredible resource for advising current students, and the workshops were meant to provide students "with a vast network of peers who can be an integral part of their lives, helping inform everything from their careers to their social paths."
Meredith Weenick '90, M.B.A. '02, used the session on politics to explain the interrelation between government and service.
"There are a lot of opportunities [within local government] to make a difference in the lives of a lot of people," said Weenick, the city of Boston's chief financial officer. "If you believe that democracy is what we do for each other, then you should be invested in making it work."
At the public and global health workshop, the panel included Cheryl Hamlin, M.P.H. '94, who talked about performing surgeries in Kenya, and Angelico Razon '08, M.P.H. '13, who discussed learning on the job at a clinic for the homeless in California.
"What I found really useful was that a lot of questions were about how to accomplish certain goals," such as internships and funding for independent projects, said Nikhil Mulani '14.
"I liked how free it was, how it was open to questions, and how we heard from a variety of people," said Ashley Ifeadike '15, who said she intends to explore work in health policy.
For other students, such as freshmen Harold Eyster and Jung Dong, both of whom attended the session on green careers, the workshops were an early step in career planning.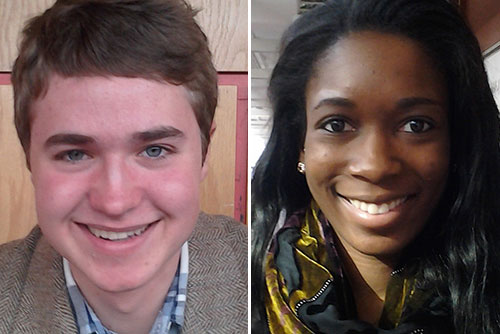 "It was very informative hearing from people in the field about what their hiring process is," said Eyster, while Jong said he appreciated advice about synthesizing relationships between business and government.
"Firsthand practical experience helps a lot," he said.
Kate Meakem '13, president of the Phillips Brooks House Association, reflected on the day, adding, "As a student highly involved in public service and hoping to pursue a career in public service, it was inspiring to spend a day with other students and alumni who share this passion."
For all the students considering a life in public service, Kennedy had some words of encouragement.
"Do it. Trust yourself. Challenge yourself. Dedicate yourself to the things that are worthwhile.
"The need for talented, dedicated public service workers will always overwhelm the supply," he said. "So you guys, hurry up."