Among the roughly 170 pieces of Islamic art that Norma Jean Calderwood and her husband left to Harvard, one in particular hints at the late collector's philosophy: an earthenware bowl bearing, in precise calligraphy, the epigram "Greed is a sign of poverty."
Calderwood was a patron of the arts and a renowned Boston philanthropist, and her legacy of generosity was as rich as her varied collection of Persian and Iranian objects, which spanned more than a millennium (from the ninth through the 19th century) and a variety of genres, from glazed ceramics to illustrated manuscripts to lacquered pen cases.
Now that little-seen collection, amassed by Calderwood over 30 years and donated by her and her husband, Stanford, to Harvard in 2002, will be put on public display.
"In Harmony: The Norma Jean Calderwood Collection of Islamic Art," which opens Thursday at the Harvard Art Museums/Arthur M. Sackler Museum, is both a celebration of Calderwood's championship of once-obscure work and a showcase of the vibrancy of Iranian culture over time.
"There's a real breadth here," said the exhibition's curator, Mary McWilliams, who holds the namesake chair as Norma Jean Calderwood Curator of Islamic and Later Indian Art. The collection contributes "a scope and depth that we didn't have before."
Among the fruits of Calderwood's labors are folios from illustrated manuscripts of famed medieval Persian poems, such as the "Shahnama" ("Book of Kings") and the "Khamsa" ("Quintet"); elegant ceramic bowls bearing both Islamic teachings and lines of Persian poetry; and single-page compositions such as "Young Dervish" by Riza Abbasi, the most influential artist of 17th-century Iran.
That the collection exists at all — and that it ended up in Harvard's care — is something of a fluke. Norma Jean and Stanford Calderwood, both Colorado natives, took to the Boston area, where they would later concentrate their philanthropy, as transplants. Norma Jean Calderwood, who died in 2006 at age 84, was a lifelong autodidact, completing her bachelor's degree at Boston University in her 40s before pursuing graduate studies in Islamic art at Harvard in the 1960s.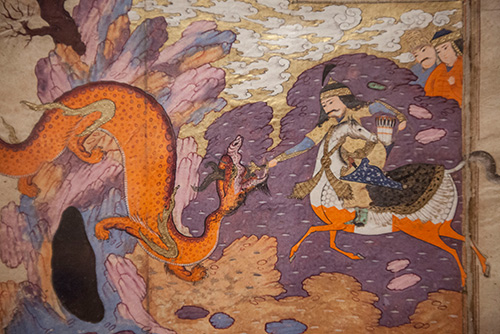 "No obvious factor emerges to suggest what might have motivated a middle-aged woman living in suburban Boston to immerse herself in an artistic tradition that was neither easily mastered nor at the time broadly popular," McWilliams writes in the exhibition's catalogue.
But immerse herself in the subject — and master it — Calderwood did. She went on to lecture at the Museum of Fine Arts and Boston College, and began amassing her collection in 1968, guided by the idea that the region's decorative and fine arts were worth studying on their own terms.
"Every comparison with the idea of art as the Western world conceives it should be thrown out, abandoned, and then it should be looked [at] with quite different eyes," Calderwood wrote in one of her lectures on Islamic art.
Perhaps it's fitting, then, that the Sackler exhibition marks the Harvard Art Museums' first use of augmented reality technology to enhance museumgoers' experience. Android, iPhone, and iPad users can download the mobile app Layar to snap photos of certain pieces in the exhibit that will take viewers directly to additional content, from an audio clip on how Islamic potters used color to a video demonstrating how a medieval dish for sweetmeats was likely constructed.
Few saw the collection during Calderwood's life. ("I think she was keenly aware that as a private collector she should keep the collection private and not try to boost its value" by publishing information about its contents, McWilliams said.) But with the production of the exhibition and catalog, McWilliams hopes that professors, researchers, and students can benefit from its unique contents.
David Roxburgh, Prince Alwaleed bin Talal Professor of Islamic Art History, said the exhibition can be a teaching tool.
"Before the Calderwood gift, we had some very nice pieces of ceramics that you could study, but the sheer variety and number of objects in this ceramics collection would allow you to do a seminar in Islamic ceramics, for example, beginning in the 10th century and going to the 17th," said Roxburgh, who contributed two essays to the exhibition's catalogue. "Before we had these objects, it was difficult to have a representative sample across these centuries and this region. I'm quite excited to use these materials for teaching."
"In Harmony: The Norma Jean Calderwood Collection of Islamic Art" is on view at the Arthur M. Sackler Museum, 485 Broadway, Cambridge, through June 1. To celebrate the opening, the museum will host a public reception and lecture, "Tables and Other Social Settings in Ninth-11th Century Eastern Iran," by Oya Pancaroğlu, associate professor of history at Boğaziçi University, on Wednesday from 6 to 8 p.m.