Volunteerism — not whether, but how best to give back — was at the forefront of the "Alumni Think Big — Big Public Service Ideas" conference session on Saturday, as eight Harvard graduates and one visiting practitioner presented their "Big Ideas That Will Change the World" at a Wintersession forum in the Science Center.
With advice that ranged from doing good by earning well to looking to Google to get what you need, the alumni sounded one other recurrent note: Don't be afraid to follow your passions.
Jarrett Barrios '90, the chief executive officer of the American Red Cross of Eastern Massachusetts, kicked off the colloquium by focusing on his organization's aim: increasing the numbers of volunteers and donations on which the Red Cross has always relied. He called the effort a "brand challenge" that the Red Cross is meeting with social media "to reach out to all of you to do what your parents did, which is help your neighbors."
To meet its goals, Barrios said the Red Cross is targeting younger and more diverse audiences with gambits such as its Zombie Apocalypse video game, which teaches players what to do in case of a hurricane or an earthquake, and its Flirting for Disaster barroom meet-ups — because "we're not teetotalers, for God's sake," Barrios said as the audience laughed.
Another nonprofit professional, Theresa M. Ellis, a Harvard Kennedy School Gleitsman Visiting Practitioner, agreed with Barrios that volunteerism is valuable — and on the rise. But, she added bluntly, the issues facing volunteers are more serious than ever, and "doing good is not enough."
"More people are at risk of going hungry in a country where there is no shortage of food. Kids in our schools, especially in communities of color, are at risk of not graduating. NASA tells us last year was the warmest on this planet," said Ellis, the founder of Common Impact, which connects skilled professionals with local nonprofits. "There is marker after marker that we have not made this world better."
Pointing out that "the problems we face are not going to be solved just by a company, just by a government, just by a nonprofit," Ellis proposed a four-point plan:
Ethical leadership able to cross sectors.
A systemic approach to problem solving.
An unwavering commitment to outcomes.
A vertically integrated approach to giving.
Other speakers built on Ellis' suggestions. Heidi Brooks, M.B.A. '03, offered what she called "a controversial proposition: In order to change the world, work for a company."
"If nonprofits are the soul, business is the heart that's pumping blood and energy through the organism," said Brooks, senior vice president and director of charitable giving at Citizens Bank. "Without companies there are no paychecks, government doesn't get the revenue, and nonprofits don't get the donations."
Brooks told the audience that joining the for-profit sector offered a chance to both make more money ("which you can then give to any organization you like") — while building skills that can be later applied to charitable benefit — and push community engagement from the inside.
"When good employees push, companies really listen, because they want to retain the best people," she said.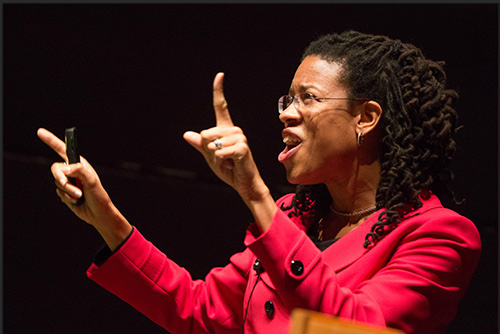 Jessica Hubbard '04, M.B.A. '09, the director of corporate social responsibility at Houghton Mifflin Harcourt, said that because involving companies in community issues creates value for both business and society, she believes that "every job should be a corporate responsibility job."
"This means no matter where your passion lies, you have the opportunity to change the world," said Hubbard. "I would encourage you to think creatively and ambitiously about your career choices."
One alumna who already had done that was Julia Silverman '10, M.B.A. candidate '14, a founder of Uncharted Play and to co-inventor of the sOccketball, which captures and stores the energy generated by soccer play and uses it as a power source in the poorest communities. The balls are distributed for free in resource-starved areas of Africa, where Silverman did her undergraduate research in social anthropology.
"People forget that some people don't have any power, let alone green power; it's a forgotten issue," she said. With no training in engineering, she learned what she needed by searching Google, making her takeaway on giving back: "You don't have to be an expert, you have to become the expert."
"I wanted to be a creator for the public sector, but you can be active in the private sector and still contribute," Silverman said. "Stay engaged, stay thirsty, and no matter where you end up, even if it's in the private sector working for change, keep learning."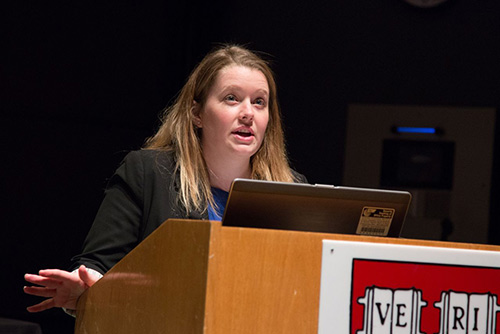 The forum's final speaker, Aaron Tanaka '04, brought the talk back to Ellis' call for systemic changes. The executive director of the Boston Workers Alliance, a grassroots organization focused on urban joblessness and social and economic justice, Tanaka said that after being raised amid high poverty, "When I got here I started to feel like I was in a predicament, being exposed to the wealth and entitlement that runs so deep at Harvard," while the kids he grew up with were experiencing a very different reality.
To assuage his guilt, he said, he started volunteering at a juvenile delinquent center, "because they were like my friends who didn't make good decisions, but still had value." That led to work at the American Friends Service Committee in Cambridge, a Nobel-winning Quaker organization devoted to social justice. There, he said he learned that the "the real way to become a leader is to take other people's leadership. The people who are experiencing the troubles we're trying to fight are the real experts."
"People have to be in a position to make decisions for themselves," Tanaka said. "We should be asking ourselves how we can leverage our privilege to not speak for other people, but create systems that allow others to stand up and fight for themselves."
"Alumni Think Big — Big Public Service Ideas" was moderated by Sonal Shah, former director of the Office of Social Innovation and Civic Participation in the White House and a fellow at the Institute of Politics during the fall semester. It was part of the daylong "Public Interested?" Wintersession conference, a collaboration of the Center for Public Interest Careers, Institute of Politics, Office of Career Services, Office for Sustainability, Phillips Brooks House Association, Public Service Network, Undergraduate Council, and the Harvard Alumni Association — coordinated by Gene Corbin, assistant dean of public service for Harvard College.