When new members of Congress head to the capital next month, a stagnant economy and stubborn unemployment numbers will be top priorities. But as two Harvard Business School (HBS) professors warned a group of incoming congressional freshmen on Thursday, it would be a big mistake to separate those concerns from the broader and increasingly urgent issue of America's waning competitiveness in the global world of business.
"Our problem is not so much what we've done but what we haven't done," Michael E. Porter, the Bishop William Lawrence University Professor, told the group of 47 gathered at Harvard Kennedy School for a crash course in major policy issues. "Other countries are very serious about driving improvements in competitiveness. … Part of our problem is that we're just not moving fast enough."
The presentation by Porter and Jan W. Rivkin, co-directors of the HBS-led U.S. Competitiveness Project, was one of more than a dozen organized by the Institute of Politics (IOP) for the Bipartisan Program for Newly Elected Members of Congress, which for 40 years has shepherded 20 classes of freshmen through its boot camp for policymakers. This year, 37 Democrats and 10 Republicans descended on Harvard for the four-day program, their schedules packed with everything from foreign-policy discussions to workshops on building relationships in Washington to a Fenway Park outing.
The talk, moderated by the IOP fellow and Fortune columnist Nina Easton, was also an opportunity for Porter and Rivkin to spread the word of the Competitiveness Project's findings beyond its usual audience of business leaders. HBS launched the initiative last year to promote research on American competitiveness and to raise awareness of the issue in the business, academic, and policymaking communities.
Many of the project's findings were based on a global survey of 10,000 HBS alumni, published in Harvard Business Review in March. Porter and Rivkin found that although the United States still maintains some crucial strengths in the eyes of business leaders — top-notch universities, a culture that fosters entrepreneurship and innovation — the country is no longer seen as the go-to location for companies looking to build up business.
And contrary to popular belief, companies aren't always shipping jobs overseas to pursue cheap labor. The availability of skilled workers was often cited as a reason to relocate outside the United States.
Porter was quick to stress that competitiveness means more than allowing business to prosper. To be competitive, companies must be able to compete in international markets while helping to maintain and raise Americans' living standards — not by lowering them.
"Republicans are traditionally worried about the company part; Democrats are traditionally worried about the worker part," Porter said. "But those two things are inextricably tied."
If lawmakers focus purely on job creation rather than the broader issue of competitiveness, "you tend to create jobs where it's easy to create jobs," said Rivkin, the Bruce V. Rauner Professor of Business Administration. Infrastructure jobs and service-sector jobs in industries such as health care and retail aren't enough to keep the U.S. economy robust in the long term, he said. Research and development or manufacturing jobs, on the other hand, can help increase America's overall productivity and keep the country competitive in a global economy.
"Jobs are the outcome of a competitive economy," Rivkin said. "If we try to solve the jobs problem separately we tend to do things that are not very sensible, rather than deal with the underlying fundamentals."
So what should lawmakers do first? According to Porter and Rivkin, a sustainable federal budget would go a long way toward creating a perception of a stable environment for business. They also advised easing immigration restrictions on the highly skilled foreign workers — many trained at American universities — companies need. Simplifying America's notoriously byzantine corporate tax code and regulatory processes would also make the United States a more attractive place to do business, they added.
"Business leaders have pursued their own self-interest very narrowly and have been very effective" in making the tax code more complicated, Rivkin said, acknowledging the paradox created by the slow buildup of tax loopholes for which corporations themselves lobbied.
Competitiveness is a complex problem with deep roots, Rivkin and Porter said. But even signaling bipartisan agreement to tackle the issue would help restore Americans' faith in Congress. Business leaders in particular have little confidence in Washington: In the HBS survey, the American political system was ranked the worst factor in the U.S. business environment.
"I believe a little bit of progress would signal to so many people that we can make headway on these problems," Rivkin said.
Echoing his partner, Porter urged the freshmen to help change the relationship between business and government leaders.
"If we have those two sides at war, everybody loses," Porter said.
It was a tall order, but at least one congressman came away heartened.
"We've heard a lot of doom and gloom over the last couple of days," said Tom Rice, a Republican from South Carolina. "You came in here with solutions, which is a wonderful prospect."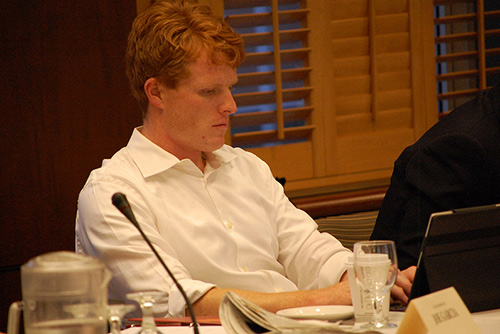 Visit the Harvard Kennedy School website to listen to podcasts of what other incoming freshman members of the 113th Congress have to say.