Perhaps 60,000 years ago, the ancestors of modern humans began a slow migration out of Africa, researchers say. Over the generations, they wandered and multiplied, moving into Europe, Asia, and the Americas. About 12,000 years ago, they reached the tip of South America. During that long journey, they became the humans of today.
Next month, Pulitzer Prize-winning journalist and National Geographic Fellow Paul Salopek will take the first of 30 million footsteps in a planned 22,000-mile trip to follow the path of that first massive human migration. In a project incubated at Harvard earlier this year, when he was the inaugural visiting Nieman Fellow, Salopek plans to spend seven years walking from the Great Rift Valley in Ethiopia into the Middle East, across Asia, and eventually from Alaska to Patagonia. Salopek will report on what he sees, hears, and feels in what he calls "slow journalism."
"It's going to press the boundaries of communicating in a world where there is just too much information and not enough meaning," Salopek says on the Out of Eden project website, which launched Thursday.
Salopek returned to Harvard that same day to explain Out of Eden, its lofty aims, and its safety protocols, and to acknowledge that while he knows where he will end up — at a spectacular beach in Tierra del Fuego at the tip of South America — he's not sure just how he will get there. That, he says, is part of the journey.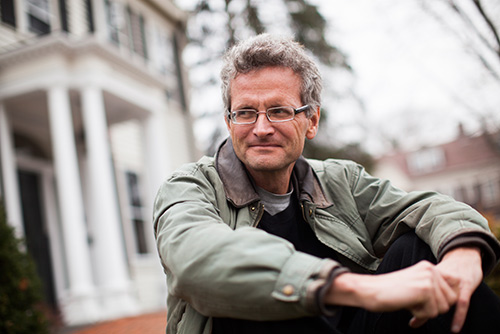 "This walk is about the poetry of hidden connections that I had missed as a writer and foreign correspondent," he told a packed audience at the Barker Center.
The proverbial mild-mannered reporter ­— slender, bespectacled, with silver-toned hair — Salopek has won accolades for his reporting in Africa, Central Asia, Latin America, and the Middle East. His new project involves the latest informational technology, from video camera to satellite phone, Web posts, and blogging, tied to the most basic of human traits, walking and storytelling
But Out of Eden will be far from a "how I spent my summer vacation" blog, many examples of which clog the Web. Salopek plans to post on a delayed basis, writing well-researched, thoughtful stories. He will produce at least one major story per year for National Geographic, which is a partner in the project along with Harvard's Peabody Museum of Archaeology and Ethnology, the Graduate School of Education, the MIT Center for Civic Media, Chicago's Field Museum, and others.
At various junctures, he will take what he calls "core samples": photos, videos, and audio recordings of the landscape and people. MapBox, based in Washington, D.C., and the Knight Science Journalism Fellowship program at MIT will geo-code elements of the walk. Salopek hopes to build a multimedia mosaic of humanity across several continents, 39 borders, dozens of languages, and scores of ethnic groups. This will "connect the dots between the stories that I used to cover episodically as a foreign correspondent and string them into one long narrative."
At the Barker Center, he revealed details of his quest, from the contents of his backpack (as little as possible) to his thoughts about personal risks. He will often walk along with other nomadic people, and he does not view the project as a physical endurance test or extreme sport. ("I'm more into extreme storytelling.")
He addressed the first unspoken question: "Why walk?" Why not hail a cab, take a bus, catch a train, or get a driver?
"I think walking is one of the fundamental heartbeats of good storytelling," he said. "It's slowing down enough to absorb a story through your skin."
Our hunting-gathering ancestors routinely walked 3,200 to 3,500 miles a year, he explained. "That is what we are designed to do," he said, looking sternly at his seated audience. "Sitting down is an extreme sport. It takes a real toll on your body."
The other reason for walking involves storytelling. "I, as a foreign correspondent, began to wonder what I was missing by covering the world so intensively," that is, jumping from one story to another.
Salopek has won two Pulitzer Prizes, a George Polk Award, a National Press Club award, an Overseas Press Club award, and a Daniel Pearl Award for Courage and Integrity in Journalism. Yet, "I began to wonder if the stories we drive through, fly over, or chatter through, or ignore, or do not have the time and patience to slow down and listen to, are actually the more important stories."
He expects to write about climate change, resources conflict, cultural endurance, economics, and political change, themes that he has covered before. But now he will see them at ground level. Showing a revealing slide of a nomadic Ethiopian who snapped a photo with his cellphone just as Salopek clicked his camera, he said he will also explore journalism in a digital world.
"So this is not just about a walk into the past but a walk into our collective future," he said.
Ann Marie Lipinski, curator of the Nieman Foundation for Journalism at Harvard, questioned Salopek on how he would deal with being detached from the media world, even as he carries devices that could instantly connect him to information. "How are you going to think about what you need to know that's not in the moment?" she asked.
Salopek said he has pondered, "How much do I be a foreign correspondent, as opposed to a walking storyteller? The honest answer is: I don't know. I think it will evolve."