A musical visionary took the stage at the Radcliffe gymnasium on Monday. His innovations, said Harvard Professor and Radcliffe Institute for Advanced Study Fellow Ingrid Monson, are on a par with those of jazz legends Charlie Parker and Miles Davis. But he doesn't play the trumpet or saxophone; he plays the balafon.
Neba Solo is helping to reframe both music and culture in his native Mali in West Africa. Solo "has had an enormous influence on the community of musicians around [him]. He is that kind of leader in what he does," said Monson. "He both comes from a tradition, but he has challenged the borders of the tradition."
Monson, Quincy Jones Professor of African-American Music, is using her fellowship year to write the book "Kenedougou Visions," based on the life of Solo, renowned for creating an entirely new type of balafon and an original musical style, as well as for addressing social and cultural issues with his poignant and often searing lyrics.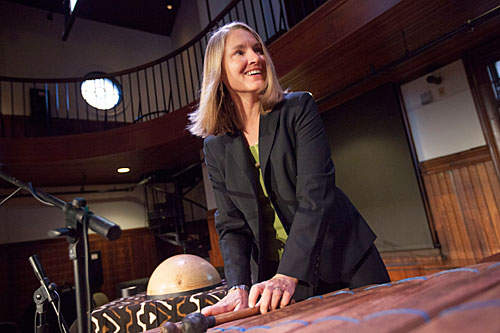 The balafon is Solo's tuned percussion instrument. Made of wood, it resembles a xylophone and includes a series of hollowed-out gourds that are attached to its long, narrow keys. The traditional balafon is based on a heptatonic scale, but Solo has adapted the instrument to a pentatonic scale — five notes per octave instead of the typical seven. The reconfiguration, said Monson, was inspired by reggae.
At 18, Solo was mesmerized by reggae singer Alpha Blondy's "Jerusalem." Drawn to its pulsing bass lines, the young artist had an epiphany, one that involved the creation of a new balafon with more bass notes in order to produce "more prominent bass lines."
Soundbytes: Neba Solo: Music for Peace in Mali
Neba Solo presents a concert of his virtuosic xylophone music and his socially conscious lyrics. Playing with his brother, Siaka Traoré, Neba Solo debuts his most recent composition, which calls for peace in Mali. In his lyrics, one can trace the history of the political and social problems that led to the collapse of the Malian government in March 2012.
The change has led to a style that allows a balafon player more freedom to play a bass line with one hand while improvising with the other, as well as the introduction of complex overlapping parts. "The development of a balafon style that includes a series of interlocking balafon parts is his signature contribution to the balafon," said Monson. "What it represents is a thorough modernization, a jazzing up, if you will, of traditional Senufo balafon style." (In addition, Solo also changed the traditional tuning of the balafon so it can fit more closely with other Malian instruments.)
Solo's work also reflects deep cultural values in Senufo culture, Monson said. The artist hails from a small village largely dependent on agriculture. His song "The Hero Cultivator" depicts the frequent hoeing competitions that honor men for their "intense physical strength and endurance." Much agricultural labor is still done by hand with hoes, said Monson. And because the survival of such communities has been historically based on the success of its crops, "nothing is more respected than being a skilled and strong farmer."
Solo's work also addresses social and political issues past and present. His lyrics focus on issues such as violence against women and corruption.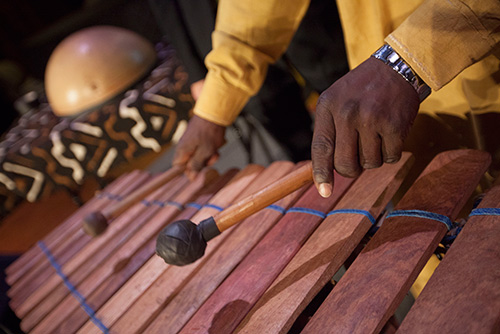 "The exhorting quality of the lyrics is something that pervades music in this part of the world … singers ask people to do the right thing," said Monson. She offered Solo's song "Janfa" (2001) as an example: "Let's not betray each other, Policemen and customs agents and guards, Let's not betray each other."
When Monson began her project, she intended to travel to Mali to study Solo and his technique, but a political coup in March left the country unstable. Instead, she pitched the idea of bringing Solo to Harvard. With the help of the Radcliffe Institute's Visiting Scholars program, she was able to do just that. On Monday Solo joined Monson onstage to answer questions from the crowd following her presentation. He later gave an hourlong performance with his brother, Siaka Traoré.
In responding to a question from the audience about whether his songs — such as 2012's "Jenkafo" (Reunite Us), which includes the lyrics "Don't kill the children; they don't do any wrong" — can have an impact on the violence in Mali, Solo was adamant.
"Of course," he replied in French, citing an earlier song that encouraged people to have their children vaccinated. Parents later thanked him, he said, for helping them realize the importance of vaccinations in keeping their children safe.
"Music," said Solo, "can change things."