Collaboration and cooperation were watchwords Thursday as Harvard celebrated its deep ties with Chile during the launch of a two-day seminar on that nation's future. Participants hailed the contributions of Chilean scholars who've visited Cambridge, and the work of hundreds of Harvard faculty and students who've traveled south to learn and teach.
Harvard President Drew Faust introduced the event, saying it represents what she's trying to achieve at Harvard, with scholars thinking and cooperating across both disciplinary and geographical boundaries. A broad focus, she said, is an important way to bring new information and different approaches to bear on complex problems.
Faust, who visited Santiago in 2011, said she witnessed there the global engagement of students and faculty who worked with local scholars on projects ranging from climate change to preschool education to earthquake recovery.
The seminar, at the Center for Government and International Studies' Tsai Auditorium, was organized by the David Rockefeller Center for Latin American Studies (DRCLAS) and the Andronico Luksic Visiting Scholars program. Speakers and panelists looked at the future of Chilean universities, environmental change, global economics, business, and politics.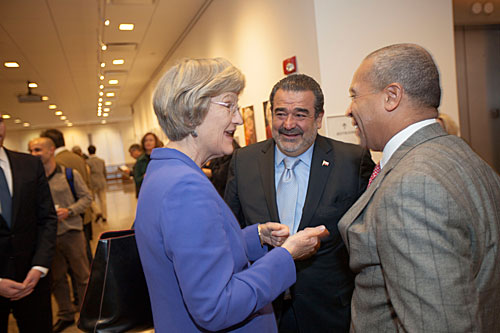 A decade ago the Center for Latin American Studies opened an office in Santiago, the first University-wide office in a foreign nation. It has provided support and information to some 110 faculty members and 843 students, whose pursuits have included internships in Chile and nearby nations, study-abroad opportunities, and research.
The Luksic Visiting Scholars program was also launched 10 years ago, through a gift by Andronico Luksic, the vice chairman of the Banco de Chile. Since then, 15 Chilean scholars have come to Harvard to pursue studies across a range of fields — business, politics, science, social science, and the humanities.
Of the visiting scholars program and the University's other Chile-based initiatives, Merilee Grindle, the Mason Professor of International Development at the Harvard Kennedy School and DRCLAS director, said: "We can't help but celebrate these 10 years of such … successful activities."
Luksic, whom Faust described as "deeply committed to improving the world through education and knowledge," said Thursday that he hoped the event would encourage thought on how Chile can meet its challenges and achieve a more equitable society, progress that he said must be driven by intellectual, rather than natural, resources. In doing so, he said, there may be lessons for other nations hoping to thrive in this globalized age.
"To attain the full social and economic benefit of development — and sustain the unique position Chile has earned for itself in the world — the intellectual environment, the educational environment, and the opportunities that exist in both … must continue to exist and diversify," Luksic said.
"Chile is not … the only place in the world concerned about how its citizens adapt to a changing global scenario. Harvard is facing the same challenges. The state of Massachusetts is facing the same challenges. This mutual need to adapt to the dynamics of change brings us to consider the role of education and realize the value of a robust relationship between Massachusetts, Harvard, and Chile," he said.
Gov. Deval Patrick, whose administration has established an economic relationship with Chile in clean energy, biotechnology, and education, was among the opening speakers. He said that although Massachusetts' brainpower makes it uniquely positioned to compete in the global knowledge economy, knowledge is nothing without the desire to collaborate with others and reach out to the world around.
"I believe the winners in today's global economy will be those who've learned to look out and collaborate," Patrick said.
During a panel discussion Thursday morning, leaders from several Chilean universities discussed concerns and possible solutions. Issues included a lack of Ph.D.-holders on faculties, a lack of faculty research, and difficulties integrating students from poor backgrounds who might not be prepared for university studies.