Entrepreneurs-in-training from across the University gathered at the Harvard Innovation Lab (i-lab) last weekend for the second annual StartUp Scramble, a mad-dash affair designed to take their business ideas from concept to polished pitch in just 48 hours.
The plan was straightforward. Stick more than 60 students in a room for a couple of days — along with a never-ending supply of coffee and an impressive number of Boloco burritos — and you just might inspire the next big startup success.
The end results "showcase the bright ideas that come from putting Harvard students together for a weekend of intensive innovation work," said Gordon Jones, the i-lab's managing director.
Though some of the participants, who hailed from 12 of Harvard's Schools, arrived Friday evening with dreams of Zuckerbergian glory, most were there to connect with like-minded students, to learn more about the startup scene, and to push themselves to finish what amounted to a creative marathon.
"There's a natural attrition rate," said the weekend's emcee, Stephen Douglass, whose company Young Impact hosts scrambles at colleges across the country. "It's not designed to get everyone through."
The i-lab's first scramble, held last fall, drew more than 100 participants from around Boston. This year, participation was limited to Harvard students in the hopes of building awareness among the University community, said Neal Doyle, i-lab operations manager.
"One of the goals is to get students from around the University together," Doyle said. "But this event also introduces students to the i-lab and its resources."
The jam-packed scramble schedule began with a welcome dinner and a frenzied pitch session that could be likened to speed dating. Students had a minute to toss out an idea to the crowd, no matter how outlandish. (Some of the braver and more prolific pitchers went before the group five or six times.) Once the ideas were heard, students shopped around to find the project they liked best. Ultimately, 16 teams were formed.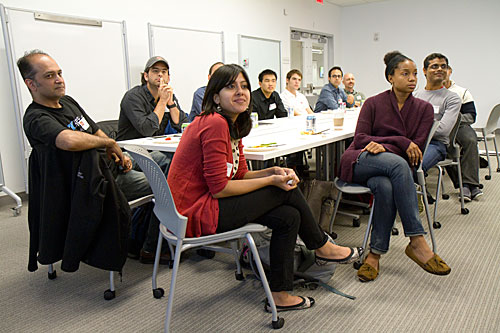 The resulting projects — which spanned social enterprise, mobile technology, and health and science — bore a distinctly interdisciplinary touch, which didn't surprise Douglass. The next generation of entrepreneurs is less likely to pigeonhole themselves as business moguls or do-gooders, he said.
"There's been this blurring between addressing meaningful social ills and finding the next big thing," Douglass said. "This is a great opportunity for students to find out where that intersection is for themselves."
In between planning, prototyping, and refining their ventures, students met with coaches and heard from experts, including Walter Somol, director of community outreach at the Microsoft NERD Center, and Harvard Business School student Ryan Allis, founder of the online marketing company iContact. They also received feedback on their particular skills from Talent Analytics Corp., a company that offers what Douglass calls the "Myers-Briggs for entrepreneurial students."
It all made for late nights — not that the students minded.
"The ability to have complete ownership over a project is what keeps you here 'til 1 a.m.," said Graham North, a Harvard Graduate School of Education (HGSE) student who was working on an idea for a social Web platform for millennials seeking life and career guidance.
Late Sunday afternoon, the 16 groups gathered to present their ideas to a panel of judges. Though most were a few hours short on sleep (and, one lamented, a few pounds heavier from their junk-food fuel), the room buzzed.
"Congratulations if you're sitting here getting ready to pitch," Douglass told the groups.
Ventures ranged from an easy system for tracking expired vaccines in the Third World to a website that would pair gift-givers seeking ideas with inexpensive personal shoppers to a travel-focused social network that would combine "the best of Twitter and Pinterest."
Code Red, the brainchild of College sophomore Olenka Polak, drew both laughs and interest. Her idea? A mobile app that allows women caught in a "periodic emergency" to find nearby tampon vending machines and to send out red-alert messages to other app users in the area. The Code Red team, which already had a mockup of its product, hopes to partner with tampon companies to provide rewards to users who "helped a sister in need," and is already in talks to pilot the app on Harvard's campus.
"I live and breathe this stuff," said Polak, who has residential space in the i-lab. Before she found the i-lab, she said, "I could never put a name to what I loved."
Polak's teammates seemed more excited by the possibility of using the app as a vehicle to deliver public health information to women (for example, creating an automatic phone reminder for women to change their tampons, thus lessening their risk for toxic shock syndrome).
"I'm a serial student, and sometimes I feel really disconnected being in the classroom all the time," said Code Red team member Isha Agarwal, a joint-degree candidate at Harvard Medical School (HMS) and the Harvard School of Public Health (HSPH). "This is a way to feel like you're making a difference."
James Cronican, a doctoral student in chemical biology and Agarwal's boyfriend, agreed.
"In science, it takes 10 to 15 years to bring something to the market," Cronican said. "It's cool to, in a weekend, think of a project that I can launch next week."