More than half a century after John F. Kennedy dismissed the role that his Catholic faith would play when he was elected president, today's candidates for the nation's highest executive office still have to navigate the electoral implications of religion.
In a talk sponsored by Harvard Divinity School (HDS), four religious scholars took up the question of "Religion and the Election: Does it Matter?"
The panelists suggested that while the faith of any individual candidate seems less important now to the electorate, Americans remain attracted to candidates whose values mesh with their own views, which are largely informed by specific religious traditions. Religion can help to shed light on important election issues, the panelists agreed, but a couple of them worried that religion can also be a means of defining voters too narrowly.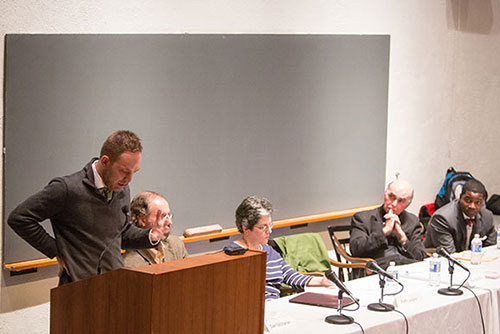 Religion and election issues
For panelist J. Bryan Hehir, politics and religion "certainly should be" connected in domestic policy, foreign policy, and health care. Those issues are part of the secular debate, he said, but should also be discussed in "religious moral terms."
Concern for the poor, a tenet of the Catholic Church that focuses on the welfare of society's powerless, is useful when thinking about debt reduction and fiscal policy, said Hehir. The same principle is helpful in foreign policy and in nonproliferation, an issue "inherently discriminatory" when viewed through an ethical lens. "We've got to deal with the question, in the wider perspective of the world," said Hehir, the Parker Gilbert Montgomery Professor of the Practice of Religion and Public Life at Harvard Kennedy School, "of how to reduce the privileges that come with nuclear weapons."
Religion can also offer a multidimensional perspective on health care, he said, including the "social justice" question of medical coverage in the United States.
A Jewish perspective
The nation's Jewish population is also a cultural community drawn together around common concerns, said Boston College Theology Professor Ruth Langer. Unsurprisingly, its top concern is Israel. According to Langer, Jewish voters in the United States want a candidate who will support that nation and a viable peace process. They also want someone well-versed in the nuances of international affairs.
Over the past four years, many in the Jewish community have developed "deep concerns" about President Barack Obama's level of understanding of the political and emotional complexities of the region, said Langer.
Mormon diversity
Mitt Romney's candidacy and a hit Broadway musical have brought Mormonism into the spotlight, both in the election and in popular culture. Such exposure has shown a diversity among Mormons, one that could have political implications, said Max Perry Mueller, a Ph.D. candidate at HDS and associate editor of the online news journal Religion & Politics.
While a recent Pew Research Center poll said that 74 percent of Mormons are leaning toward voting Republican, Mueller painted a more diverse political and ideological picture of the members of the Mormon Church, one that includes subsets like Mormons for Obama.
Defining evangelicals
According to another scholar, evangelicals are also diverse. Jonathan Walton, Plummer Professor of Christian Morals, Pusey Minister in the Memorial Church, and professor of religion and society at HDS, deconstructed the popular belief that evangelicals are largely white, conservative, and middle class.
Instead, the term, argued Walton, includes those to the far right concerned with Christian Reconstructionism, progressives on the left whose evangelical tradition is tied closely to social justice, and many people in between who defy easy classification.
"In 2006, 38 percent of Americans self-identified as evangelicals, yet when measured against the nine-point criteria derived from the belief statement of the National Association of Evangelicals, only 8 percent would qualify as evangelicals."
Those evangelicals, said Walton, are "less likely to be married, they have lower household incomes, they are less Southern, they are less conservative, they are less Republican, and they are less white.
"When one considers all of these factors," he said, "does the evangelical vote really matter at all? Or is it just something created by the infotainment news cycle to be a nice story about the ways evangelicals impact national elections as long as we define them in a particular sort of way?"