When thousands of men and women convened in London for the opening of the Games of the XXX Olympiad, some had a good shot at medals, and others were simply happy for the chance to represent their country on the world's biggest sporting stage. (Continued below)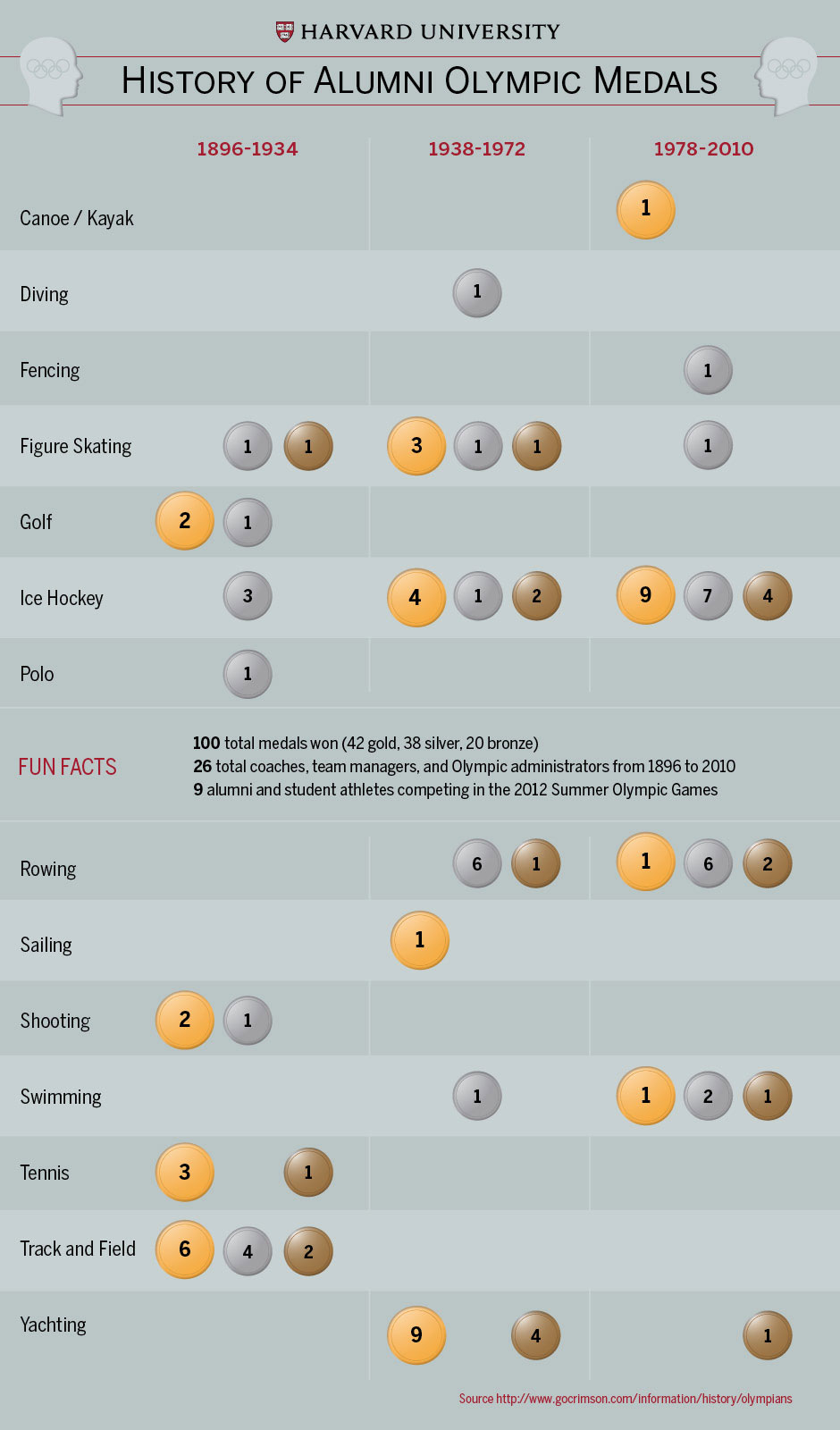 Among the competitors were nine athletes with Harvard ties, and one Harvard coach. Together they continued the University's long connection to the Olympics, a connection that began in 1896 when seven then and future Harvard men participating in events in track and field and shooting took home 12 medals, including eight gold. Since then, Harvard has been represented at every Olympic Games, with a total of 223 participants (athletes, coaches, and administrators) representing 14 countries and 344 events.
Homecoming
For the only current Harvard athlete at this year's games, the competition has special meaning. Six-foot-four-inch Temi Fagbenle '15 was on familiar ground as she competed as a forward with Great Britain's women's basketball team, though her team did not win.
Fagbenle, a Londoner, preferred tennis in her early years and harbored dreams of becoming the next Venus Williams. But at 14 she traded her racket for a basketball.
Stay updated
London Calling: Harvard at the 2012 Olympics
Crimson could turn to gold for nine alumni and student athletes competing in the 2012 Summer Olympics in London.
London Olympics
Official London website, complete with schedules, results, news, and photos.
Harvard Olympians
Harvard Athletics' GoCrimson website offers a look back, with updates.
Though slow to warm to the new sport, "I always had that fighting passion, and I've always wanted to win, and so I just carried on," she said. "And it happens that I have gotten better."
Better indeed. Fagbenle was good enough to make Great Britain's Olympic roster of 12.
"I was surprised when I was listed in the list of 20 players; it was a great honor, and then I made the 18 cuts, which meant I got to attend training camp. … It's just been fantastic. Really, I am just really taking it all in my stride and trying to perform to the best of my abilities each day and it's gone really well," Fagbenle said earlier this year, before she had cleared the final cut.
Her hard work has paid off.
Proud coach
Harvard rowing coach Harry Parker has lived the Olympic experience on and off the water. Parker was an Olympic rower 52 years ago; from 1964 until 1992, he regularly coached U.S. Olympic crews. Six of his former oarsmen competed in the last two Olympic Games, and this year four products of Parker's program, representing Australia, Canada, and the United States, will compete in London.
"I think Harvard has had, if not the most, very close to the most, former oarsmen on the Olympic team than any other university," said Parker. "We are proud of that fact, and proud that it continues."
For Parker, competing in Rome in 1960, where he rowed to a fifth-place finish in the single, was "an eye-popping experience." He recalled the excitement of his own event, the thrill of standing side by side with elite athletes from around the world, and the fun of watching other Olympians compete.
"I had never been to a real, big-time soccer game at that point … and the United States basketball team was composed of players like Oscar Robertson, Jerry West, John Havlicek, all future NBA stars. But this is when they were in college as undergraduates. That was quite impressive."
Going the distance
One Harvard alumnus was in the water for a punishing two-hour race against the best distance swimmers in the world, supported by his longtime coach. Alex Meyer '10, who swam at Harvard, has made a big splash in the sport of open-water swimming, a grueling type of aquatic marathon. Meyer, the former 25-km world champion in the sport, was the only U.S. man to compete in the 10-km open-water race at Hyde Park's Serpentine Lake. Guidance, and cheering, came from Tim Murphy, swimming and diving coach at Harvard.
Murphy coached Meyer while he was at Harvard and for two years has helped train him for his Olympic run, working with him at Blodgett Pool and nearby Walden Pond, a popular spot for triathletes and distance swimmers.
"When he swam for Harvard … he was always really competitive," said Murphy. "He really enjoyed the training aspect; the longer the race, the better he was. You take the walls out, you put in some strategy, moving in and out, accelerating, all the dynamics of [open-water swimming], it just was a real good fit."
The young swimmer has the right mindset for a challenge that requires almost superhuman stamina, Murphy said. Meyer made the U.S. open-water Olympic team last July. Murphy was named the team's coach two months later.
"It's certainly a tremendous honor to have USA on your back," said Murphy. "I have been to most of the international competitions, but the Olympics is not one I have been to on staff, so it's a real thrill for me. … More importantly, I get to work with Alex. … From a coaching standpoint you want to be there to prepare your athletes."
For details on how Harvard's athletes fared at the games, visit here.