Not every day do you see an aspiring physicist or applied mathematician producing a play, but at Harvard University, it could be considered the norm.
Harvard-Radcliffe Summer Theatre (HRST) welcomes Harvard undergraduates of all ages and majors to participate in its summer repertory company. Established in 1980, it functions under the vast umbrella of the 104-year-old Harvard-Radcliffe Drama Club, the official organization devoted to operating Harvard's on-campus theater program.
HRST is self-supporting and student-run, with professional ties to the American Repertory Theater (A.R.T.). Every HRST production is performed at A.R.T.'s adaptable black-box theater, called the Loeb Experimental Theater (the "Ex"). And although A.R.T.'s faculty are available to aid students, the HRST undergrads like having the creative freedom to produce, direct, costume, choreograph, and star in performances all on their own.
Rising sophomore Aaron Graham-Horowitz, a 19-year-old producer and program director for this season's HRST plays, prefers this hands-off approach.
"HRST is a great place if you want to personally get involved in producing and directing," Graham-Horowitz says, "because in other schools, that may be undertaken by faculty. It's nice for me, too, since it allows me to stay involved with theater without having to box myself in by majoring in it."
The 30 Harvard students participating in the 2012 HRST program have been collaborating on three plays since mid-May. Anyone cast in one show holds one or two smaller roles in the other summer productions. Students share the duties of set and light design, technical directing, sound staging, and prop making.
But the hard work pays off. Through a long-established agreement with Harvard University, all participating HRST students receive on-campus summer housing.
"Because HRST pays for housing for everyone, we try to keep the casts small," Graham-Horowitz says. "Everyone puts in a lot of work for this to happen. No one has minor positions. We have prop and costume designers working on that for all three shows, so it adds up. We keep everyone busy."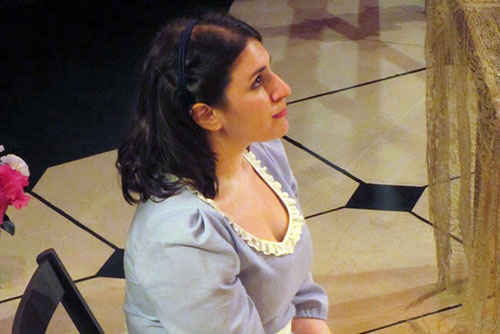 And everyone has definitely been busy presenting this year's three HRST plays: "Bug," "Emma," and "You're a Good Man, Charlie Brown." HRST customarily produces dramas and comedies, adaptations and classics, musicals and straight plays. In the past, HRST has tackled Shakespeare and accepted student-written works. The company tries to avoid anything too heavy, and generally chooses a musical for its season's last show.
HRST is currently running "Emma," a coming-of-age period drama about a young woman who refuses marriage before being unexpectedly overtaken by romance. Adapted for the stage by the Book-It Repertory Theatre, this version of "Emma" has been produced only once before, in Seattle in 2009. HRST is first to debut this production on the East Coast.
Recent 2012 Harvard graduate Maya Sugarman is directing "Emma." She chose this adaptation because of its unique use of narrative theater. Instead of casting an individual narrator, all characters narrate their actions while performing them. For instance, Emma often faces the audience and narrates in the third person, prefacing her words with expressions such as "Emma felt." This approach breaks the "fourth wall" and allows audiences an internal glimpse into her character's thoughts, all while preserving Jane Austen's original diction.
"I think we were really lucky to use this adaptation from the Book-It Repertory Theatre," Sugarman says. "This new adaptation brings a new perspective to an old story and celebrates the language of Jane Austen."
"Emma" runs until July 21, and precedes the musical "You're a Good Man, Charlie Brown," playing July 27 to Aug. 5. Tickets are $12 for general admission and $8 for students. Purchase tickets online at the Harvard Box Office in the Holyoke Center, or by calling 617.496.2222. All performances are held within the Loeb Drama Center Experimental Theater, 64 Brattle St. in Cambridge.
For specific performance dates and further information about Harvard-Radcliffe Summer Theatre, visit its website.