The premise of the President's Challenge is simple: You don't have to wait until graduation — or become a Zuckerbergian dropout — to change the world.
The inaugural competition is part of the University's attempt to both promote and harness innovation happening across Harvard, and to encourage students to work together across disciplines to address pressing social problems with entrepreneurial solutions.
The 10 finalists, selected in April from a pool of more than 170 teams, will present their work to a panel of judges and the public on May 18. There's much at stake: $100,000 in prize money (to be split among up to four teams), dedicated space in the Harvard Innovation Lab (i-lab) for the summer, access to Harvard mentors and resources, and, not least of all, a chance to make a real difference.
Below is a look at four of the remaining teams:
Balanced Kitchen
Valerie Scheer and Amalia Torres Carmona's business idea was inspired not by a social problem, but a personal one. Both Europeans new to Cambridge, they quickly became friends last fall — and just as quickly learned their lesson about American food.
"We went out to dinner a lot, and we actually gained a lot of weight," Scheer, a Harvard Business School (HBS) student, said with a laugh. She and Carmona, a lawyer and girlfriend of an HBS student, saw a need for a hip-but-healthful full-service restaurant in Boston.
"A lot of people tell you they want to eat healthy, but they have this connotation that it's not as tasty as normal food and that healthy restaurants are just not cool," Scheer said. Balanced Kitchen would overcome that reputation by offering patrons interactive iPad menus that help people customize balanced meals from a range of American comfort-food options, like no-lettuce salads and baked sweet-potato fries.
"It's not a typical social enterprise — we're not operating in emerging countries helping the poor," she said.
Instead, they're tackling obesity right in HBS's backyard. In addition to working with a third team member, Seattle-based chef and nutritionist Rebecca Cameron, they've consulted with two doctoral students at the Harvard School of Public Health who helped to develop the new Healthy Eating Plate.
The restaurant industry is notoriously tough to break into. But Scheer is heartened by other HBS grads' success with quirky food startups (both Clover and Finale were conceived by Harvard M.B.A. students) and by her peers in the i-lab, where Balanced Kitchen has a long-term residence.
"Sometimes, you have those days where you're like: This will never work," said Scheer, who's now starting to meet with angel investors. "And then you just go there and have these amazing people tell you they love your concept and are here to help you."
Revolving Fund Pharmacy
Between graduate school and a 7-month-old son, Kristin and Yi-An Huang appear to have enough on their plates. But first-time parenting isn't the couple's only major project. Kristin, a fourth-year student at Harvard Medical School, and Yi-An, an HBS student, are tackling Kenya's drug-distribution problems head on.
They're partnering with the Kenya-based health care nonprofit AMPATH, where the couple worked last year, to create a back-up pharmacy system that can fill in the gaps when government health facilities run out of life-saving medications, an all-too-common occurrence.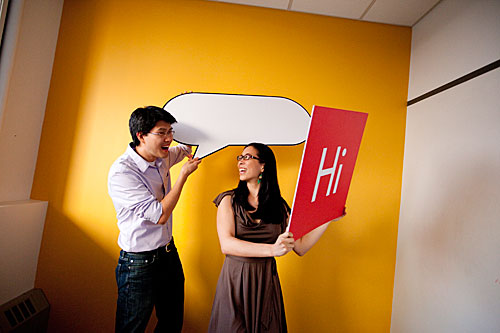 In the past year, their team, which includes local Kenyan pharmacies, has opened three pilot sites that collectively see 600 patients a week. "To scale it more quickly, the President's Challenge funding could make a really big difference," Yi-An said.
The idea for a revolving fund pharmacy has been floated in policy circles for more than a decade, Kristin said. "It exists in the literature; it's just not very common to see it."
Many global health organizations discourage charging poor customers, especially for expensive treatments such as those for HIV/AIDS. But generic drugs such as antibiotics are cheap enough that "charging a small co-pay actually does make the pharmacy sustainable," an important consideration as international aid budgets shrink, Yi-An said.
The couple's interdisciplinary approach has worked so far, they said. "She leans toward the data. I'm more from the business side of 'Let's figure out from a common-sense perspective what works,'" Yi-An said. "I think it works out well."
SPOUTS of Water
A third of Ugandans lack access to clean water, and most production technologies employed by NGOs in the country are imported. SPOUTS of Water, a nonprofit run by a group of Harvard College students, is working to expand access to inexpensive water filters while giving Ugandans the opportunity to produce the product themselves.
The filters — developed by junior Kathy Ku, an engineering student who spent a summer volunteering in Uganda — are effective at removing bacteria. They are easy to build and use, and they mimic the terra cotta taste of the traditional ceramic jugs used by Ugandans to store water.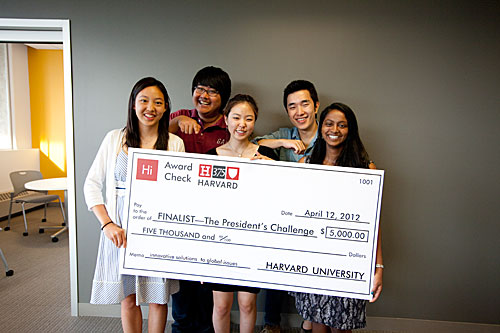 Kampala University, SPOUTS' on-site partner, donated a plot that, if all goes well, will house an up-and-running factory by the end of next year. The operation will provide jobs and keep any profits from sale of the filters in the community.
SPOUTS's board is currently staffed entirely by undergraduates (though Ku has taken a year off from Harvard to spend more time in Uganda). But junior Kyongdon Kim sees the group's relative inexperience as a unique advantage.
"We're not bound by any kind of pessimism about what wouldn't work in the field; we don't have any preconceptions," Kim said. "It gives us that let's-try-it-out attitude."
"Because we're still young, this is the time we can take the risk to make our own ventures," said Stephanie Choi, a junior. "There's a lot of interest in that at Harvard right now."
Essmart
Jackie Stenson graduated from Harvard in 2008, ready to apply her training as a mechanical engineer to design technologies for the developing world. But after spending two years in Africa, she realized that creating the products themselves — cook stoves, solar lanterns, water filters — wasn't the challenge.
"The actual design of these technologies isn't the biggest bottleneck," said Stenson, now a preceptor in technology entrepreneurship and innovation at the Harvard School of Engineering and Applied Sciences. "It's getting them into the hands of people who can benefit from them in a scalable and sustainable way."
Enter Essmart, a middleman service that aims to connect producers of inexpensive, essential goods and the world's billion "dollar-a-day" consumers. The goal is to partner with village mom-and-pop stores and offer a catalogue of life-improving technologies. Customers can place an order, and Essmart will deliver to the stores, ensuring such goods can reach more remote communities than ever before.
"We know these stores have little space, so we're not going to give them 30 products to sit on a dusty shelf," said team member Rob Weiss, an M.P.P. student at Harvard Kennedy School. The team is currently running a pilot in southern India; its first run of 17 items sold out in a week.
The Essmart team is hoping to receive President's Challenge prize money to invest in more inventory and pilot in new locations. But regardless of the outcome, the process has been inspiring, Weiss said. "If you do or don't win in the end, it's hard to feel bad about it with so many worthwhile teams in the competition."