The finalists for the Goldsmith Awards in Political Journalism who gathered at Harvard Kennedy School had uncovered racial discrimination in presidential pardons, detailed a pattern of widespread sexual assault in the Peace Corps, and exposed toxic water supplies in Texas. Their work revealed the New York Police Department's systematic profiling of Muslims and made public the details of the 2008 federal bank bailout.
But the finalists represented not just the payoff of hard work, skill, and luck, but also an increasingly rarified stratum of their profession: investigative reporting. As news organizations shrink and the Web demands more and faster news, the Shorenstein Center on the Press, Politics and Public Policy's annual celebration last Wednesday of good old-fashioned muckraking seemed more necessary than ever.
Investigative reporting is "the most important kind of journalism," noted Alex S. Jones, director of the Shorenstein Center. "But it's also the most difficult."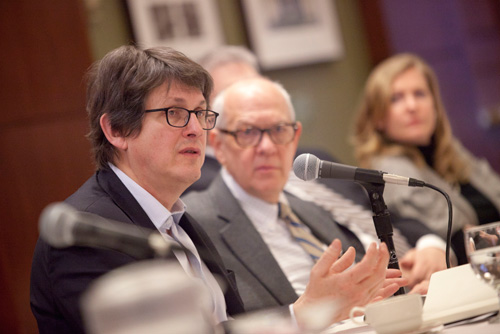 More than a dozen journalists attested to the challenges of that work in "The Present and Future of Investigative Reporting," a roundtable discussion that followed Tuesday evening's awards ceremony. That night, a team of four Associated Press reporters took home the prize for "NYPD Intelligence Division," a series that uncovered the New York Police Department's controversial domestic intelligence operation, which sent undercover officers into ethnic neighborhoods to spy on residents.
"They call it mapping the human terrain of the city," said the AP's Matt Apuzzo on March 7. "It's actually mapping the Muslim terrain of the city."
The roundtable, which drew a large audience of working journalists and scholars, offered a window onto the reporting tactics that produced some of the past year's success stories in investigative journalism.
The investigative team at ABC News' "20/20," for example, spent months building trust and developing relationships with former Peace Corps volunteers who had been assaulted or raped during their service. While their reporting originally focused on the murder of 24-year-old volunteer Kate Puzey in Benin, the story snowballed into a larger look at the Peace Corps culture that silenced victims and made them feel responsible for attacks.
"We had this feeling, 'This is big. This is bigger than these individuals,' " said reporter Anna Schecter. "I think that got them fired up" to participate in the story.
ProPublica's series on presidential pardons started with a fortuitous phone call placed after Dafna Linzer, a senior reporter, published a lighthearted piece on celebrities who could potentially be pardoned by George W. Bush before he left office.
The anonymous source "told me that the piece was amusing, but the real story wasn't who President Bush was going to pardon but who he had not," Linzer said. "The caller thought that, having been in a position to observe pardon applicants, of the 189 people the president had pardoned, only four or five were minorities."
While convincing convicted criminals to dredge up their pasts took finesse, the data project was a "monumental" undertaking, Linzer said.
"When you start with no data, that's always a big challenge," joked Jennifer LaFleur, director of computer-assisted reporting for ProPublica. Interns and reporters spent months learning every detail of the convictions of 500 Americans who had asked for pardons, in order to tease out any factors that may have been responsible for whether an applicant received a pardon. In the end, their leap of faith paid off. Even after accounting for other variables, ProPublica found that whites were nearly four times more likely than blacks to win a pardon.
In other cases, solid reporting depended on protracted legal battles. Bloomberg News received a special citation for its reporting on the Federal Reserve's distribution of bailout money to too-big-to-fail banks. After three years of information requests and a legal battle that made it all the way to the Supreme Court, the Fed was finally forced to release 29,000 pages of documents detailing the bailout to Bloomberg's journalists. The kicker? The Fed would only distribute the files in unsearchable, uneditable PDF form.
"One of my sources said that was just giving us a giant middle finger," said reporter Bob Ivry.
In some instances, reporters and editors must unmask difficult truths about their own industry. Alan Rusbridger, editor of the Guardian and the first non-American winner of the Goldsmith Career Award for Excellence in Journalism, discovered just how hard that was when he took on Rupert Murdoch's News Corporation to report on the company's illegal phone-hacking in Great Britain.
"The press absolutely needs the kind of scrutiny that we would turn on oil companies or banks or governments," Rusbridger said. "Whatever the obstacles, I think it's our duty."
If any common thread ran through the nominees' work, it was the value of collaboration, not just with internal colleagues but with other news organizations. Rusbridger likened the arrival of New York Times reporters to collaborate on the WikiLeaks diplomatic cables to a "cavalry coming over the hill" to save the day.
On many complicated stories, "we'd sure make a lot of headway if we worked together, but we're not supposed to," said Howard Berkes, rural affairs correspondent NPR, which teamed up with the Center for Public Integrity to report on the widespread neglect of air pollution regulations that leave many communities breathing toxic air. "I know how tough collaboration can be, but I also know that we made a lot of headway on things together that would have taken many more months or weeks."
The Shorenstein Center also honored two Goldsmith Book Prize winners at its awards ceremony on March 6 at the John F. Kennedy Jr. Forum. Jeffrey E. Cohen took home the award for best academic publication for "Going Local: Presidential Leadership in the Post-Broadcast Age." Evgeny Morozov's "The Net Delusion: The Dark Side of Internet Freedom" received the prize for best trade book.
A full list of the Goldsmith Awards finalists and winners, as well as links to their work, can be found here.