For people without adequate health care, a simple trip to the dentist can be life altering.
Lisa Simon found that out last summer while visiting underserved populations in western Massachusetts as part of a new University-wide program that supports public service. A student at the Harvard School of Dental Medicine, Simon shadowed workers in the dental department of the Holyoke Health Center, which provides dental services to people in need, including low-income residents, retired veterans, and prisoners in the county jail.
"Seeing the dramatic difference you can make in someone's life when you are really addressing simple needs — needs that I think people who have access to dental care don't appreciate — was really, really striking," Simon said.
Simon, who is interested in the integration of dental and primary care and the use of health information technology in rural areas, also developed some recommendations on how to better address public health needs in the Holyoke community. The work offered her invaluable hands-on experience, she said, and helped her to reflect on her chosen path.
"Being exposed to just how great oral health care need can be in certain communities keeps reminding me why I chose dentistry. … It's a place where one really passionate person can make a big difference."
Making a difference is at the core of the Harvard initiative that she participated in, and that is currently accepting its next group of applicants. Harvard President Drew Faust today launched the second year of the Presidential Public Service Fellowship Program, which supplies grants to Harvard students in public service during the summer.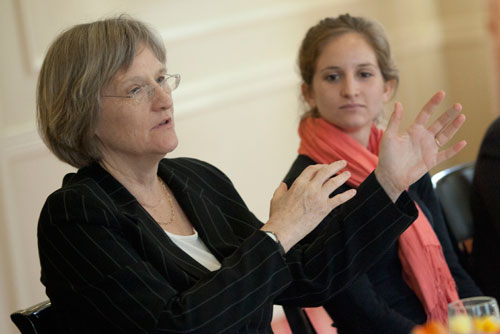 "It's been remarkable for me to watch as every year more and more students transform their own lives by making a real difference in the lives of others through public service," said Faust. "Harvard began as an institution for the public good, and our commitment to serving others is at the heart of our identity, and at the heart of our purpose as a research university."
Established by Faust with the help of an anonymous donor, the program awards 10 fellowships to undergraduates and graduates who pursue a range of projects, including government and community service, nongovernmental organization and nonprofit work, and innovative efforts to serve the common good. The grants are for up to $5,000 for undergraduates and $8,000 for graduate students.
Last summer, Harvard junior Carolyn Chou helped recent immigrant youth to improve academically and have fun. Chou ran the Boston Refugee Youth Enrichment Summer Program (BRYE), one of 12 summer camps coordinated by Harvard's Phillips Brooks House Association (PBHA), with support from the fellowship program.
Chou, who has mentored young urban women through PBHA's Athena and Leaders! programs, and has worked previously in a tutoring, mentoring, and summer programming capacity with BRYE, enjoyed taking a leadership role in the program.
"It was a really exciting opportunity to take ownership of a program and learn all of the things that go into running, in this case, a summer program, but I think any youth nonprofit program," said Chou. She planned the camp's curriculum, activities, and field trips. She recruited children and hired staff during the spring. While the camp was in session, she observed classes, offered teachers feedback, and took part in afternoon enrichment activities.
Running the camp gave her both a good balance of day-to-day administrative tasks, she said, and a sense of how to envision broader goals for the program, including "what it should look like, what skills it should impart to the kids, and what kind of environment I want to create."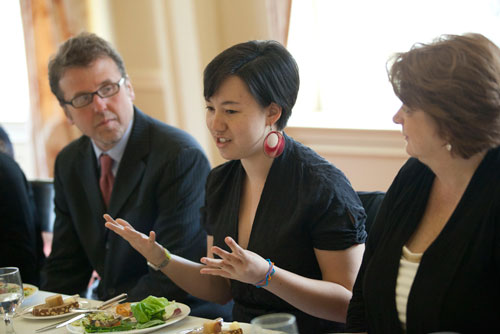 Chou, who intends to continue with nonprofit or advocacy work after graduation, said the summer experience also kept her focused on a future career.
"It's really important to have an experience like the one I had this summer to stay grounded and to understand what I would be fighting or advocating for down the line."
For former police officer and current Harvard Law School student Sean Driscoll, investigating check fraud, money laundering, and insider trading were all part of his summer experience as an assistant in the U.S. Attorney's Office for the Southern District of New York.
In addition to "mooting" — practicing opening and closing statements with attorneys – Driscoll conducted legal research, interviewed witnesses, and worked closely with the Federal Bureau of Investigation in preparing cases for trial.
The scholarship helped take the pressure off the need for a well-paying job during the summer, Driscoll said, and gave him critical experience in the field.
"I was able to do a job I really wanted to do and not be far behind financially, and be far ahead personally in terms of getting the experience I wanted."
Participants agreed that connecting with similar-minded students in various service projects is another important aspect of the program.
"It creates a real community and the feeling that you are not alone in doing this type of work," said Driscoll, who hopes the program eventually will create a vital network of Harvard alumni involved in public service, one that future Harvard students can then tap into.
The students praised the University for its support of public service work and the strong message it is sending with the fellowships.
Chou said the program signals that at Harvard "public service is important, and it's present, and it's something we are willing to invest in."
Driscoll agreed, saying, "To have a Harvard-wide statement … that this is something that the President's Office, that President Faust herself values … it's sending a message."