From nurturing home-grown businesses to building a network of volunteers that can revitalize a community, Americans are coming together to create solutions to the nation's most pressing problems.
Today, the finalists for the Innovations in American Government Award presented their initiatives at the Harvard Kennedy School (HKS) before the National Selection Committee.
"The importance of the Innovations in American Government Award has never been greater," said Anthony Williams, acting chair of the National Selection Committee. "Government is facing unprecedented challenges, and I think all of us are sanguine to know that there are leaders and programs out there — including these government finalists — that are working to serve and engage our people better."
The finalists — Boston Public Schools' Teacher Residency; Littleton, Colorado's Economic Gardening; New York City's Center for Economic Opportunity and NYC Service; Oregon's Statewide Land Use Program; and San Francisco's Healthy San Francisco — were selected by public policy experts and practitioners from Harvard and other institutions around the country. The award winner will be announced in early 2012.
According to the Ash Center for Democratic Governance and Innovation at HKS, the six government initiatives demonstrate creative solutions to some of the nation's most pressing issues: education, economic development, poverty, civic services, and health care.
"Some of our nation's most notable products, services, and programs have been conceived during times of great economic challenge," said Anthony Saich, director of the Ash Center. "These Innovations in American Government Award finalists demonstrate that many of our nation's biggest obstacles can be solved through the creation of smart, innovative programs even when budgets are tight and resources are scarce."
Members of the National Selection Committee included Carl Weisbrod, president of the Real Estate Division at Trinity Church; David Osborne, senior partner at The Public Strategies Group; Anthony Williams, HKS lecturer in public management; Kathleen Kennedy Townsend, adjunct professor at Georgetown University School of Public Policy; and William Clinger, a fellow in the Government Studies Department at Johns Hopkins University.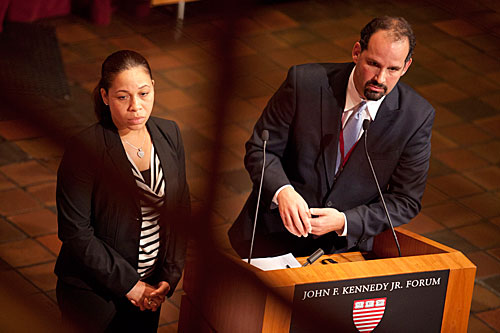 The initiatives in detail
NYC Service was launched in 2009 as a direct response to President Obama's call for a "new era of service in America." The program connects volunteers with a host of available "Impact Volunteer" service opportunities in the areas of education, health care, the environment, emergency preparedness, and neighborhood revitalization. From painting rooftops with reflective paint for increased energy efficiency to offering free exercise classes in disadvantaged neighborhoods, the program marks the nation's first use of volunteer service to address civic problems. More than 1 million volunteers have been recruited since its inception.
Also in New York City, the Center for Economic Opportunity (CEO) works to design, implement, and evaluate anti-poverty programs. CEO has now implemented more than 40 programs in partnership with 20 city agencies and has introduced a new measure of poverty for New York City, based on the recommendations of the National Academy of Sciences. Unique programming includes SaveUSA, which encourages saving among low-income families by offering a 50 percent match to participants that save a portion of their tax refund. In addition, Jobs-Plus offers public housing residents aid in securing and retaining employment through job-search services and coaching, vocational training, and assistance with GED and ESL courses. CEO is now replicating five of its most promising programs in cities across the country through the federal Social Innovation Fund.
Littleton, Colorado's Economic Gardening program takes a different approach to economic development, focusing on enhancing the city's home-grown industries to increase job growth and overall economic prosperity for the region. Launched in 1987, Economic Gardening gives emerging-growth Stage 2 businesses assistance in competitive market research, trade area analysis, social media, and Web marketing grounded in a host of scientific theories adapted to entrepreneurship. The program reports that since its creation, the city's job base has nearly doubled (from 15,000 to 27,000) and sales tax revenue has tripled (from $6 million to $20 million), while the population has increased by 23 percent. Moreover, the city's industry is now more diversified: from primarily oil and defense contracts previously to telecommunications, health care, engineering, software, and other industries.
Oregon's Statewide Land Use Program shares Economic Gardening's philosophy of nurturing industries native to the region. Through property tax incentives, transferable development rights, and limited use requirements, the program protects and conserves farm and forest lands for agricultural and timber production. At the same time, the state establishes locally designated urban boundaries to both accommodate population and business growth while preventing urban sprawl onto rural lands. As a result, Oregon reports a high level of food and timber production. Its urban planning strategy incorporates public facility and public transportation plans, which the state notes are providing environmental benefits and cost savings by reducing reliance on automobiles.
Economic development takes another shape in Boston Public Schools' Boston Teacher Residency program. The program attracts and retains a diverse group of high-quality teachers to drive up academic achievement in areas of Boston with the greatest need. Aspiring teachers, called residents, participate in a yearlong apprenticeship, working with experienced teachers and taking courses to earn a master's degree. Graduates receive ongoing support for their first three years of teaching. Boston Teacher Residency reports an 80 percent three-year retention rate of its graduates compared with the district's 53 percent district three-year teacher retention rate before the program's inception in 2003. Academic achievement is also up: The program is part of a set of district initiatives contributing to a 7 percent increase in the student graduation rate since 2006. Boston Teacher Residency co-founded Urban Teacher Residency United, which has supported replication of the residency model in 14 cities around the country.
Like Boston Teacher Residency, Healthy San Francisco targets underserved and disadvantaged populations. As an initiative of the city and county of San Francisco, it provides health care to the region's estimated 64,000 uninsured adult residents. Administered by the San Francisco Department of Public Health, Healthy San Francisco integrates existing public and private health care providers into a single, centralized system, whereby residents can enroll, select a primary care medical home, and gain access to services, information, and support. Since Healthy San Francisco's launch in 2007, over 85 percent of uninsured residents have voluntarily enrolled in the initiative, particularly notable as 20 percent of enrollees had not accessed health care services at all in the previous two years. Independent evaluation data reveals that enrollees show steadily declining emergency department use over time and that 94 percent of enrollees have expressed satisfaction with the program.
The Innovations in American Government Award program was created by the Ford Foundation in 1985 in response to widespread pessimism and distrust in government's effectiveness. Since its inception, nearly 500 government innovations across all jurisdiction levels have been recognized and have collectively received more than $20 million in grants to support dissemination efforts. Such models of good governance also inform research and academic study around key policy areas both at Harvard Kennedy School and at academic institutions worldwide. Past award winners have served as the basis of case studies taught in more than 450 Harvard courses and over 2,250 courses worldwide.