The experience of earlier moot court contests and many hours of rigorous study can seem to melt into the ether when surviving third-year Harvard Law School (HLS) students face not just any panel of esteemed judges but one led by a U.S. Supreme Court justice.
On Thursday, the teams in the showdown round of the Ames Moot Court Competition tried to persuade a panel headed by U.S. Supreme Court Justice Sonia Sotomayor to change the law of the land.
That's what student Jessica Palmer was trying to do when she argued that her fictional client was protected by the First Amendment even though he lied when claiming in an online dating profile that he was awarded the Navy Cross for service as a SEAL in the first Gulf War. Palmer's client in the test case sampling thorny, unsettled legal issues was convicted of violating the Stolen Valor Act, which punishes lies about receiving military honors.
Under questioning from Sotomayor about why the Supreme Court couldn't just apply recent rulings on First Amendment issues to this case, Palmer offered, "Madam Justice, you could find that."
A broad smile spread across the Supreme Court justice's face as she said, "We could do whatever we may."
Sotomayor later acknowledged that she and her brethren are a tough crowd for petitioners when she addressed the Austin Hall audience that included many student contenders defeated in earlier moot court rounds: "For all you who think you could have done a better job, come up front and give us a try."
"This is really hard. The hardest thing you could do as a lawyer is to argue before the Supreme Court," said Sotomayor, who was the newest justice on the court until former HLS Dean Elena Kagan was confirmed last year. "You have learned your skills well. Your performance gives me hope for the profession."
The panel — which included Chief Judge Frank H. Easterbrook of the U.S. Court of Appeals for the Seventh Circuit Court and Peter J. Rubin, J.D. '88, of the Massachusetts Court of Appeals — did not decide the merits or the law of the case. But it ruled Matthew Greenfield of the prosecution team the best oralist, and Greenfield and Caroline Anderson the winners of the oral competition. The best brief award went to Palmer and to Adam Hallowell's team, which included students Avis Bohlen, Yvonne Saadi, Matthew Scarola, and Benjamin Watson. The prosecution team also included Stephen Pezzi, Mitchell Reich, Stephanie Simon, and Noah Weiss.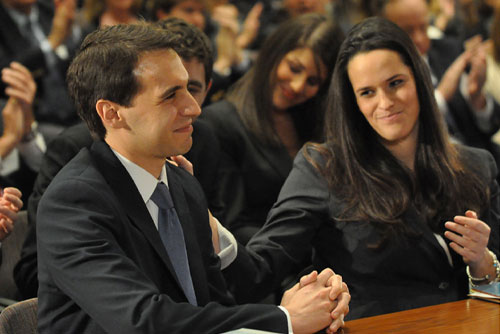 In the case, a man named Otis Garfield had an online profile that boasted he'd twice climbed Mount Kilimanjaro, tracked lions in Botswana, and won the Navy Cross — even though his Gulf War experience inspired him to spread the message that "loving America means speaking out against — not fighting in — unnecessary wars."
In the example, Garfield was prosecuted after a woman who dated him reported his false claims about the medal to law enforcement, and he received a prison term despite a trial judge's error in failing to allow him to speak at his sentencing.
The questioning took an entertaining twist when Rubin challenged the student lawyers on the impact of Garfield's lies. "Didn't he lie to women asking them to rely on those lies in attempt to secure a date? I know my time is valuable, and I assume yours is. Why isn't this fraud?"
Palmer said that she couldn't invoke a fraud claim because the lower court did not make that finding, and there was no monetary loss to Garfield's victims.
To reach the final round of the century-old Ames competition, students face off in three rounds over two years. In the beginning, there are 40 teams, but only two teams of six advance to the final competition.
In announcing the winners, Sotomayor might well have been referring to rulings on the high court as well: "You force us to make choices that are never easy, but we have to break the ties."