When Mark Zuckerberg returned to Harvard earlier this month to recruit for Facebook, there was one stop he added to his schedule — and it wasn't his old Kirkland House dorm.
Rather, Zuckerberg made an unexpected detour to visit the new Harvard Innovation Lab, or i-lab.
On Friday, the concept that so intrigued America's most famous social networker drew a crowd of hundreds to the official public opening of the lab, located at 125 Western Ave. Harvard President Drew Faust, along with Boston Mayor Thomas M. Menino, Harvard Business School Dean Nitin Nohria, and a host of University deans and administrators involved with the i-lab's development, welcomed students, faculty, staff, and members of the Allston community for remarks, a ribbon cutting, and an afternoon of self-guided tours.
The event was the first communitywide celebration of the new space, which has been buzzing with entrepreneurial activity since September. (The building, previously empty, once housed WGBH.) The i-lab — which sprouted quickly after Menino's January 2010 call for building an "innovation agenda" in Boston and its universities — is designed to foster team-based innovation at Harvard and deepen ties among students, faculty, and the Boston business community.
"Before the i-lab, students like Mark connected and collaborated wherever they could find space," Faust said. "Mentors mentored, and networks networked, and speakers spoke, and each of these things was happening. But now they can happen in one place.
"We are gathering great minds under a single roof so that they can become greater together," she said.
The lab includes academic space, such as classrooms and meeting areas for both undergraduate and graduate students. It also provides public areas and meeting rooms designed to foster project work, as well as business development resources for Allston-Brighton and greater Boston — a population full of entrepreneurs that Harvard seeks to both help and tap into.
In January 2010, Menino called for "a new era of shared innovation fueled by Boston's combination of ingenuity and perseverance." His words seemed to spark unusually quick action. Already, the waterfront innovation district he envisioned has attracted 90 businesses that provide 3,000 jobs, he said.
"Boston is a place where big ideas are born, because we have the talent to make those ideas a reality," Menino said. "Harvard's new i-lab will play an essential role in fostering those new ideas."
He called on the i-lab to build connections among local businesses and University researchers, students, faculty, and surrounding neighborhoods. The Center for Women & Enterprise, the Massachusetts Small Business Development Center Network, and the Small Business Administration have already agreed to offer one-on-one coaching, workshops, and training sessions through the i-lab, according to Menino.
"I think this is a really exciting day for the Allston community, for the University and the entrepreneurs and innovators across the city of Boston," Menino said. "The guys in Cambridge will need a passport to get here, but we'll let them in every once in a while."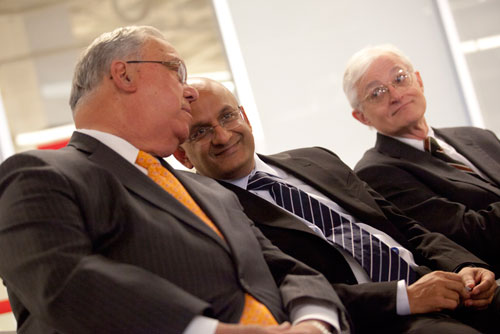 The i-lab represents a promise not just to the rest of Boston, but to would-be innovators and entrepreneurs around Harvard looking to connect with like-minded collaborators, Nohria told the crowd.
"President Faust has been steadfast in her belief that Harvard acting as one University can achieve more than any student or faculty or School can achieve individually," Nohria said. "The i-lab is in some ways the physical and tangible representation of that belief."
He cited recent talks at the i-lab by renowned Spanish chef and entrepreneur Ferran Adrià, "Lean Startup" guru Eric Ries, and Peter Thiel, technology entrepreneur and the founder of PayPal. Hosting those lectures and other workshops and events, the i-lab welcomed more than 4,000 guests in September and October alone.
"The i-lab, indeed even the idea of the i-lab, has caused new things to happen within the University," Nohria said. "More than anything, it represents a wonderful spirit of 'Why not?' and 'How about?' "
That spirit was on full display in the i-lab's main workspace, roped off behind a ceremonial red ribbon. After Faust and Menino cut the tape, guests poured in to tour the sunny, free-flowing space (Xbox gaming room and fully stocked snack fridge included) and to talk with student and alumni entrepreneurs who have been using the i-lab to work on their startups.
In one area, Advanced Leadership Initiative Fellow Laurent Adamowicz and his team of students and recent graduates explained their personalized mobile application for healthy eating, Bon'App.  Around a corner, Lei Guo, a graduate student in statistics, and Vladimir Bok, a College sophomore studying computer science, explained Coco Voice, their iPhone app for sending quick, short voice messages ("like instant voicemail").
"We just met last weekend," Guo said, referring to the i-lab's recent Startup Weekend, a 54-hour scramble where 120 students gathered to pitch their ideas and develop business plans. "I presented my concept and we figured out a marketing plan the next day. …We've been coming here every day since then, sometimes until 1 a.m."
The i-lab demonstrates Harvard's potential to bring disparate parts of the University together, said Provost Alan Garber, who arrived at Harvard in September.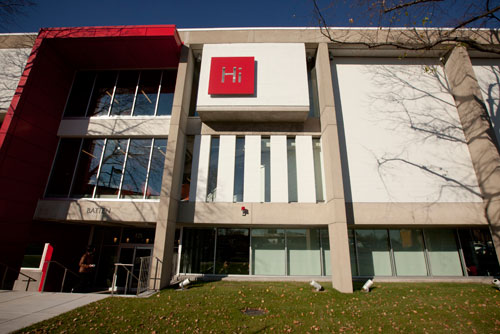 "My first reaction when I saw the i-lab was 'I've come to the right place,' " Garber said as he toured the facilities. "A lot of people are interested in working more collaboratively across the boundaries of the University. … But that is much easier to do around something that's concrete. What's easier still is when you can see examples of success."
Gordon Jones, director of the i-lab, and the i-lab's faculty chair, Joseph Lassiter, MBA Class of 1954 Professor of Management Practice at HBS, milled about answering questions for guests.
"Today is a day of celebration," Jones said. "Tomorrow, we'll hit the ground running."
[youtube https://www.youtube.com/watch?v=5SJRly9c_qc]