The city-university connection, long an important relationship able to
spark innovation, promote collaboration and research, and transform lives on a broad scale, was the focus of a daylong symposium at Harvard's Radcliffe Institute for Advanced Study Oct. 21.
The crowded event drew officials from Harvard and the city of Boston, as
well as attendees from the public, private, and nonprofit sectors for a
series of panels and discussions on topics including violence, technology,
education, public health, innovation and research, and ways to further cooperation.
"My breath has been taken away" by the event, said Lizabeth Cohen, Radcliffe's interim dean and Howard Mumford Jones Professor of American Studies. She praised sessions that offered new ideas from a variety of perspectives. The event, titled "Reimagining the City-University Connection: Integrating Research, Policy, and Practice," was developed in collaboration with the Harvard Kennedy School's (HKS) Rappaport Institute for Greater Boston and the city of Boston.
The issue of trust emerged as a major theme.
In a session on violence, Anthony Braga, a senior research fellow in the Program in Criminal Justice Policy and Management at HKS and a professor of criminal justice at Rutgers University, described his work as chief policy adviser to Boston's police commissioner.  For 17 years, Braga has worked closely with the Boston Police Department (BPD) on initiatives, including the prevention of gang violence, the disruption of illegal gun markets, and prisoner re-entry programs. The ongoing collaboration allows him to explore "academic and theoretical questions," like the distribution of violence across the city. Such work also aids the department, he said, allowing it to employ resources more effectively.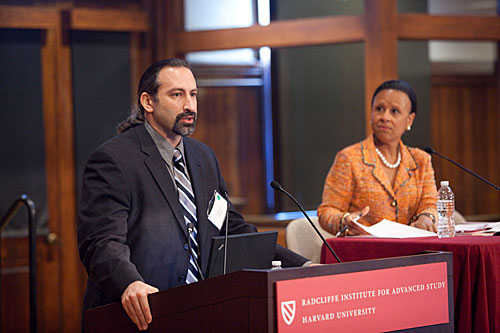 Braga said strong relationships are paramount. He makes it a point to attend major BPD meetings, he accompanies patrols, and he tries to be sensitive to the political and operational environments in which the officers work so "I can develop that trust.
Building such trust is a fundamental part of a police officer's work, said Daniel Linskey, BPD superintendent-in-chief. But establishing it with Braga was important in making sure the collaboration was a success.
"Having somebody that can come into our organization and look at it with outside eyes and have us look at things a different way is priceless. The nature of violent crime is bigger than the police department. It involves the community and it involves the academic community as well. … [Braga] had to build trust with us, the senior leaders in the police department, to make sure that he was giving us good guidance, and good information … and he built trust up and down the line with the police, with the cop on the street."
City government has to "have enough trust itself to let in outsiders," said Edward L. Glaeser, director of the Rappaport Institute and Fred and Eleanor Glimp Professor of Economics. Glaser, who led a panel called "Lessons and Challenges of City-University Connections," said colleges have much to learn from cities, and added that those relationships also only work if they are "mutually beneficial.
University administrators described strategies for developing close connections with surrounding communities. Henry S. Webber, executive vice chancellor for administration at Washington University in Saint Louis, said that as one of the largest private employers in the region, a priority is to contribute to economic growth and partnerships in the area. The university also aims to promote public discussions of key issues, and to apply its academic strength to areas like entrepreneurship and innovation, public health, and public education. Webber has instituted programs that involve the university in the area's public education system, including an extensive training program for St. Louis public school principals.
Harvard Provost Alan Garber addressed a group of attendees during a
reception following the event. He acknowledged the vital role that city-university connections play in addressing critical issues such as violence and poverty.
 Cities "can tell us much more about what we should be studying, and we can learn by talking to one another," he said.
Examples of such dialogue included the work of various ongoing collaborations between university partners and the city of Boston that were also on display during the reception.
Some Harvard graduate students discussed their collaborations, including research being conducted by HKS's Ash Center in collaboration with Massachusetts Institute of Technology. The study explores how regular information and updates about predicted arrival times of Boston's commuter rail trains affect the behavior and attitudes of riders.