"I'm a bad influence," Microsoft CEO and philanthropist Bill Gates told a crowd of graduating Harvard students in 2007. The speech, delivered before a boisterous Commencement crowd, and recorded for posterity, is out of the archive and streaming from the trees — literally.
To celebrate the University's 375th anniversary, Gates' address — as well excerpts of other famous addresses — will play on loop from trees in Harvard Yard as part of a project called Harvard Voices, which runs today through Oct. 16, 10 a.m. to 10 p.m. The selections reflect Harvard's collective memory and continuing dialogue of ideas.
"As you walk through the Yard, you will hear the voices of Bill Gates, J.K. Rowling, Franklin Roosevelt, Winston Churchill, and other notables who have spoken here at Harvard in the past," said University Marshal Jackie O'Neill, whose office has overseen the project. "We hope people will pause for a moment and linger, to reflect on what is being said and on all the history made in the space we hurry through every day."
Harvard Voices: Listen to Gloria Steinem
Originally prepared for the University's 350th anniversary, the recordings have been updated to include major addresses in the past 25 years by public figures and creative artists, as well as the reflections of notable Harvard speakers, including the likes of Al Gore, J.K. Rowling, Colin Powell, Nelson Mandela, Alan Greenspan, Gloria Steinem, Sandra Day O'Connor, and the late Sen. Edward M. Kennedy.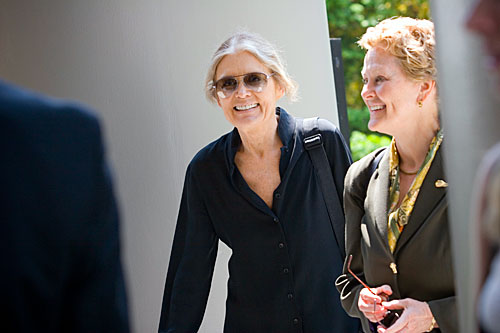 Gates' self-deprecating remarks were, of course, an acknowledgment of his reputation as Harvard's most famous dropout. "I've been waiting more than 30 years to say this: 'Dad, I always told you I'd come back and get my degree,'" he said to riotous applause. "I'll be changing my job next year, and it will be nice to finally have a college degree on my résumé."
Harvard Voices: Listen to Bill Gates
Nobel Peace Prize recipient Mother Teresa spoke at Harvard's Class Day in 1982. "I have no gold and silver to give to the American people," she said, "but I give my sisters, and I hope, together with them, you will … go in haste to find the poor. And if you find them, if you come to know them, you will love them. And if you love them, you will do something for them."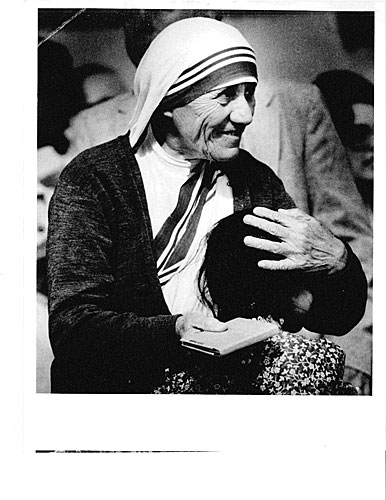 Harvard Voices: Listen to Mother Teresa
In another recording, poet and Harvard graduate E.E. Cummings recalls his undergraduate experiences in a series of Norton Lectures titled "I — six nonlectures."
Harvard Voices: Listen to e.e. cummings
"Unofficially, [Harvard] gave me my first taste of independence and the truest friends any man will ever enjoy. The taste of independence came during my senior year, when I was so lucky as to receive a room by myself in the Yard, for living in the Yard was then an honor, not a compulsion. And this honor, very properly, reserved itself for seniors who might conceivably appreciate it. Hitherto I'd ostensibly lived at home, which meant that intimate contacts with the surrounding world were somewhat periculous. Now I could roam that surrounding world, sans peur if not sans reproche, and I lost no time in doing so. A town called Boston, thus observed, impressed my unsophisticated spirit as the mecca of all human endeavors."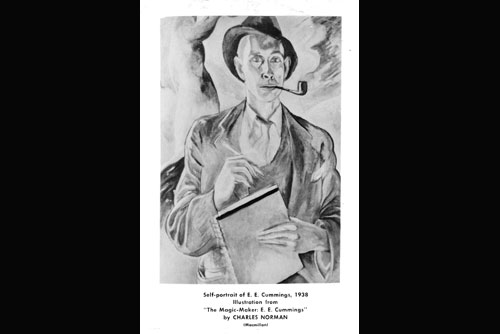 And, delivering a speech to the Harvard Law School Forum in 1962, Civil Rights leader Martin Luther King Jr. spoke: "We've been able to say to our bitterest and most violent components: 'We will match your capacity to inflict suffering by our capacity to endure suffering. We will meet your physical force with soul force. Do to us what you will, and we will still love you.' "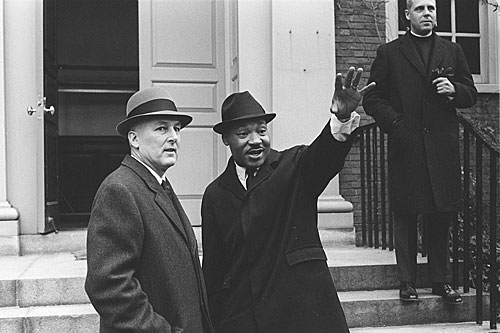 Harvard Voices: Listen to Martin Luther King Jr
Other recordings include addresses by Franklin D. Roosevelt, Samuel Eliot Morison, Gertrude Stein, Winston Churchill, George C. Marshall, T.S. Eliot, Robert Frost, John F. Kennedy, W.E.B. Du Bois, Leonard Bernstein, Barbara Jordan, Alexander Solzhenitsyn, Seamus Heaney, Sheldon Glashow, Steven Weinberg, and a unique recording of the riveting last 40 seconds of 1968's Harvard-Yale football game, in which the Crimson furiously rallied to tie.
To listen to the addresses, take a walk through the Yard or visit iTunes.