After laboring to draw her father's attention away from the ballgame on TV, Cathy Jamison stands in front of the set and confronts him. She tells him she loves him. She tells him that he's a jerk. She just doesn't tell him that she has cancer.
The crowd at the New College Theatre applauded as they watched this scene from the Showtime series "The Big C." The actress who delivered the lines, Laura Linney, sat at the front of the room and looked on in distress.
"I try to tell a story as honestly as I can," she said after the clip had finished playing. "Sometimes I succeed. Sometimes I don't. It's agony for me to watch myself do anything."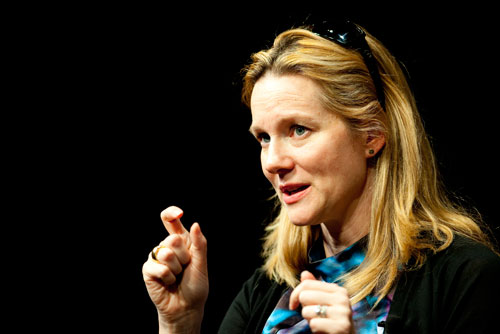 Linney provided insights on her work — and on acting in general — for 100 members of the Harvard community on Thursday as part of the Office for the Arts' Learning From Performers (LFP) series. The "Inside the Actors Studio"-style interview was moderated by LFP Director Tom Lee.
"The Big C" earned Linney an Emmy Award nomination earlier this year, and she said that she relished the chance not only to star in the series, but also to be one of the show's executive producers. Still, she said that television was a challenging medium in which to work.
"You have a collective audience that's watching individually," she said. "It's a different sort of thing [from theater or movies]. A lot of the battles I have in television are telling people to trust the material. There's a lot of concern about whether people will get it. I tend to not want to over-explain. Let [the audience] have their own relationship with [the show]."
Lee asked Linney about the challenges of portraying a historical figure, as she did when she played Abigail Adams in the 2008 HBO mini-series "John Adams." She said that the key is to find a quirk or a trait that allows a way into the character.
"The thing that I found out about Abigail was that she was pigeon-toed," said Linney, who won an Emmy and a Golden Globe award for that performance. "She was really pigeon-toed. What is that, to be a woman of that stature, and be awkward … that way? That was very, very helpful."
In the 2004 movie "Kinsey," Linney portrayed Clara McMillen, wife of the pioneering human sexuality researcher Alfred C. Kinsey. Lee asked about the connection between that performance, for which Linney received one of her three Academy Award nominations, and her work on the Adams series. In response, she spoke about the challenges of approaching a role that initially seems familiar.
"Every woman was a 'woman behind the man' for a really long time," she said. "So, I think there are certain dynamics that will be similar. But it's always a challenge, when there are similar dynamics, not to skip steps. You have to think, 'Here's a woman who loves this man. What is their partnership? What is the relationship?''
Linney, a graduate of Brown University, spoke passionately about the importance of the arts in higher education, calling arts education a "worthy investment." She described herself as a "theater history fanatic" at Brown. The words she used to describe her love of acting sounded at times like an ad for a lifelong liberal arts education.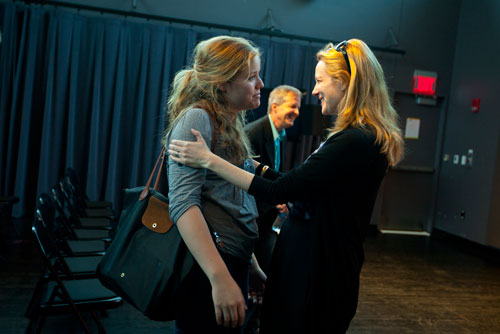 "What I love about the theater is that you're constantly a student for the rest of your life," she said. "You're handed a script. It takes place in a certain time and place in history, with certain politics and culture, and you have to know where you are. So, you get to constantly study history, music, politics, entertainment, culture, society. I love that."
After about an hour, Linney took questions from some liberal arts students. Ryan Halprin, a senior from Lowell House, asked a question that was provocative, but also fundamental to understanding the psyche of an actor: "Do you feel more at home when you're being a different person?"
"I think it's more the opposite," Linney said. "I know who I am when I'm onstage in that environment. I know what's expected of me. I know what's going to happen for the next two hours. It's about ritual: going to the theater, getting ready, the half-hour call, places, intermission. There's something I find incredibly grounding and, within the freedom of the form, I find it very liberating. I can take a big deep breath and be really happy where I am."