With conditions in Libya remaining volatile and deposed leader Moammar Gadhafi still defiant, two Middle East experts turned to a welcome but slightly atypical source during a panel discussion about the crisis on Thursday.
Before speaking during the "Assessing Libya" session sponsored by Harvard's Center for Middle Eastern Studies, E. Roger Owen, the A.J. Meyer Professor of Middle Eastern History and director of the Contemporary Arab Studies Program, asked if any Libyans were among the people packed into the room.
Amr Bennis, a Harvard sophomore, raised his hand, and Owens indicated he would very much like to hear from Bennis. Bennis did comment, but waited until he heard from Owen and from William Granara, Professor of the Practice of Arabic on the Gordon Gray Endowment, who looked at recent events though a literary telescope.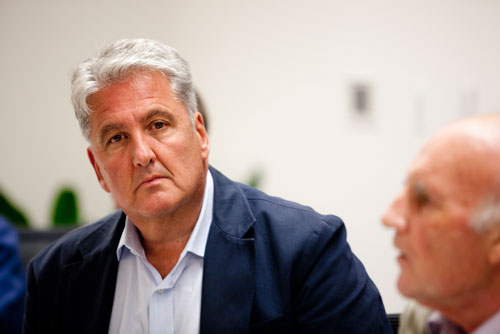 Owen, who spent his honeymoon in 1960 in Libya ("My wife and I had the country to ourselves" then, he said.) was particularly interested in getting an insider's perspective because few Westerners know much about Libya today. He said, "It's a bit of a black box." The country, a former Italian colony, was created only about 60 years ago, and there is much debate over whether it is a cohesive nation or a blend of tribal groups. Observers have "played it both ways."
Owen, however, believes that a sense of loyalty and of "Libyaness" has emerged after rebel forces drove Gadhafi from the capital following months of rebellion.  Bennis would later agree.
Gadhafi' s bizarre and sometimes comic antics have obscured his brutal repression against his people, Owen said, beginning in the 1970s when student protesters were tortured, humiliated, and publicly hanged.
However, Libya's oil industry has been exceptionally well run and could be a model for other countries. Gadhafi's brand of "patrimonialism" has created an unequal distribution of oil wealth, the same conditions that led to his assumption of power in 1969 after a military coup, Owen said.
The panelists saw Gadhafi's ouster as a continuation of the "Arab spring" that overthrew regimes in Tunisia and Egypt. Granara emphasized the close economic and cultural links between Libya and Tunisia, saying people all over the region are linked by watching the TV network Al Jazeera, and even by their own political anxieties.  "It would behoove us to look beyond Libya's geography and political borders," Granara said.
Granara said literature, like culture, is being globalized.  "Libyan fiction does really connect  with fiction in other parts of the Arab world," he said. The popularity of various novels shows that people "are linked through the trauma of being oppressed."  He added, "The Arab writer is in many ways the conscience of society."
Owen was hopeful about the prospects for democracy in Libya. Chibli Mallat, the Custodian of the Two Holy Mosques Visiting Professor of Islamic Legal Studies at Harvard, however, commented on the violence during the Libyan uprising, which differed from the Arab spring in other countries. He wondered if that strife would preclude reconciliation. "The toll is frightening  — 35,000 to 50,000  — nor is it over," he said.
But Bennis, who is from Tripoli, singled out the violence, which he pinned on the government for initiating, as a unifying factor and said it will make the country's transition to democracy easier. "Every family in Libya has lost something; they lost their house, all their possessions, a family member. Some have lost everything," he said.  Thus, Libyans "are having a communion," since, "The whole war actually has brought Libyans together more than anything before."
Bennis also downplayed the role of tribes, saying most people involved in the war are younger than 40, and most live in cities. Observers should not mistake loyalty to family as  loyalty to a tribe, he said. Tribes do exist, and people are proud of their ancestors, but "most people I talk to, they don't care about it, they don't think about it."
With the rebels' hold on most territory still fragile, Owen suggested that outside advice or aid from entities such as NATO should be delivered cautiously. "This is a high time for Arabism — there have been high tides before," he sad.
"Certainly this is a moment in which the Arab world is extraordinarily interconnected. It may not be united politically.  But what happens in one country matters enormously to what happens in another country," Owen said.