In the 10 years since terrorists crashed planes into the World Trade Center and the Pentagon on 9/11, the United States has greatly improved its preparedness for coping with disasters, a shift illustrated most recently by the smooth response to Hurricane Irene, according to authorities speaking at the Harvard School of Public Health (HSPH) on Tuesday.
Isaac Ashkenazi, director of the Urban Terrorism Preparedness Project at HSPH and the Harvard Kennedy School, said the U.S. government's actions since 9/11 have borne fruit and the nation is much better prepared for a disaster than it was a decade ago.
Ashkenazi cautioned, however, that as in emphasizing government preparedness, officials should not forget one of the country's biggest strengths: the ability of ordinary people to help when disaster strikes.
"This country is a superpower … because of the people. This country was established and developed bottom up by resilient individuals," Ashkenazi said. "The real first responders are the bystanders … The government should use the public as an asset and not an obstacle."
Ashkenazi spoke as part of a panel on disaster preparedness, as part of the Forum at Harvard School of Public Health, an online venue that seeks to facilitate discussions on important public health issues. "Disaster Response: A Decade of Lessons Learned Post 9/11" was presented in collaboration with the Reuters news service.
The session was introduced by HSPH Dean Julio Frenk and moderated by Reuters correspondent Aaron Pressman. In addition to Ashkenazi, it featured Jennifer Leaning, the Francois-Xavier Bagnoud Professor of the Practice of Health and Human Rights at HSPH; Stefanos Kales, associate professor in the HSPH's Department of Environmental Health and principal investigator of a study of cardiovascular risk among firefighters; and Stephanie Kayden, an international emergency physician at Brigham and Women's Hospital and affiliated faculty member of the Harvard Humanitarian Initiative.
Ashkenazi said that in any disaster it is friends and neighbors who are first there to lend a hand. Many more people were saved by fellow Haitians after that nation's devastating 2010 quake than were by international responders, he said. It is therefore important to ensure that ordinary people, as well as governments and institutions, are educated and have the necessary tools available to them.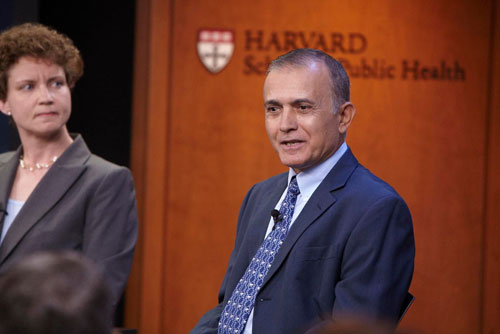 "People are not victims; they are active bystanders," Ashkenazi said.
Ashkenazi also said it's important that leaders understand that mistakes will be made and that they ensure the lessons of those mistakes are shared so others can learn from them. In an environment demanding perfection, where mistakes are forbidden, they get hidden, and the result is a culture of blame, not learning.
Panelists drew on lessons learned from other disasters that have occurred since 9/11, including Hurricane Katrina, Haiti's 2010 quake, last spring's Missouri tornadoes, and last March's Japan earthquake and tsunami.
In addition to the lives lost in the terrorist attacks themselves, 9/11 can be viewed as a public health event, with clouds of potentially toxic dust affecting everyone from responders to cleanup workers for 10 months after the attacks, Kales said. Studies have shown long-lasting effects of the dust on firefighters with a loss of lung function that has stabilized over time but not improved.
A recent study of cancer prevalence among responders is inconclusive, Kales added. The study does show a slight increase in all kinds of cancer over the seven years after the event, but the amount is statistically insignificant.
Since 1900, natural disasters have hit with increasing frequency and intensity, Leaning said, partly due to more people living in disaster-prone areas. Despite that, she said, the number of deaths from such events has not risen rapidly, showing that emergency responders are doing a good job. Leaning said she thought the Federal Emergency Management Agency has struck the right mix of preparedness and training for high-level government officials and local control on the ground. She cited the evacuation of 400,000 people from New York as Hurricane Irene barreled up the coast as an example of a smooth response.
Even preparation can't forestall some disasters, such as the earthquake and tsunami that hit Japan earlier this year, according to Kayden. Japan's strict building codes and quake preparedness actually paid off in that event, because there were few deaths from the quake itself. Most of the casualties came from the tsunami that followed. Even then, the government had built walls to protect against such a disaster. What nobody foresaw, Kayden said, was the size of the tsunami. The hour of advance warning, she said, was enough for many people to evacuate. Some of those who died relied on the walls to keep them safe, while others evacuated and then, during the intervening time, returned home to retrieve belongings.
Despite Japan's high level of preparedness, there were problems, she said. The supply of medicine, particularly for high blood pressure and diabetes, was inadequate at the evacuation shelters, as was those facilities' ability to keep people warm in cold weather.
"The inability to completely prepare for any disaster will always be a factor," Kayden said.
The Japanese quake and Hurricane Katrina on the U.S. Gulf Coast displaced huge numbers of people, something commonly seen in the developing world but not often in industrialized countries. Those types of disasters, which require supplies of water, food, medicine, and shelter, may become more common and should be planned for, she said.