Nicolette Boehland, second-year student at Harvard Law School:
When an opportunity arose this summer to work in Afghanistan on issues of human rights, Nicolette Boehland jumped at the chance. Little did the second-year Harvard Law School student know that she would soon be crisscrossing the country in Black Hawk helicopters interviewing victims of torture.
"It was basically like being thrown into the boiling pot," said Boehland, who got hands-on experience during her second day on the job when she was sent to a military hospital to take photos of injured civilians.
"This is something I didn't expect at all, going in. I actually expected to be chained to my desk doing research."
Instead, Boehland was in the field with the Afghanistan Independent Human Rights Commission and the group's Special Investigation Team. She and her Afghan counterparts explored human rights abuses among civilian casualties and detainees. The bulk of the work involved facilities run by the National Directorate of Security, Afghanistan's domestic intelligence agency, the Afghan equivalent of the CIA.
For two months, she and her team visited more than a dozen detention centers, interviewing officials and prisoners. For Boehland, who has worked with Human Rights Watch in the past, the encounter with victims offered her a new perspective on a field she hopes to enter after graduation.
"I've never worked directly with the people I was trying to help, and my human rights framework has always been very firmly intellectual. … This summer it was really interesting to see how much of it shifted right to my gut. … I can remember every single person I interviewed."
This fall she will continue doing research with the commission and the Open Society Institute.
Boehland balanced the intensity of her workdays with an intense nightlife, taking advantage of the vibrant social scene in Kabul. Heavy security measures often led to a "stir-crazy tension" she said, one that was relieved by diversions like Hawaiian luaus, tango lessons, and dinner parties hosted by the extensive expatriot community.
She also explored the rugged beauty of Afghanistan. One hike was in Panjshir Valley, where panoramic vistas are occasionally interrupted by views of abandoned Soviet tanks, hollow reminders of the Afghan war with the Soviet Union in the 1980s.
The locals she encountered on her treks were always warm and curious to meet foreigners, she said, calling them the "most welcoming people you will ever come across."
"They like that you are appreciating their home," she added, "and they are happy not to see you in a tank."
Beth Altringer, fellow in SEAS, visiting lecturer:
It's been a busy summer for Beth Altringer, a visiting lecturer in the School of Engineering and Applied Sciences (SEAS) who has been designing a course to debut this fall: ES-21, "The Innovator's Practice."
Altringer has studied innovation for years in diverse settings and wrote her doctoral dissertation about a company whose business is helping other firms to innovate. She became interested in the problem of how to encourage innovation after being struck that there's no lack of talented, passionate people in the world or of problems that need solving. The bottleneck, she said, is how organizations support people to let their innovative talents flower.
Altringer hopes to share what she's learned with students through the new class, which will mix lessons on how to create innovative organizations with project-based learning. In the spring, she will co-teach ES-20, "How to Create Things and Have Them Matter," with Professor David Edwards, a course she participated in last spring as a fellow.
In fact, her involvement with ES-20 hasn't ended. Altringer and other course fellows are continuing to guide student projects begun last spring through continued development over the summer. Student teams worked in Cape Town, South Africa, for several weeks to refine their projects and then came together for an intensive week of discussion and evaluation in Paris in mid-August.
For Altringer, who worked with the students remotely from Cambridge before joining them in Paris, summer was a whirlwind. She worked on two writing projects, a chapter for a textbook on creativity and entrepreneurship, and a draft of her first book. She also took some time for fun, painting and surfing.
Isabel Carey '12, history of science concentrator:
From the beaches of Peel Island, off the coast of Australia near Brisbane, the mainland is visible a few kilometers away. For Harvard senior Isabel Carey, a history of science concentrator who visited Peel as part of her senior thesis research, that proximity was striking. Because as beautiful as Peel is, rich with forests, wallabies, and kookaburras, patients once were quarantined there against their will.
So when Carey stood on the beach and looked, she saw the beautiful island and the beaches — and the mainland, containing the lives the patients left behind — in the distance.
"It really is sort of cruelly beautiful," Carey said. "You can look out along the shore and look out at the ocean and turn slightly, and there's the whole mainland stretching out there. It is mockingly close, this island."
Carey spent nine weeks this summer in and around Brisbane, talking to local historians and visiting archives to find records of Peel Island. Carey plans to write about the leper colony on Peel, which operated from 1907 until 1959, with a particular focus on the later years, after the first leprosy drug was discovered in the 1940s, and after 1950, when the World Health Organization rejected the idea that quarantine was an effective strategy against leprosy.
Though rare in developed countries and treatable with drug therapy, leprosy remains a public health concern worldwide. The World Health Organization says there were still an estimated 212,000 cases in 2010.
Carey is particularly interested in the decisions that kept Peel Island open for its last nine years. The prevailing rationale she heard was that the island and its enforced residents were "out of sight, out of mind," but she doesn't think that's the whole answer.
"I'd like to step back and look at what contributed to their decisions," Carey said.
Carey said that during the summer she was highly independent, designing and executing the trip herself. She surprised herself at how engaged she remained in the "treasure hunt" of the archival research over the long weeks.
"It's been the most independent of my summers. I went to Australia on my own. … It's a different Australian experience than most 20-year-olds have traveling the country," Carey said.
Now that the semester is getting under way, Carey can begin to analyze the information she gathered, held in photographs she took of documents — 9,000 of them.
Natalie Nannas, graduate student in molecular and cellular biology:
Natalie Nannas, then a Grinnell College undergraduate, remembers the summer she spent conducting research at Princeton University. Everything came easily to her, and the work progressed rapidly. Now a fifth-year graduate student in molecular and cellular biology, she has just had another such summer.
"This summer was really exciting for me," Nannas said. "I was in the lab a lot this summer, I pushed hard."
Nannas, who works in the lab of Andrew Murray, the Herchel Smith Professor of Molecular Genetics, logged regular 11- and 12-hour days culturing and imaging yeast cells whose chromosomes and spindles — key parts of the mechanism for reproducing DNA — glow fluorescent green and red.
Nannas is interested in the operation of the spindle, a microtubule structure that forms during cell division and that pulls chromosomes apart so their DNA can be transferred to daughter cells. Nannas' research focuses on the length of the spindle and how that length is regulated. She's found that the action of the spindle attaching to the chromosome stops its elongation.
"It's the ability of the spindle to grab onto the chromosome that determines shape and structure," Nannas said.
For Nannas, who estimated she has another 18 months before completing her doctoral work, this summer's progress was a far cry from the brick wall she hit during her first project at Harvard. In that research, also involving chromosomes, she ultimately learned that her hypothesis was not supported by the data she was collecting.
"It was a little disheartening, but I learned a lot," Nannas said. "I [was] back to square one and a fourth-year grad student."
This summer, things seemed to fall into line. She spent hours peering through microscopes and taking images of yeast cells frozen during a key moment of cell division. Though she did not get to the beach much, she was able to enjoy the heat and work up a sweat anyway — the yeast was cultured in the lab's hot room, kept at 98 degrees.
"Yesterday, I was on the microscope for 10 hours," Nannas said. "I take images, then use software to analyze the length of the spindles. I filled up our lab's server."
With summer's end, Nannas is preparing for her duties outside the lab, which include being a proctor in Wigglesworth, a freshman dorm. Being a proctor, she said, not only gives her a chance to help freshmen make the transition to college life, but it also makes her feel connected to the Harvard community outside the lab.
"I wouldn't trade being a proctor," Nannas said.
Rebecca Cohen '12, history and literature concentrator, and Sam Arnold '14, social studies concentrator:
Rebecca Cohen '12 has friends who spent their summers abroad in faraway places like Italy, Argentina, and England. Half jealous, she followed their adventures on Facebook. Meanwhile, Cohen joined Sam Arnold '14 in a summer adventure that required almost no travel. The two undergraduates planted, weeded, and harvested at the Harvard Community Garden on Mount Auburn Street. This living laboratory of New England kitchen crops, in the shadow of the bell tower at Lowell House, is in its second season.
"You really get to see a whole new side of Cambridge," said Cohen, a Kirkland House history and literature concentrator who reached for the superlatives. She will leave Harvard next year having seen all four Cambridge seasons, she said, and having explored Boston free of stress, marveling at summer's tide of tourists.
There was also the wonder of the crops themselves, some of them curiosities. Arnold hefted a lemon cucumber, round, pale green, and the size of a baseball.
Arnold, a Pforzheimer House resident, spent last summer working in an Italian vineyard. But his love of foreign travel was muted by the simple pleasures of growing food, an interest he said is now entwined with his passion to help create a sustainable world. One day in late August, bare-chested and tanned, Arnold stood up from a shaded picnic table and dug into a tote for the main tools of his summer: a trowel, pruning shears, and twine.
All around, the garden's raised beds were lush with vivid lettuces. They were bushy with corn, pole-climbing string beans, and shaded thickets of heirloom tomatoes. Pale onions poked out of the soil. Wildflowers ruffled in a breeze. Said Arnold, "This is exactly where I wanted to be."
Annemarie Ryu '13, social anthropology concentrator:
Most of this summer, Annemarie Ryu '13 was in India, working on a series of public health projects. In her $4-a-night room, she slept in pants to ward off bedbugs, spent a dollar to eat three meals a day in stand-up restaurants the size of her Quincy House room, and rode around Bangalore in three-wheeled auto rickshaws that specialized in narrowly avoiding accidents.
"Fun to ride," the social anthropology concentrator wrote in an email, "but the experience is usually at least slightly frightening." Over longer distances, Ryu used public buses. "Very uncomfortable indeed," she wrote, and on roads with bumps "so large and frequent as to repeatedly hurl one against the walls and windows."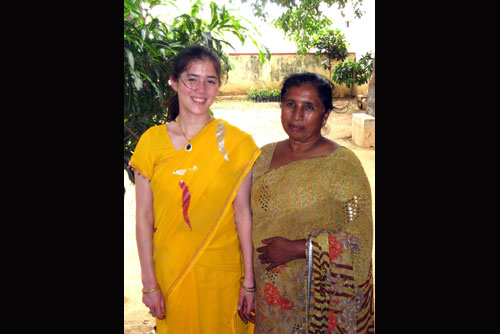 But Ryu's real idea of discomfort apparently is to stay at home. In her first two years at Harvard she has made eight foreign trips: to Nicaragua, Haiti, the Dominican Republic, India, and Cuba. Seven were for public service. Ryu started this summer playing violin in Cuba with the Harvard-Radcliffe Orchestra. She ended it in the Dominican Republic and Haiti, working with the nonprofit group Children of the Border to rebuild a school and clinic. In between was India. Ryu helped jackfruit farmers access American markets and field-tested a text-message system she helped to develop at Harvard. It reminds pregnant women and young mothers about appointments.
Kyle Casey '13, sociology concentrator:
Kyle Casey's 2010-'11 sports season got off on the wrong foot. A standout forward with the Harvard men's basketball team, the then-sophomore broke his right fifth metatarsal bone just prior to the season during a pickup game. The foot fracture required surgery and sidelined him for several weeks. Then, when he returned to the court, he planted his foot awkwardly during a game and broke the same bone. Casey opted to play out the season and had a second foot surgery as soon as the season ended in March.
To get back into shape this summer, he turned to football.
Each year some athletes remain on campus during summer for the daily grueling conditioning workouts — minus the hitting and helmets — held by the men's football team. This summer Casey joined them. The students rise early for a 6 a.m. start and speed training. Next, they hit the weights, using routines tailored to their individual sports. The two-hour sessions end with a set of conditioning drills, including tire flips, in which they push giant tires end over end, and sled pushes, which involve shoving a sled designed for field turf, piled high with weights.
"It was pretty intense, a different workout than I am used to," said Casey, who was inspired by the football team's drive. "They are fiery; they get after it (in) everything they do. It pumps you up."
Casey said he feels stronger as a result of the training and is ready to get back on the court. "The foot is good. It's healthy, and I am finally jumping again, getting my speed back. I am looking forward to the season."
Tim O'Brien, doctoral student at Harvard Graduate School of Education:
Tim O'Brien briefly lost his cellphone service this summer to a worthy cause: world peace. The doctoral student at the Harvard Graduate School of Education's (HGSE) Education Policy, Leadership, and Instructional Practice Program headed for the high seas to work on conflict resolution with young students.
O'Brien took part in Seas of Peace, a new sailing program for Middle Eastern and American youth. The initiative builds on Seeds of Peace, a summer camp begun in 1993 that brings youth from areas of conflict together in Maine to work on spreading peace through dialogue and discussion. The nautical program brings together the same teens two to three years after their first experience.
"We had kids who were going into the Israeli Army working alongside kids who had been evacuated by Israeli soldiers from their houses in Palestine," said O'Brien of the complex group dynamics in play. The tight quarters and need for teamwork, he said, led to close bonds and open communications.
"The boat offers a place where we can continually reflect on how we respond to the demands and the pressures of working together."
For 10 days, O'Brien and others helped to teach 15 teenagers to sail small boats off the Maine coast in preparation for their two-week trip on the 140-foot Spirit of South Carolina. In addition to sailing and maintaining the schooner, making meals, and standing watch, the group engaged in leadership training exercises and discussions about peace building. O'Brien helped conduct many of those conversations.
One major theme involved "the question of why is it hard to be curious when your dignity has been violated," said O'Brien. Together, the group explored the different perspectives contained in conflict and controversy and why it is "so difficult for Jews and Palestinians to be curious and engaged with each other when they constantly feel attacked by the other side."
O'Brien said the summer experience "jives with what I have been studying at HGSE. I love work that offers people different perspectives."
Henry Shull '12, history concentrator:
Henry Shull explored his love of art this summer in a place of breathtaking beauty: Villa I Tatti, the Harvard University Center for Italian Renaissance Studies.
Nestled on the edge of Florence, Italy, surrounded by olive groves, vineyards, and gardens, the estate is the former home of art historian and Harvard alumnus Bernard Berenson, who bequeathed the building to Harvard in 1959. It became Villa I Tatti in 1961.
"Taking the bus up into the hills of Tuscany every day is not a bad commute," said Shull, a history concentrator, of his 20-minute ride to the villa, which has become a bucolic retreat for research and learning.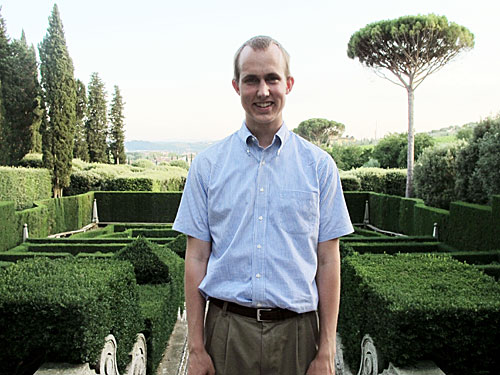 Each year scholars from around the world convene at the estate to investigate various aspects of the Italian Renaissance. For part of his two-month internship, Shull helped to catalog a section of Berenson's extensive collection of photos of Renaissance paintings, compiling details about the iconology, themes, and locations of the works. His notes will be included in the collection's description in Harvard's HOLLIS and Visual Information Access catalogs.
As much as the work itself, Shull enjoyed interacting with his colleagues, taking advantage of the villa's daily morning coffees and afternoon lunches and teas to chat with scholars about their projects involving literature, art history, history, and musicology.
"That's the thing that is so amazing about Villa I Tatti," said Shull. "The Andrew Mellon librarian is sitting next to you eating gnocchi, talking to you about the book that she just published on the pavement of the cathedral in Sienna."