Clara Goldberg Schiffer took adversity in stride. When she was in her 70s, the Radcliffe alumna altered her diet and joined a gym after learning she had heart disease. She was determined to remain active in the many causes she held dear, and was committed to her longtime goal of improving the lives of working women.
Born in Brockton, Mass., to Jewish immigrants, Schiffer learned the importance of hard work early, taking intense Latin classes so she could apply to Radcliffe College. She worked in a leather plant and a candy factory to help pay for her studies and graduated cum laude in 1932. She moved to Washington, D.C., to work on New Deal programs benefiting workers, women, children, and health. Schiffer supported similar causes well into her 90s. She died in 2009.
A group of scholars and professionals involved with the labor movement, workplace law, and social policy gathered at the Radcliffe Institute for Advanced Study Sept. 9 to pay tribute to Schiffer's life and accomplishments and to explore both the legacy and the future of working women in the United States.
The event, "The New Majority? The Past, Present, and Future of Women in the Workplace," also recognized a recent bequest from the Schiffer estate to the Schlesinger Library that will support processing five collections that document the lives of working women. The collections include the records of two organizations that looked to improve working conditions for women; the Harvard Union of Clerical and Technical Workers; and two Massachusetts vacation areas for working women.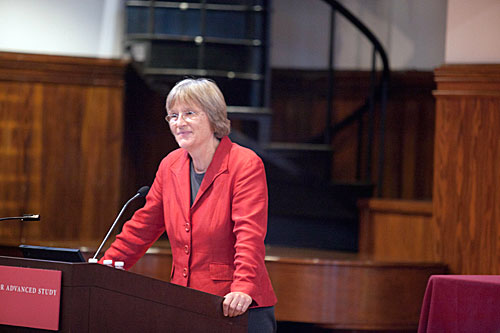 "What can be more important than making resources available and transparent and accessible to those who wish to understand them and make use of them?" asked Harvard President Drew Faust, who helped to introduce the event.
Faust, a Civil War scholar and Harvard's Lincoln Professor of History, said the history of women has "served as such an important point of inspiration, change, progress for the ways women's lives have been transformed in our lifetimes."
In brief opening remarks, Schiffer's daughter, Lois Schiffer, a graduate of Radcliffe College and Harvard Law School, as well as a professor of environmental law at Georgetown University, referenced the current high jobless rate in the United States and the "grave challenges" faced by women workers.
"It is now for all of us to stand on [my mother's] shoulders," she said, "and move forward with the task that is not yet complete."
Political action and labor organizations are still important in improving the lives of the working class, especially of the women, said panelist Heidi Hartmann, an economist and president of the Institute for Women's Policy Research. Another concern, she said, involves America's corporate culture.
"We need to control and exact some obedience from corporations," said Hartmann, noting that in Germany workers are frequently members of governing boards of large companies. "We need to find ways for our workers to influence what goes on."
Radcliffe College graduate Marsha S. Berzon, a judge for the U.S. Court of Appeals for the Ninth Circuit, discussed some past legal cases that were chilling by today's standards. The lawsuits involved companies that required women working in or around toxins to be sterilized to keep their jobs. Other cases involved firms that treated pregnant employees unfairly.
"These stories hopefully seem somewhat shocking to the young people in the room," Berzon said.
The cases represented important turning points, said Berzon, as women stepped forward to fight for their rights. The few female labor lawyers who helped to argue these cases began to mentor the next generation of women pursuing legal careers, while female law professors, including eventual Associate Justice of the U.S. Supreme Court Ruth Bader Ginsburg, addressed the issue of pregnancy in the workplace.
Yet despite enormous gains made over the last century, women in the workforce still face many challenges, said Nancy MacLean, a history professor at Duke University. MacLean argued that the prolonged recession in the 1970s led to a "vast restructuring" of the American economy. That combined with a conservative movement determined to roll back gains made by labor, leading to a "deepening inequality" for women who work.
"The changes that we need to make the most of the new possibilities for women are not going to come easily," said MacLean. "We face deep structural obstacles, decades in the making, and it will take lots of creativity, commitment, and coalition building and a lot of organizing on the part of more people" to improve the situation, she added.
Some items from the Schlesinger collections were on display in the Radcliffe Gymnasium during the discussion. In an essay from 1891, Lucy A. Warner, an advocate for working women, made a poignant plea: "Dear sister workers, we who work in shop and store and factory, and in countless homes all over the United States, if it is because we work that people look down on us, then let us pray that the Lord will change their opinion."