A panel of experts convened at the Harvard Divinity School's (HDS) Center for the Study of World Religions on Monday for a discussion on Islam in central Africa, in preparation for the visit of Alhaji Muhammad Sa'ad Abubakar III, the Sultan of Sokoto in Nigeria.
The scholars explored the history of the sultan's position and influence in Nigeria as the religious leader of its Muslim population, as well as the cultural, traditional, and religious significance of Islam in Nigeria.
Abubakar will visit Harvard for a series of lectures and discussions next month, including the Samuel L. and Elizabeth Jodidi Lecture, one of the Divinity School's most distinguished events, established "for the promotion of tolerance, understanding, and good will among nations, and the peace of the world."
The talk, titled "Islam and Peace-Building in West Africa," is being jointly sponsored by the Weatherhead Center for International Affairs and HDS, and will take place at the Sackler Lecture Hall, from 4:30 to 6 p.m., on Oct. 3.
A highly educated diplomat and soldier, the sultan is the 20th ruler on the 200-year-old throne. The panelists agreed the religious leader is uniquely positioned to help ease religious tensions in Nigeria between increasingly fractious Muslim and Christian factions.
"He is at the forefront of a movement," said Jacob Olupona, a professor of African religious traditions at HDS who moderated the event. "He is out to encourage interreligious dialogue. He is on a mission. He is actively struggling to spread a method for quelling violence, healing intractable divisions, and cultivating a national identity to embrace Nigeria's religious and ethnic diversity."
Exploring the history of Islam in Nigeria, Benjamin Soares, a senior researcher at the University of Leiden's African Studies Centre in the Netherlands, said recent decades have seen tension increase not only between Muslim and Christian populations, but also among Muslim groups in Nigeria that have been influenced by outside forces.
"Saudi and Iranian rivalry played itself out in Nigeria, as both countries sought to influence and mobilize the country's often-restless Muslim youths," said Soares.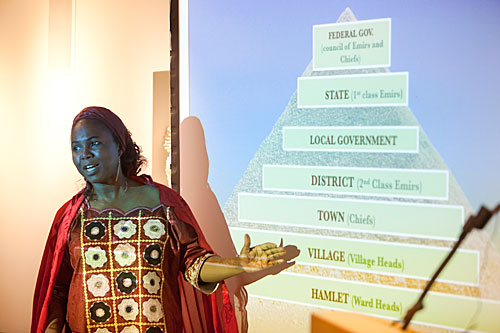 Respect for human dignity, fairness, justice, and freedom are the sultan's core values, said Hauwa Ibrahim, visiting lecturer on women's studies and Islamic law at HDS. The first female lawyer among a population of 250,000 in northern Nigeria's predominantly Muslim Gombe region, Ibrahim noted the sultan's efforts to promote polio vaccines and raise awareness of women's rights in the nation.
"He is powerful as an agent of change. He has a voice. He has a big voice."
But change will likely arrive in discreet ways, most likely through important dialogue behind the scenes, said M. Sani Umar, an associate professor of religion at Northwestern University. Over the years, he said, the authority associated with the sultan's position has dramatically shifted, changing from "power without influence, to one of influence without power."
Today, said Umar, the sultan "has no formal authority to impose his will … but his influence is tremendous."