Harvard College Dean Evelynn M. Hammonds welcomed members of the Class of 2015 to campus in Sanders Theatre on Thursday, promising parents that Harvard would take care of their sons and daughters and enticing students with the prospect of four years of exploration and opportunity.
After introductory remarks from Dean of Freshmen Thomas A. Dingman, Hammonds, the Barbara Gutmann Rosenkrantz Professor of the History of Science and of African and African American Studies, told parents that Harvard sees each member of the College as a "whole human being — not simply a talented and superbly accomplished student." Even as the school provides "intellectual sustenance," it also offers a wide range of resources and supports to help students develop as people.
"I want to assure you that there are many individuals here to help your children successfully navigate their college years," she said. "Our goal is that each student has direct access to a number of individuals well-suited to support them in particular aims or challenges. To that end, a densely woven web of faculty, administrators, resident proctors, teaching fellows, peer advisers, and deans surrounds the freshman class."
Hammonds tried to prepare freshmen and their families for the occasional "sharp turn or two" that occur when curious students encounter the vast menu of choices that Harvard offers: The science prodigy may discover the joys of poetry and become an English concentrator; the prospective lawyer may set her sights on a career in evolutionary biology. Hammonds said the College would offer support and guidance wherever the students' explorations take them.
"We will take care of that newly hatched filmmaker or classicist or botanist," she said. "And we will help each of them stretch. And we will do our very best to ensure that the environment here at the College is a safe one in which to ask questions, even uncomfortable questions, and in which to experiment, and in which to accommodate moments of both success and failure, those inevitable partners in learning."
Championing the value of a liberal arts education at a major research university, Hammonds pointed to recent initiatives that enable undergraduates to work alongside faculty who are leaders in the sciences, social sciences, and humanities.
"Just one of our recent endeavors, the Program for Research in Science and Engineering (PRISE), has already generated hundreds of projects," she said. "Under its aegis, students have mapped the self-intersections of fractal curves, taught self-restraint to rats, examined the magnetic variability in small stars, looked into the potential of supercharged green fluorescent protein as a drug delivery platform, and explored — in what must have been a lively experiment — 'the secret life of bacterial promiscuity.' "
Earlier in the day, Hammonds and Dingman toured the Yard to greet students. They found Ara Parikh '15 of Florida standing outside her new suite in Weld Hall, waiting for her roommates to arrive so they could choose spaces and she could unpack. Parikh participated in the pre-orientation First-Year Urban Program (FUP) and said the experience helped her get to know Harvard's campus and the surrounding community.
"FUP was wonderful," she said. "It was great to meet other students and come to moving day knowing some people and having some friends to visit, rather than coming in and being totally overwhelmed. The program taught us a lot about Harvard, so we weren't totally clueless when we came to campus."
Parikh said she planned to keep busy during the Calendar of Opening Days.
"I want to go to as many panels and meetings as I can," she said. "I hope to get to know people in my entryway, and to get to know my roommates a little better too."
The deans moved through the Yard on the muggy, partly cloudy day, shaking hands and shouting hello to students and staff as they passed. The people they met represented a College community of great energy and diversity: a proctor from Massachusetts Hall whose entryway theme will be "creativity and taking risks"; a women's squash champion in Thayer Hall; a new arrival to Weld Hall from Anchorage, Alaska, who complained about the heat; and another in Thayer who was happy to avoid the 110-degree weather of her home in Austin, Texas.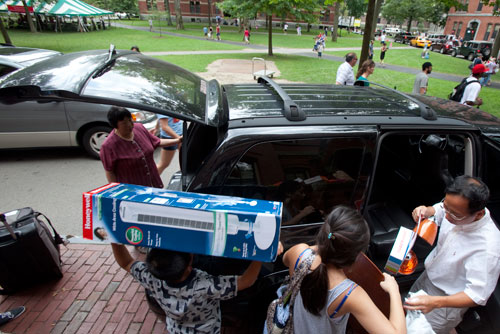 Outside Grays Hall, Tim Duncan of Kansas City, Mo., smiled as he helped his daughter Amalia to move in.
"It feels great to be here," he said. "It's like no other feeling we've ever had. I hope that she is able to take advantage of everything that's here for her, and that she puts herself in touch with the people who are going to make her successful. I don't doubt that that will happen."