What will the K-12 education sector look like in 20 years? Recently, a group of Harvard students tried to answer that question by designing schools of the future.
During an intense, seven-week collaboration, teams from Harvard's Graduate School of Design (GSD) and the new Doctor of Education Leadership degree (Ed.L.D.) program at the Harvard Graduate School of Education (HGSE) developed the designs, with an emphasis on innovative approaches to teaching and learning.
"It's impossible to envision the future of education without seeing the building, but equally impossible to see it without understanding the new means of pedagogy and how students and teachers will interact," said Hashim Sarkis, Aga Khan Professor of Landscape Architecture and Urbanism in Muslim Societies.
Sarkis created the project with Harry Spence, co-director of the HGSE's Ed.L.D. Program. A professor of practice at HGSE, Spence was eager to challenge his students to think about the future of education by incorporating elements of creativity and design. In speaking with Sarkis about his work on an upcoming book about schools of the 1950s, the two realized the important connection between pedagogy and facilities.
"We thought the exposure to a different discipline and thinking about school and educational problems within a totally different disciplinary framework was critical," said Spence.
The School for Year 2030 (SY2030) initiative is connected to the series New Geographies, a journal of essays created by GSD students that explores how design can influence "the forces that shape contemporary urban realities." The journals spawned a research laboratory of the same name, one of a number of new labs that are part of the School's Research Advancement Initiative (RAI) headed by Sarkis.
The labs bring faculty and students together around common areas of research interests, ranging from sustainability to fabrication, responsive environments, social agency, and new geographies. The SY2030 project involved faculty and students from the RAI's labs.
Over the spring semester, the students took "School for Year 2030 Advanced Research Seminar," led by Spence and GSD postdoctoral fellow El Hadi Jazairy. The seminar included a series of lectures on the future of education as it relates to types of school facilities, community models, technology, and sustainability. There was also a design project. Students broke into teams, collaborating as designers (the GSD students) and clients (the HGSE students) to envision a new school for a site in Boston.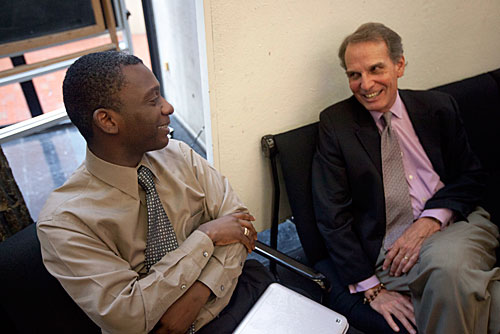 The designs were unveiled during a presentation at the GSD last month before several architects and designers who acted as an informal panel, offering the students feedback.
One group based its design on the concept of an airport, in which students start their days by "checking in" to school to review their schedules and then head to different gates, or places of learning, located both in the school and beyond its walls.
"Some of the gates are internal … and some of the gates lead out into the real-world because we actually want our kids, as they get older, to do a lot of learning offsite and have real world applied learning experiences," said Ed.L.D. student Michele Shannon, who helped to create the school model.
Another team presented a multistory design with connecting ramps. Some students suggested eliminating grades in their schools, while others included residential towers that could house the families of schoolchildren. Other teams incorporated areas for more traditional teacher-student interactions into their designs, as well as space for independent workstations containing computers.
The project not only explored the design of the schools but "how the students will interact in a given space … and that's very powerful," said Spence, who called the project "both very real world and, at the same time, richly visionary."
Sarkis called the project empowering.
"It's the right kind of collaboration," he said, "where each person stands on their own strengths but benefits from the other people in very strategic ways."
"This project really gave us the opportunity to break out of what we currently know and understand schools to be," said Shannon, "and allowed us to work with the design students and each other to really just imagine something completely different."