Harvard foreign policy experts say the death of Osama bin Laden is a blow to al-Qaeda, and a sign of the vitality and persistence of U.S. anti-terror expertise. But it will also renew the debate over U.S.-Pakistan ties and may even set the stage for a season of reprisals against American interests.
Still, the good news takes the lead.
"Terrorism is about drama and narrative designed to capture media attention and set the global agenda," said Joseph S. Nye Jr., University Distinguished Service Professor, repeating sentiments found in his book "The Future of Power" (2011). "The killing of bin Laden helps to puncture his myth of invincibility."
R. Nicholas Burns, a 27-year U.S. Foreign Service officer now teaching at the Harvard Kennedy School (HKS), posted his own reactions in a brief video. "Justice has been done," he said. "The person who ordered the death of Americans has himself been killed by our government."
Bin Laden's death is a "significant blow" to al-Qaeda, he said. But it does not mark the end of the global war on terrorism, since sympathizers "will now seek revenge against the United States," said Burns.
Bin Laden had slipped into a more symbolic than operational role, "but the forces he unleashed still exist," said Juliette Kayyem, assistant secretary for intergovernmental affairs in the Department of Homeland Security from 2009 to 2011. "My biggest fear is not another 9/11," she said, but low-level attacks that are not dramatic but are harder to detect.
Meanwhile, "no one is delusional that we've won the war on terror" in the wake of bin Laden's death, said Kayyem, who described security experts as "very smart and cautious about what it means.''
But finding and killing bin Laden underscored the professionalism of U.S. anti-terrorism efforts, said Burns, who praised the persistence that U.S. experts brought to bear in nearly 10 years of trying to track the al-Qaeda leader down. "Terrorists now know the United States is going to pursue them to the ends of the earth if necessary, for as long as it takes."
Still, there was an element of surprise to the news of bin Laden's death, said Kayyem, a member of the senior advisory board of HKS's Belfer Center for Science and International Affairs. "I had forgotten how much we wanted it. It was a shock."
But the U.S. street demonstrations that greeted news of the killing did not sit well with her. "I was not so thrilled with what was going on spontaneously," she said. "For one, it's a very private moment for the victims and their families."
Meanwhile, "we have a lot of accounting to do with Pakistan," said Kayyem, one of many commentators wondering about the implications of finding bin Laden comfortably housed in a Pakistani garrison town.
Burns called bin Laden's choice of residences a "very complicating matter" in relations with Pakistan, an Islamic state whose military is heavily subsidized by U.S. aid. "It just defies reason to think that Pakistani officials were completely unaware of his presence," he said of the high-profile terrorist. "Obviously lots of questions are going to be asked."
At the same time, it's unlikely that bin Laden's death will stir violent protest on the Arab street, where the al-Qaeda figurehead was "not unduly popular" for his murder of civilians, said Burns, director of HKS's Future of Diplomacy Project. "Many in the Arab world will see this as a victory in their struggle against terrorism."
Perhaps the greatest victory goes to the White House, said David Gergen, an adviser to four presidents and director of the Center for Public Leadership at HKS.
"There are more questions than answers about what impact the killing of bin Laden will have," he wrote in a May 2 commentary for CNN, "but we know this: For both George W. Bush and Obama, catching bin Laden was the big prize. Who ever got him would carry a bigger stick. And that's what Obama has just done."
Obama's legacy will be more than "finding and killing bin Laden," said Kayyem, who praised the president for bringing a new tone to discussions of terrorism. "He's very calm, he's very matter-of-fact, he's very adult about it," she said of the Obama's late-night announcement about the raid. "Mission is not accomplished and there are no victory laps — but it also doesn't mean we have to live our life every day in fear."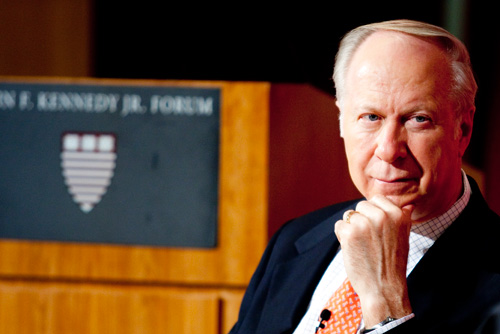 Amid all the commentary, it's important to keep the killing of bin Laden in perspective, wrote Stephen M. Walt in a May 2 blog posting for Foreign Policy magazine. (Walt is the Robert and Renee Belfer Professor of International Affairs at HKS.)
Yes, his death has symbolic impact, but bin Laden no longer had an operational role in al-Qaeda, he wrote. And bin Laden had become the titular head of a violent, fundamentalist movement that ultimately failed, swept aside by a wave of youthful sentiment in the Middle East inspired by "more universal ideals of democracy," said Walt.
And yes, bin Laden had great success in his day, since after all his strategies spawned wars that have cost the United States trillions of dollars and thousands of lives. But to give him too much attention now distracts from the challenges that confront the United States in the Arab world, wrote Walt. "Al-Qaeda isn't the real reason we are having a hard time in Afghanistan, and it has nothing to do with our difficulties with Iran."
The same military and intelligence prowess used to find and kill bin Laden will now be focused on other senior leaders among terrorists, said Kayyem.
And the same enriched intelligence capabilities will enliven discussion on new directions for U.S. foreign policy and the future of Islamic nations. "I'm very optimistic," said Kayyem, "about the opportunity this will provide us, and the Arab world."
Read updates from Harvard Kennedy School.