When the electric light was invented, education reformers thought the school day would be transformed. After all, that new technology offered the possibility to educate students at any time of the day or night.
Not much has changed on that score since Thomas Edison's creation, however — nor since the invention of the automobile, the telephone, television, or any other transformative technology of the past 100 years. For all the hopes of technophiles, most children's school days still follow the agrarian calendar and run from 9 to 3.
It's easy to get excited about the possibilities afforded by 21st century technology, from mobile phones to cloud computing to social media. But when it comes to truly transforming broken education systems at home and abroad, said IBM Foundation President Stanley S. Litow, one thing is clear: "We need a little humility."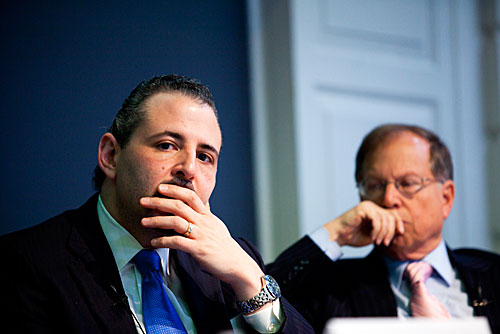 "Technology is a critical tool," Litow said Thursday (March 31) at the Harvard Graduate School of Education (HGSE). "It's people who make the change."
With that in mind, Harvard's Advanced Leadership Initiative (ALI) brought together dozens of education leaders and entrepreneurs, including Litow, for a three-day think tank, "Educational Innovation and Technology: Leveraging Technology to Enhance the Relevancy and Quality of Education," held March 31 through April 2.
Technology's ability to transform education "is still very much a promise," said the event's organizer, Fernando Reimers, Ford Foundation Professor of International Education and co-chair of the Advanced Leadership Initiative. To explore that promise, more than 40 speakers convened to talk about everything from online learning to training teachers in technological tools to the role of gaming and "edutainment" in the classroom.
In many places, technology, particularly widespread Internet access, has "opened up the world," Reimers said, by helping people to access information about how their school compares with others by allowing students, parents, and activists to organize to demand improvements in their school districts.
But in some ways, "technology and innovation [in education] have had a very long infancy," Reimers said. Most school systems lack the revenue to experiment with innovative technological tools in their schools, and few high-profile leaders have stepped up to show the way to the schools of the future.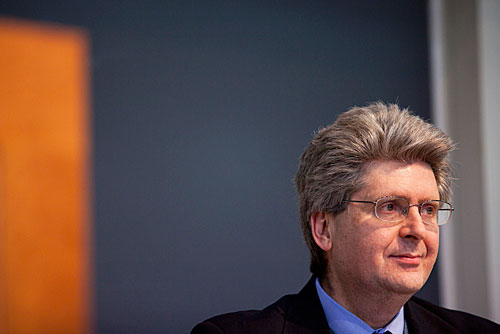 The think tank will help build a community of leaders and ideas by allowing business leaders, entrepreneurs, educators, and activists to collaborate, said Rosabeth Moss Kanter, HBS's Ernest L. Arbuckle Professor of Business Administration and the chair and director of the initiative.
"Just as 'health' isn't just the hospital, or the 'city' isn't just city hall, 'education' isn't just the school," Kanter said.
America can't simply bulldoze every public school and start from scratch, Kanter said. Modern technology, with its ability to connect students, teachers, and ideas across continents in an instant, "gives us a chance to do some reinvention without having to tear down the whole system."
The conference is using technology to take its ideas global. In the run-up to the think tank, Harvard Business Review hosted a three-week series on the topic of innovations in education, which drew 27,000 readers. The public can also watch the conference live on the ALI website and participate in a real-time discussion on the ALI's Facebook page.
Building a collaborative atmosphere around issues in education is the first step, many participants agreed, in overcoming the bias against experimentation that can pervade schools. Often the most innovative and creative schools, such as the highly individualized, technology-laden School of One in New York, become "islands of excellence," Litow said, rather than successes that can be replicated and taken to a larger scale.
"You open one great restaurant, and everybody will want to copy you," said Litow, former deputy chancellor of the New York City schools. "You have one terrific school, and everybody will give you 10 or 20 reasons why it won't work for them."
When it comes to mobilizing support for change, he said, "technology might be the answer."