House Majority Leader Eric Cantor, R-Va., portrayed the United States as a "fiscal train wreck" and sketched the stark choices that Republicans consider necessary to fuel the nation's sputtering economic engine during an address Thursday (Feb. 24) at the Harvard Kennedy School (HKS).
Cantor, 47, has been a central conservative figure in the debate over the nation's future since his election in 2001. A founder of the conservative Republican group Young Guns in 2007 and co-author of the 2010 book "Young Guns: A New Generation of Conservative Leaders," Cantor became new House Speaker John Boehner's top deputy on Jan. 3. Seventeen days later, the House passed Cantor's bill to repeal President Obama's 2010 Health Care Law.
Cantor described America's crossroads as a choice between contrasting images of the future. Long-term, it either will reflect Europeans seeking more benefits from their governments or Americans in town meetings "demanding an end to the explosive growth of government."
"Our people want the government to do less. Our businesses want us to stop spending money we don't have," he said. "We all assume everyone deserves a fair shot at success. Yet many Americans are wondering what happened to their fair shot in life?"
Individual freedom to succeed in business is the bottom line of that fair shot, Cantor said. "We're entrepreneurs. Our culture is built on opportunity. If we want to preserve America as the crucible of innovation, the home of Google, Facebook, and Apple, we have to focus on success in our private sector."
Among the measures required, he said, are reducing spending, lowering unemployment, reassessing regulatory reform, and finding a better way to accomplish health care reform, starting with cost containment.
The Republican budget, expected in March, will prescribe containing the costs of such entitlement programs as Social Security. Cantor warned the mostly undergraduate student audience that fiscal discipline in that area "won't affect those 55 and over. But for the rest of us, those programs will have to change.????
Trey Grayson '94, director of the Institute of Politics and a former Kentucky secretary of state, initially welcomed Cantor to the podium as chants wafted in from John F. Kennedy Street, where student groups protested against proposed Republican spending cuts.
About 250 protesters lined the sidewalk, including members of the national Student Global Aids Campaign and Students for Choice, as well as supporters of Planned Parenthood and students angered by cuts to AmeriCorps and other programs.
"Thanks for providing the live music," Cantor said to Grayson. "I can't think of a better place to debate the future of our country."
Later, the John F. Kennedy Jr. Forum's signature "unfiltered" question-and-answer session prompted a pointed discussion. A dozen people wearing "HIV Positive" T-shirts and displaying a banner that read "Fully Fund Global Health" demanded to know if Cantor would "save a million lives" by restoring the $1.5 billion Republicans had cut from spending on international health.
"We all want to see AIDS eradicated. But we have to hold ourselves accountable. It's absolutely painful. We don't have the money," Cantor replied. To a similar challenge from student supporters of Teach For America, he said, "Americans are great philanthropists. Our wealth can create health in the world. But now we need other countries to know we can pay our bills."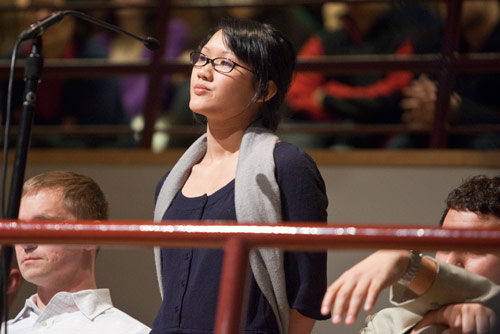 Hoai-Mi Vu, an HKS student from Lawrence, Mass., who is studying for her master's in public policy, expressed many young people's bill-paying concerns. Lawrence was left at the crossroads of America's industrial and post-industrial economies. "It's full of abandoned textile mills. How do you make sure businesses don't export our jobs to Mexico?" she asked.
Cantor offered her a longer view. "Businesses may hire and find a way to produce elsewhere, but their capital comes back to the U.S. It benefits their shareholders and many others. That's how we'll reposition the U.S. to breed prosperity and success," he said.
Cantor's talk was co-sponsored by the Harvard Republican Club, the Kennedy School Republican Caucus, and the Kennedy School Electoral Politics Professional Interest Council.