NEW ORLEANS — It was just past noon on Monday (March 15) when Clifton Dawson '07 steadied himself on an aluminum stepladder.  Ahead of the former Crimson running back was a task more daunting than the NFL tacklers he dodged for his three professional seasons: painting a shotgun-style house the size of a rail car.
"It's a small house, " he said, "but it's a big job."
Dawson was in charge of a team of Harvard alumni tasked with painting the exterior of the peeling frame house. Other crews rolled powder blue paint onto interior walls, mowed the wide lawn, and painted another house nearby. The concrete steps, a handsome rust red, were already done.
The alumni were the first to take part in "Alternative Spring Break," a tradition of public service initiated by the student-run Phillips Brooks House Association (PBHA), which is sponsoring 11 trips this year. It's a concept that the Harvard Alumni Association (HAA) has embraced.
"Last year, I went and sat on the beach by myself, " said Margaret Richards, Ed.M. '05. "It was kind of boring." Volunteers may be drawn these days to Haiti or Chile, she said, but they are places where — unlike New Orleans — "good intentions get in the way."
New York City dentist Mercedes Franklin, Harvard School of Dental Medicine '74, had been to New Orleans many times to do charity dental work in the city where her parents had met in the 1930s. But this time she came armed with a paint roller. "We're helping," she said.
Less than five years ago, courtesy of Hurricane Katrina, seawater had lapped over the window frames of the modest white house on Harrison Avenue in Gentilly, a New Orleans neighborhood where every third house is still empty.
Dawson, Franklin, and 21 others will work through Saturday (March 20), putting the two houses in shape on behalf of the Pentecost Baptist Church next door. The church's pastor, the Rev. Lionel Davis Sr., stood on the lawn between the two houses, remembering the day when Katrina buried a vibrant neighborhood in water and swept 40 percent of his congregation into other neighborhoods and cities. How high was the water? He held one hand up to his neck.
Davis looks forward to summer when — finances willing — the house that Dawson's crew was working on would have new flooring, electrical work, and plumbing. Then it would be ready for use as a neighborhood resource center for job seekers still knocked low by the 2005 storm. The other building would house an after-school program. "This is one of those communities," he said of his neighbors, "where you have to bring them from nowhere to somewhere."
Nearby, in the Broadmoor section of New Orleans, the theme of the last five years has been the same: going somewhere from nowhere. And Harvard students are helping, whether it's on spring break this year or during internships in January and over the summer.
Angela Primbas '12 co-directs an alternative spring break program in Broadmoor, where Katrina left houses 10 feet under water and where many streets are still heaving and undulant from the flooding. (Officially, Broadmoor is 85 percent rebuilt.)
Some of the volunteers are working as math and writing tutors at Andrew H. Wilson School, a new charter school where half of all fourth-graders are at risk of not passing a state exam required for promotion. They were in kindergarten when Katrina struck, a disaster that kept some of them out of school for two years.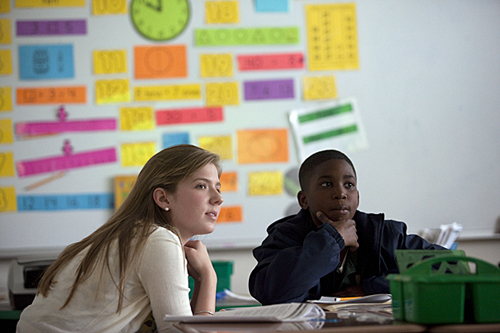 One of the tutors is Schuyler Milender '13, who on Monday spent her first day at Wilson, a glittering school built out from a two-wing building wrecked in the hurricane.
After just one semester at Harvard, she was "inundated by opportunity and experience," said Milender, and wanted to express her gratitude by giving back to others. Blogging about her alternative spring break helps too, since that involves "reflecting and digesting and processing," she said. "I'm learning a lot. It's putting things in perspective."
Other Harvard undergraduates work on two of the many projects under way at the nonprofit Broadmoor Development Corp. (BDC). One is EnviRenew, a weatherization and conservation program aimed at reducing energy bills. The other helps owners of blighted houses to navigate the legal system.
BDC executive director Hal Roark called it "intellectual work," involving analysis and data gathering that shows how public service trips aren't just about gutting houses. He draws volunteers to Broadmoor from colleges and universities that include Harvard, Yale, Notre Dame, Tulane, and Bard.
Doug Ahlers was in Roark's office Monday. He's director of the Broadmoor Project at the Harvard Kennedy School. Since early 2006, he said, "Harvard wanted to do a long-term commitment to a specific neighborhood." As for student volunteers, he said, "real contributions are made."
Harvard students acknowledge the advantages of an alternative spring break, including the satisfaction of doing good, and immersion in cultures, places, and issues that are not familiar or are hard to find in a classroom.
Though learning often involves books, said Obi Okwara '12, who is on the Broadmoor team, "there's another type of learning that takes place with experience."
Terry Ding '11, co-director of the Broadmoor trip, had been there three times on PBHA trips. The experiences, he said, "made me angry, and inspired."
That's another legacy of volunteers at Broadmoor and elsewhere, said Roark. They come back, they inspire others to visit, and they return as leaders who supply a continuum in the long slog to rebuild New Orleans.
"Even though students may change from trip to trip," he said, "the leadership continues."
New Orleans and places like it constitute living classrooms beyond the cultural and geographic confines of Cambridge. Luxuriant palms droop over highway median strips. Narrow canals glitter between apartment complexes. Houses, even on ordinary streets, have a compact elegance and style.
Then there is the French Quarter, where a few students repaired Sunday night on the St. Charles streetcar for dinner at the River's Edge and to eat beignets. This is, after all, spring break too.
"It was so great," said Lisa Akorli '12, "to see how alive the city is."
Founded in 1904, PBHA is student-run and staff-supported. It has about 1,400 volunteers, making it the largest student group at Harvard.
Noted PBHA alumni include President Franklin Roosevelt, retired U.S. Supreme Court Justice David Souter, education writer Jonathan Kozol, and Roger Baldwin, founder of the American Civil Liberties Union.
This year, PBHA oversees 85 service and social action programs, including literacy, mentoring, health advocacy visitation, and tutoring. In the Boston area, 10,000 residents benefit.
But PBHA also casts its public service net wider, sponsoring "alternative spring break" trips. In the past, students have fanned out along the East Coast and into the South to help rebuild churches, renovate houses, fix playgrounds, and tutor students.
This year, there are 10 PBHA alternative spring break trips to domestic locations. Another will be overseas. One of four Habitat for Humanity trips is in El Salvador, with 14 Harvard undergraduates taking part. On the U.S. side, there are trips to New York City, Washington, D.C., Kentucky, Georgia, North Carolina, Alabama (two), Mississippi, and New Orleans (two). PBHA alumni will take their own alternative spring breaks, to New Orleans and Jackson, Miss.
Participants say the benefits of alternative spring breaks go both ways, to those helped and to those helping.
Marcel E. Moran '11, a human and evolutionary biology concentrator from Eliot House, is taking his third domestic public service trip. "I keep coming back to them," he wrote, "because no other time during the year do I feel as connected to the people around me, both from Harvard and the community."
Moran went to Hayneville, Ala., this spring, part of a team helping to rebuild a church damaged by fire. He and the Harvard cohort were to meet with the congregation and then travel to the church to assess needed repairs to the interior, including wiring and paint.
"As much as we tangibly help these congregations that have faced disaster," wrote Moran, who helped replace another church last year, "our time together with them helps put our entire Harvard experience in perspective."
To read the students' Service Break blog and view images capturing their experience.