At 13, Geoffrey Canada knew that he had to help save himself and that, if he could, his life would be about saving others.
A product of the rough and tumble South Bronx in the 1950s, the Harvard alumnus grew up in "one of the most troubled communities in America." From an early age, Canada knew that if he and his friends, "good and intelligent kids," were going to have a chance to thrive, they needed adults to intervene and help to rescue them. But eventually, he realized, "No one was coming."
Fortunately Canada did make it and, because of him, so have many others.
The 1975 graduate of the Harvard Graduate School of Education is now head of the successful Harlem Children's Zone, a nonprofit with a revolutionary approach to community development. The organization created the Harlem Children's Zone Project in the late 1990s, a pilot program that targeted a single block in Harlem with comprehensive medical, social, and educational services. Today it encompasses close to 100 blocks in the Manhattan borough and serves thousands.
At Harvard next Friday (Oct. 23), as part of the University's Public Service Week, Canada will be the award recipient and speaker at the Phillips Brooks House Association's (PBHA) 2009 Robert Coles "Call of Service" Lecture and Award. The association awards the honor annually to those who have made significant contributions in public service.
"The ability to try and inspire the next generation of leaders to think creatively, to be fearless in the persistence of excellence, is really a huge personal reward," said Canada of the PBHA honor and the opportunity to address the Harvard community.
But perhaps the biggest reward for Canada has been watching his efforts translate his dream into reality.
"Seeing young people growing up in Harlem," he said, "with the sense that the adults surrounding them care, that they are with them, they are there to protect them, is really something that I thank God about every day."
Harvard's mission to educate has long marched in step with its mission to serve the public good. In his inaugural address on Oct. 19, 1869, Harvard President Charles William Eliot said the University's contribution to the community included a "rich return of learning, poetry, and piety." But Eliot said the mission also had to "foster the sense of public duty — that great virtue which makes republics possible."
One hundred and forty years later, on Oct. 19, Harvard will begin a week of events and activities relating to service and outreach and involving Schools across the University community. Officials said the week's program will help to highlight the richness of the public service landscape at Harvard and will introduce students, who in annual surveys consistently report high interest in service and a desire to know more about it, to the many varieties and pathways into service around the University.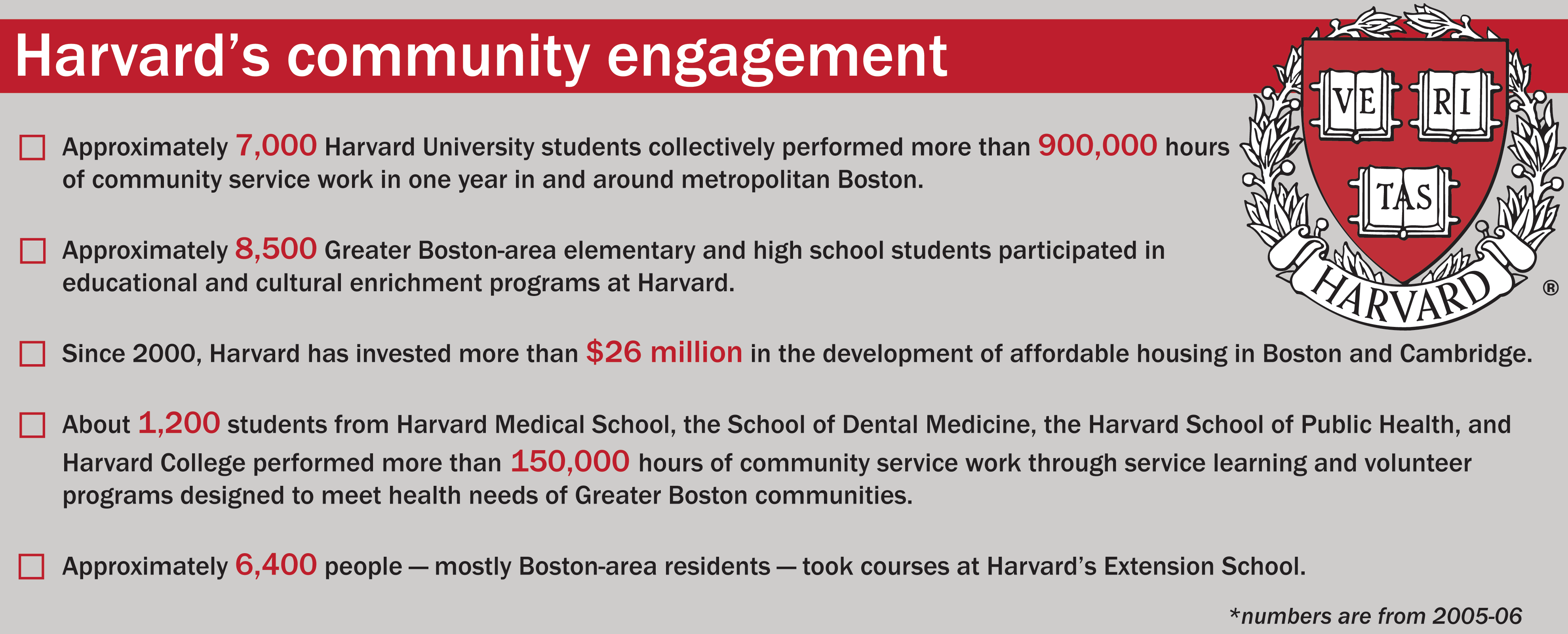 "Universities have always played an important role in developing solutions to the world's pressing challenges," said President Drew Faust. "By shining a spotlight on public service over the next week, we hope to reinforce Harvard's commitment to the common good and to recognize the many contributions made by our students, faculty, and staff every day — through teaching, research, hands-on service, and the development of policy solutions."
Emphasizing Harvard's commitment to service, last fall Faust and Harvard College Dean Evelynn Hammonds charged a group of senior administrators from across the University with exploring ways in which the University can enhance the support it gives to undergraduates interested in public service, both while in school and after graduation. The committee plans to release its recommendations later this year.
The service commitment is paramount for University officials from every sector. The new president of the Harvard Alumni Association (HAA), Teresita Alvarez-Bjelland '76, M.B.A. '79, said recently that she intends to make service her focus during her tenure.
Service, she told Harvard Magazine in September, "cuts across all schools and classes, and it brings out the best in everyone and can unite us as a university."
The concept of public service reaches across the University, from its numerous graduate Schools, to the college, to the organizations supported by Harvard. Each year the University's vast network of alumni participate in critical service work. So do faculty who incorporate service into their research and teaching, and the students and staff who donate thousands of hours.
Following are just a few of hundreds of real-life examples of the invaluable work that touches on aspects of life both at Harvard and well beyond its walls.
The bustling Phillips Brooks House
From the outside, the Phillips Brooks House in the Old Yard resembles a quiet home from a bygone era. But inside it's a whirl of activity. The building is the nexus of undergraduate service life at Harvard and is home to a steadily increasing network of programs that connects thousands of young people annually to service opportunities near and far.
The house, built in 1900, is dedicated to the memory of Phillips Brooks, a Harvard graduate and pastor at Trinity Church in Boston's Copley Square, who believed in a universal obligation to love thy neighbor. The Phillips Brooks House has been serving those in need for more than a century.
It is home to the Phillips Brooks House Association (PBHA), a student-run nonprofit that includes 84 social service and social action programs, staffed by more than 1,400 student volunteers. The building is also home to the Public Service Network, which supports independent student-led service programs, as well as the Center for Public Interest Careers at Harvard College (CPIC), which helps students to secure paid public-interest placements during the summer and after graduation.
"There's this rich sense of history and strong values that live within these walls and among these people," said Gene Corbin, Class of 1955 Executive Director of PBHA. "Through the years, countless students have developed not only their skills here, but also a moral vision for what they want to do with their lives."
Legal advocacy on death row
Getting detained by authorities wasn't what Ariel Rothstein expected when she signed up for a Harvard-affiliated program that helps inmates in Texas. But after speaking with a prison guard in hopes of getting clemency petition information for her death row client, that's exactly what happened.
Shortly after leaving the guard's home, Rothstein and her partner, who were both working last January with the Texas Defender Service in Houston in conjunction with Harvard Law School's (HLS) Death Penalty Clinic, were pulled over on a rural road by a law enforcement official.
"He radioed in that he had found the suspects," said Rothstein, "then he asked me if I would follow him to his office, which turned out to be the Polk County jail."
The pair was released after being issued warnings for criminal trespassing. They continued their efforts to secure clemency for their client, who was convicted in 1993 of a murder he admitted taking part in, but appeals on his behalf were rejected. He was executed in March.
Though Rothstein, now in her third year at HLS, was unable to save her client, she said the experience recommitted her to public service and to advocating on behalf of underserved clients.
"It's difficult to take away a learning experience from something so tragic, but it definitely did recommit me to helping other people, and, hopefully, what I have learned from this experience will be a benefit in future for others."
Along similar lines, the Harvard Divinity School's student associations offer a range of social outreach programs. For instance, the School's Innocence Project Engagement Group is part of the Innocence Project, a national organization that aims to aid wrongly convicted prisoners through DNA testing. The HDS arm of the project also works on issues involving religious life in prison, prisoner re-entry, and peace and reconciliation processes.
Public service at Harvard is a sweeping landscape. It also includes undergraduates who participate in ROTC programs, earning commissions in the Army, Navy, and Air Force. Graduates will go on to protect American lives and interests during times of national emergency and international conflict.
Food donations for those in need
To help combat the growing problem of hunger in the United States, each year Harvard University Dining Services (HUDS) donates about 18,000 pounds of leftover food to the Greater Boston Food Bank's Second Helping program. The donations are the equivalent of 14,721 meals.
"The food collection program ensures that we can safely and responsibly deliver our surplus perishable food to the plates of those who need them most," said Ted A. Mayer, HUDS executive director.
The University also has plans to increase the level of hands-on support it gives to the Food Bank. Faust announced today (Oct. 15), on the eve of World Hunger Day, a new University-wide effort to send teams of Harvard faculty, students, and staff to volunteer during the Friday morning shift at the Food Bank from January through May 2010.
Service is key to Harvard Kennedy School
"The mantra at Harvard Kennedy School is that everyone here wants to make the world a better place," said Dean David Ellwood. "Our more-explicit mission is to train exceptional public leaders and provide ideas that solve public problems. The entire orientation is toward public service in one form or another."
Through its curriculum and academics, a comprehensive summer internship program, faculty, and career services, the Harvard Kennedy School (HKS) is devoted to engaging students in public service work across a wide spectrum — whether in government, a nonprofit or NGO; in education as a schoolteacher; or in the private sector as part of an organization or board committed to the public good. The research and ideas generated at HKS affect the public discourse and influence the crafting of public policy.
Harvard Kennedy School alumni include several heads of state, top government ministers and diplomats, state and local government officials, nonprofit leaders, issue advocates, and socially conscious corporate executives. A significant number of HKS faculty have worked in influential government positions and bring that practical experience to the classroom.
Summer internships at HKS allow students to get involved in real-life policy issues. For the past several years, HKS students have worked with the Broadmoor neighborhood in New Orleans, helping residents to develop a long-range strategic plan for their community in the aftermath of Hurricane Katrina. Other students have used their summers to work as interns with HKS graduate Ellen Johnson-Sirleaf, president of Liberia.
Classroom life also allows students a chance to get involved. Every master in public policy student is required to work with a real-world client, such as a public agency or nonprofit institution, on a current problem or concern. HKS also offers collaborations with other Schools across the University, including executive education programs with the Harvard Graduate School of Education and the Harvard Medical School, and a joint-degree program with the Harvard Business School. The Institute of Politics at HKS is also closely engaged with undergraduates at Harvard College.
"From our teaching to our forums to our internships to our job placement, we are heavily centered on public service," said Ellwood, Scott M. Black Professor of Political Economy. "It is just part of our DNA. It's what we're about. It's about making the world a better place; it's why we are here; it's what motivates everybody. It's why Harvard Kennedy School should exist."