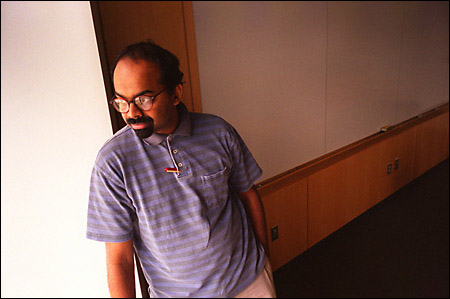 Lakshminarayanan Mahadevan, who finds joy in "discovering the sublime in the mundane," has been awarded the George Ledlie Prize by the President and Fellows of Harvard College.
"As an applied mathematician who breaks down the typical disciplinary boundaries in both his research and teaching, Maha personifies the nature of the renaissance scholar," said Venkatesh "Venky" Narayanamurti, dean of Engineering and Applied Sciences.
Mahadevan, the Lola England de Valpine Professor of Applied Mathematics, has wide-ranging interests that center around the applications of mechanics and mathematics to materials response, biology, and geology; he places particular emphasis on phenomena visible to the naked eye and closely tied to experiments or experience.
"You can look at anything, anywhere, and see a problem," Mahadevan has said. "The questions I ask are not important on a grand scale, but they're interesting because they're around us. I look for extremes – far-out behaviors – because they potentially can illuminate general principles about how many different things work."
He has explored the way honey coils, folds, and wrinkles (relevant for processing materials and perhaps for geologists who study the flow of molten rock within the Earth); how insects can adhere to surfaces (leading to design principles for new types of adhesives); how hair curls on water (helpful in understanding the principles of self-assembly); the way fabrics fold and wrinkle (providing insight into a number of phenomena in morphogenesis); and how water moves through and inside cells (relevant for understanding movement and transport).
Mahadevan created a media stir in January 2005 when he and his colleagues solved the riddle of how the Venus flytrap snaps up its prey: The plant uses stored elastic energy to operate its curved leaves.
"In addition to moving fluidly among fields at DEAS, Mahadevan's collaborative spirit within the University is exemplary. He holds affiliate appointments in the departments of Organismal and Evolutionary Biology at FAS and in the Systems Biology Department at the Medical School," said Provost Steven Hyman. "His publication record is remarkable for its creativity and breadth."
Mahadevan arrived at Harvard's Division of Engineering and Applied Sciences (DEAS) in the fall of 2003, relocating from Cambridge, England, where he served as the Schlumberger Professor of Complex Physical Systems at Cambridge University. He has previously held positions or taught at the University of Illinois, the University of Chicago, and MIT, where he started his independent career, and has collaborated with dozens of researchers in fields ranging from chemistry to physics to engineering and systems biology.
"It is very nice to be recognized by my colleagues at Harvard who have provided a wonderful environment," said Mahadevan. "I have been incredibly lucky to have had inspiring teachers and mentors, and very talented students, postdocs and collaborators. To have a job having fun is a privilege that I can scarcely believe, and certainly do not understand!"
The Ledlie Prize is awarded no more than every two years to someone affiliated with the University who "since the last awarding of said prize has by research, discovery or otherwise made the most valuable contribution to science, or in any way for the benefit of mankind." Robert B. Woodward, the Morris Loeb Professor of Chemistry, was the first recipient in 1955. Others winners have included Judah Folkman, the Julia Dyckman Andrus Professor of Pediatric Surgery; Douglas Melton, the Thomas Dudley Cabot Professor of the Natural Sciences; and Gerald Gabrielse, the George Vasmer Leverett Professor of Physics.