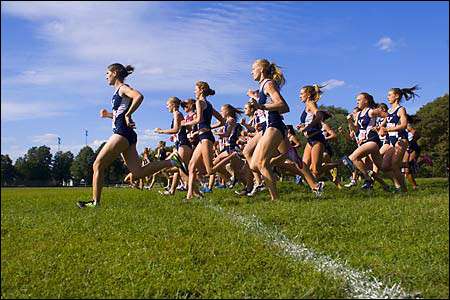 The rules of intercollegiate cross country state that each school needs only seven runners to make up a team. Fielding just eight runners this past Friday (Sept. 22) at the Harvard-Yale-Princeton meet in Boston's Franklin Park, the Harvard's women's squad discovered the potentially critical importance of this convention when a Crimson freshman – unfamiliar with the tricky back hills of the expansive park – momentarily got herself lost.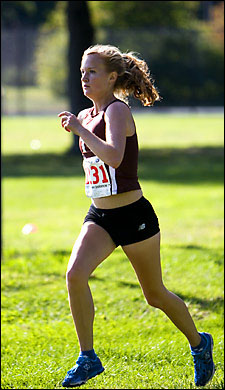 Still, according to assistant coach Ricardo Santos, the Crimson can well afford to field such small teams in the early going of the long cross country season. With some of Harvard's more experienced runners presently tending to injury and fatigue, these initial meets give the Crimson coaches an opportunity to assess the competition (Yale and Princeton consistently among the league's best) and their newer charges.
Against the Tigers and Bulldogs (who fielded 20 runners each), Harvard's Sarah Bourne '08 paced her team by completing the 5 kilometers in 18:49 – good for a 22nd overall finish. Runners for Princeton, meanwhile, took spots two through eight to help the Tigers to a first-place outing with 20 points. Finishing first was Yale's Lindsay Donaldson, who crossed the tape at 17:26 to help her team with a 43-point effort. Harvard finished third with 85 points.
Soon after the women's competition, the men queued up for the 8K haul against lone-competitor Yale. Junior Ryan Hafer's third-place outing in a time of 25:24 – 16 seconds behind meet-winner Jake Gallagher of Yale – wasn't enough for Harvard, however, as the Bulldogs bettered the Crimson, 21-34. Crimson rookie Ben Gutierrez, meanwhile, placed seventh overall in 25:29 – third among Crimson runners behind teammate Sean Barrett '07 (25:27).
The men and women will resume action at the Iona Championships in New York City's Van Cortlandt Park this Saturday (Sept. 30).