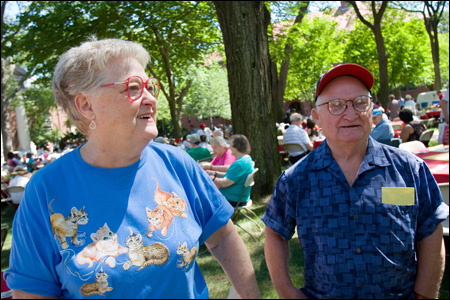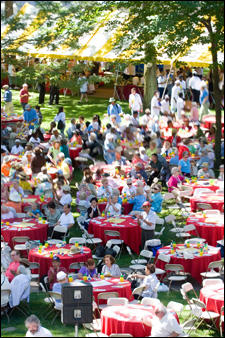 It was salsa for seniors Wednesday (Aug. 9) under sunny skies and shady trees in Harvard's Tercentenary Theatre.
Several hundred seniors came to Harvard for the 31st Annual Senior Picnic, "Cambridge Con Salsa," put on with a Latin flair to a salsa dance beat.
The midday affair, sponsored by Harvard and the city of Cambridge, took place at dozens of tables set up under the towering trees between Widener Library and the steps of Memorial Church. The church steps functioned as an outdoor stage for a band, speakers — including Cambridge Mayor Kenneth E. Reeves — and dancers.
When asked what she likes about the annual picnic, Rita Chambers of Cambridge replied, "Everything."
"They're a lot of fun," said Chambers, who was attending her fourth senior lunch in the Yard. "The grounds themselves are beautiful. There's activities, other seniors. It's just a nice event, it truly is."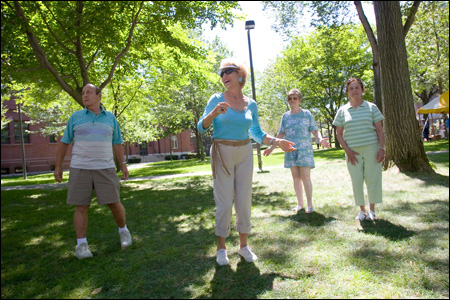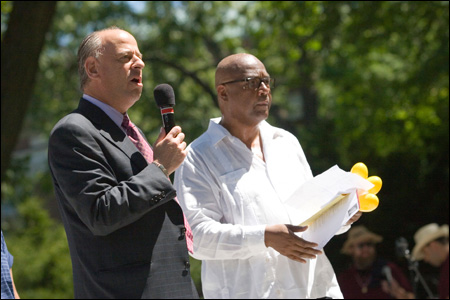 Ed Dargan, also of Cambridge, said he loves the atmosphere, seeing people, and being able to tell family when they visit that he ate lunch in the "Yaaahd."
Even the shyest seniors were able to take part in the activities, which included singers, dancers, and salsa dance lessons on Memorial Church's steps, after organizers handed out hundreds of plastic maracas. That let even those who preferred to sit at their tables a chance to make background music for the food, fun, and fiesta.
— Alvin Powell