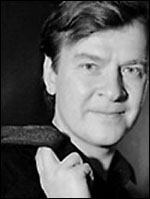 Magnus Lindberg is a major presence in the European music scene; he is particularly admired for his orchestral scores. In his native Finland, he has the reputation of a latter-day Sibelius; in London, his compositions are beginning to be a permanent part of the new music repertoire; and in the United States, the Los Angeles Philharmonic records his work. This spring, Lindberg has been named Fromm Professor of Music at Harvard, a post previously held by Peter Maxwell Davies (1985), Gunther Schuller (1991), and Betsy Jolas (1994), among others. A concert of Lindberg's works will be presented at 8 p.m. on April 15 in John Knowles Paine Concert Hall.
---
---
"I still want to do something that has not been done before," Lindberg admits, "but this doesn't mean chopping down trees in the middle of a piece or something like that! I cannot change my aesthetic approach in each and every work, as the avant-gardists of the 1960s demanded. This work is so organic that I cannot think of it in any other way than as a continuation of tradition."
Many came to know the composer when he wrote "Kraft" (1983-85), which featured more than 70 harmonies and a score over 3 feet high. It used not only traditional instrumentation, but percussion on scrap metal, as well as spoken word. Lindberg's subsequent work reaped sought-after compositional prizes: the Prix Italia (1986), the UNESCO Rostrum (1986), the Nordic Music Prize (1988), and the Royal Philharmonic Society Prize for large-scale composition (1992). Yet his influences are different from those often cited by his colleagues: Lindberg was spellbound by The Clash, for example, and the destruction performances of Einstürzende Neubauten in Berlin in the early 1980s. Lindberg's music is not rock, but it does resonate with a dynamic of the urban world.
Programmed for his April 15 concert is "UR," "Piano Jubilees" (Randall Hodgkinson, piano), "Steamboat Bill Jr.," and "Quintet for Clarinet and Strings."
Lesley Bannatyne is the Music Department's communications coordinator.