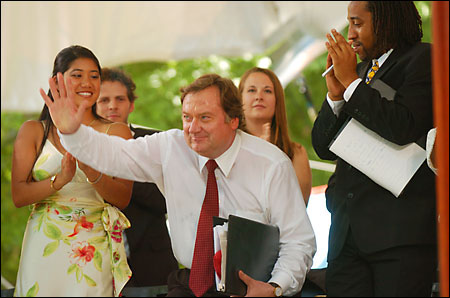 Saying that each generation has a chance to be "the greatest generation," NBC News Washington bureau chief and "Meet the Press" moderator Tim Russert urged members of Harvard's Class of 2005 Wednesday (June 8) to seize their opportunity to make the world a better place.
Russert, this year's Class Day speaker, delivered a 15-minute talk that interwove amusing stories drawn from his years as one of the nation's top TV journalists with a more serious message about the need for talented people at government's highest levels and for everyone to help others.
"No exercise is better for the human heart than reaching down to help another human being," Russert said. "It is now your turn. Your contributions can be enormous."
Russert was just one of several speakers during the two-hour long Class Day ceremony, traditionally held on the day before Commencement. Class Day honors Harvard College's senior class' achievements in a more relaxed, less formal manner than is possible during Commencement's more scripted exercises.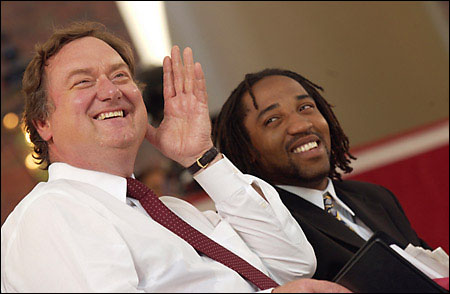 Harvard College Dean Benedict H. Gross took the opportunity to offer the College's graduating seniors congratulations and good luck and praised the students' parents, saying they've waited a long time for Commencement Day's ceremonies.
Several speakers, including Russert, mentioned the difficult start for the Class of 2005, which was just beginning its college career when the terrorist attacks of Sept. 11, 2001, occurred.
Caleb Franklin, the class' first marshal, opened the event by describing Class Day as a "celebration of the spirit of our class." He went on to describe that spirit as one that has had to overcome challenge after challenge, from the 9/11 attacks to studying while the University was dealing with charges of grade inflation.
"Rely on the strength of self you found here," Franklin said. "Thanks to Harvard, we're equipped with the tools to overcome anything."
In addition to the guest speaker, Class Day features four speeches by graduating seniors: two typically humorous Ivy Orations and two more serious Harvard Orations.
Susan McGregor's Harvard Oration, "Reshaping the Rock," reflected on her Harvard admissions essay and the lessons she learned from the sport of rock climbing, particularly how to be flexible in meeting challenges. After four years at Harvard, she said that, instead of accommodating the world, she now thinks graduating seniors should work to change it.
"Every action we take will leave its trace," McGregor said. "What you choose to do each day with your time, your money, your inspiration will frame the contours of the world we leave behind. … Finally it is our turn to take on the rock."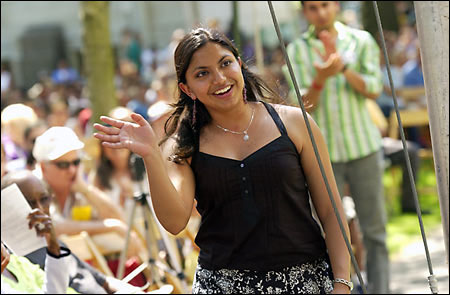 The Ivy Orations presented an irreverent look back at the past four years at Harvard and the struggles of graduating seniors to take care of themselves for the first time, to socialize, to find love … and to remember the names of those they found love with.
Two graduating seniors, Susan Mathai and David Jenkins, were presented with the Ames Awards, annually given to those whose college careers demonstrate a commitment to service.
Russert joins a long list of prominent media figures, entertainers, and leaders who have addressed Harvard's graduating seniors on Class Day, including former Massachusetts Gov. William Weld, comedian Conan O'Brien, and rock star Bono.
Russert, who joined NBC News in 1984, serves as managing editor of "Meet the Press," as a political analyst for "NBC Nightly News" and the "Today" program, as anchor of "The Tim Russert Show," a weekly interview show on CNBC, and as senior vice president of NBC News.
The recipient of numerous accolades, Russert was called "America's best interviewer" in 2004 by Reader's Digest and the most influential journalist in Washington, D.C., in 2001 by Washingtonian Magazine. He graduated from John Carroll University and the Cleveland-Marshall College of Law.
In his speech, Russert reflected on his own upbringing and on how his father, who never graduated high school and who worked two full-time jobs for 30 years, provided an inspiration through "the quiet eloquence of his hard work."
Russert ruefully cited a recent poll that said more Americans know who the Three Stooges are than can name the three branches of government, and a "Tonight Show" anecdote that illustrated how little average Americans know about the U.S. Constitution.
"We need America's best minds in the arena," Russert said. "You have been blessed with an extraordinary opportunity, and indeed, from those to whom much is given, much is expected."