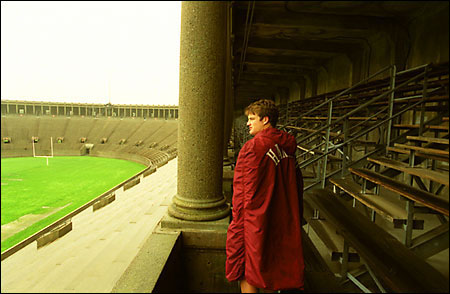 Harvard quarterback Ryan Fitzpatrick '05 takes on the game of life much the same way he approaches football: with a quick wit, keen instincts, and a talent for adapting to his surroundings. Beginning with his days as an Arizona All-Star with Highland High School in the Phoenix suburb of Gilbert, to his four seasons of rewriting the Harvard record books, to his most recent coup – garnering the 250th pick in April's NFL Draft – Fitzpatrick has always made the most of second-chance opportunities, dusting his opponents and naysayers along the way.
Growing up in the desert just miles from Arizona State's Sun Devil stadium, the young Fitzpatrick had scarcely heard of Harvard football. One of four sports-crazed brothers, the competitive high school quarterback had his sights set on Stanford, Northwestern, or University of California, Berkeley, Division 1-A schools known for their top-shelf academics and athletics. But when only Harvard and Eastern Washington University came calling late in his high school career, the football star with a reputation for scrambling saw his opening, soon making the move to Cambridge. For Fitzpatrick, being snubbed from some of the country's more prominent programs turned out to be "a blessing in disguise."
Once at Harvard, the freshman wasn't slow in convincing head coach Tim Murphy that his confidence in him was not misplaced. Fitzpatrick, however, wasn't able to demonstrate his command of the field right away. Second on the roster behind Neil Rose '03 for the 2001 season (he split duties with Rose throughout the 2002 and 2003 campaigns), Fitzpatrick didn't take a single snap until halfway through his first season when Rose went down with a shoulder injury in an October battle against Princeton. The following Saturday against Dartmouth – with Rose still out – Fitzpatrick got the starting call, becoming just the second rookie in Harvard history to get the nod. It turned out to be one tough initiation.
"I had no idea it was going to be as competitive as it was," he explained. With his team down 21-0 at the half, Fitzpatrick remembers the game as the first time in his life that he doubted his abilities. But as the second half unfolded, he and the team managed to claw their way back. With his grandparents in the stands, Fitzpatrick went on to orchestrate a 31-21 Crimson win, connecting on 20 of his 31 passes for 262 yards to hand Harvard its biggest come-from-behind victory ever.
"I learned a lot about myself," he said of that afternoon, citing the win as his favorite moment in a Crimson uniform. What's more, the victory allowed Harvard to remain unbeaten and untied – something no Crimson team had accomplished since 1913.
Fast-forward three seasons. Fully in the driver's seat after two more winning seasons as a backup, Fitzpatrick captained this year's team to its second Ivy League championship and undefeated season in four years. Wrapping up the '04 schedule with a 10-0 mark, the playcaller managed to help Harvard secure its best record in 103 years.
Fitzpatrick finished his collegiate career with 6,721 total offensive yards to become Harvard's all-time leader in total offense, while ranking second all-time in career completions (384), completion percentage (almost 60 percent), and touchdown passes (39). Never a timid runner, the 6-foot-3-inch 220-pounder also averaged 44 rushing yards per game to finish second on his team in rushing yards and touchdowns (netting 448 and five, respectively, behind his phenomenal teammate Clifton Dawson '06).
Very much drawing from his childhood days playing backyard ball with his brothers, Fitzpatrick had a lot of leeway from coach Murphy to switch things up at the line, to scramble, changing plays on the fly – a cocktail of moves and strategies that caused serious headaches for opposing teams and coaches. Brown coach Phil Estes, for one, declared the Arizonian a "one-man wrecking crew" upon witnessing Fitzpatrick coordinate a 52-14 blowout of the Bears in the 2003 season.
Not long after dismantling Yale in the season finale this past November (completing a four-year sweep of the Bulldogs for the seniors), the freshly named Ivy League Player of the Year was out showcasing his talents to NFL scouts at various All Star games, combines, and individual workouts.
"My biggest thing going into all that was I wanted as many people as possible to see me play – whether it be in a game, a personal workout. I've got nothing to hide," he explained. "I wanted to leave an impression because there was doubt about me coming from a smaller school," he added.
All the hard work and high visibility paid off, although the process was not without its uncertainties. As the clock ticked away during the two-day NFL draft this past April, some 10 teams put in a call to Fitzpatrick late in the draft, lobbying to sign the senior as a free agent. Yet it was important for Fitzpatrick to actually get drafted, to be wanted, just as Harvard had sought him out. Holding out, Fitzpatrick's impeccable timing and patience soon prevailed.
After watching 18 hours of draft coverage on ESPN with family and friends at his Gilbert home this spring, the Harvard student was finally selected by the St. Louis Rams – one of the premier quarterback-molding machines in all of professional football – in the seventh, and final, round. With the pick, Fitzpatrick became the first Ivy field general in 21 years to get drafted by an NFL club, again escaping the pocket for another big gain.