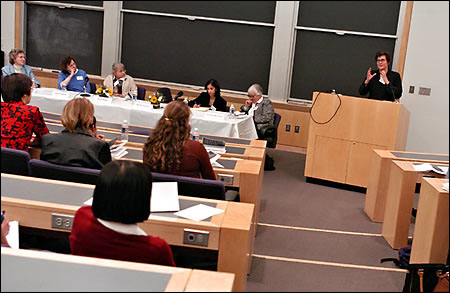 What traits will help the next generation of women scientists succeed? According to top female scientists from the nation's universities, corporations, hospitals, research journals, and museums who spoke at a symposium held last week at Harvard, they include: zealous guarding of personal time, the ability to juggle numerous life tasks, and the willingness to sacrifice perfection.
Oh, and a thick skin and sheer stamina don't hurt.
"How do women scientists get into positions of power?" asked Melissa Franklin, professor of physics. "The answer is stamina."
The National Symposium for the Advancement of Women in Science (NSAWS), held at Harvard April 7-10 and organized by the undergraduate group Women in Science at Harvard-Radcliffe (WISHR), addressed the opportunities available to female scientists, ways to foster scientific talent, and women's evolving role and leadership in science.
Debunking the notion of "work/life balance" for women scientists, Margo Seltzer, Herchel Smith Professor of Computer Science and associate dean for computer science and engineering in the Division of Engineering and Applied Science, said, "It's actually not about balance. It's about juggling … [and] last I knew, the world record for juggling was seven balls."
Seltzer, who has just received a prestigious Harvard College Professorship, suggested that to succeed, women scientists may need to shed some professional and personal interests, ideally limiting themselves to three manageable (and hopefully enjoyable) activities. Once this core has been established, Seltzer said, busy female scientists need to set strict boundaries to prevent encroachment and learn to accept occasionally "dropping the ball" while juggling as just a fact of life.
"We all like to do everything well," Seltzer said of the group of scientists and students in the room. "It's a hard thing to say, 'I'm going to take a B grade in this topic X.'"
Some panelists suggested that simply tuning out the outside world to a degree can be a useful strategy to help the female scientist get ahead.
"I live this deluded view of the world that it'll all be OK," said Alyssa Goodman, professor of astronomy, who said she attained a faculty position at Harvard by "not paying attention" to the resistance faced by women scientists. Goodman said she has heartily resisted attempts to be classified as a "woman scientist," saying that she prefers to be judged as a scientist rather than a female scientist.
"I wish groups like [WISHR] didn't have to exist," she said.
"When I do science I forget I'm a woman completely," Franklin said. "I don't think I could do science if I had a little clock inside me saying every few minutes, 'You're a woman. You're a woman.'"
Franklin likened the societal barriers to women's involvement in science to a wind that exerts pressure on her peers at nearly all times. She said that many of the young women she has seen abandon science for other careers have done so with the belief that science "is too windy … there are lots of places that aren't so windy."
Franklin's wind analogy prompted panelist Cathleen Morawetz, professor emerita at New York University's Courant Institute for Mathematical Studies, to quip, "The wind is a lot less than it used to be."
Morawetz, a mother of four, initiated a discussion of the possibility for women scientists to also be mothers, saying she regrets that many women scientists feel compelled to forego motherhood. She said that sometimes her children have made all the more clear the importance of her pioneering role as a female mathematician: Once, when she was considering resigning a position on a board, her daughters implored her to remain, saying, "You have to keep the seat warm for the next generation of women."
Saying that she doesn't feel having a husband and two children has held her back professionally, Seltzer said that even women scientists without traditional family obligations need to preserve their free time outside of work. "Not everyone wants a family," she said, "but everyone wants a life. Everyone has to feel the right to say 'no' to things that interfere with their core."
Presenting herself as someone who perhaps wished she had said "no" more often, Sharon Smith, executive director of technology at Lockheed Martin, said her 30-year career has bounced her among jobs in half a dozen different states. She urged young women to take control of their career paths, planning out their goals at an early age, looking for career opportunities during times of change, and ensuring that job choices fit into their overall career plan.
Tejal Desai, associate professor of biomedical engineering at Boston University, said she chose an academic career in part because this track allowed her to better control her own destiny. She advised young women to find mentors or role models and not to be dissuaded by life's inevitable setbacks.
However they achieved prominence as women scientists, all who spoke agreed that building the numbers of women in science is imperative. Barbara Grosz, Higgins Professor of Natural Sciences and dean of science at the Radcliffe Institute for Advanced Study, said that the presence of more women in academic science will help students realize the presence of women in such fields is nothing unusual.
In his remarks, University President Lawrence H. Summers seconded Grosz's sentiments.
"Advancing women in science is an issue of great importance to the University and to our country," Summers said, adding that the best possible science requires recruiting from the widest possible pool of talent. "We live in a time where there is more potential for human advancement than at any time in history. The potential contributions of every possible scientist to science have never been more important."
Summers pledged a Harvard commitment to women scientists that is "focused, intense, and above all, sustained."
"What Harvard does and says has an enormous resonance beyond ZIP code 02138," he noted.
Other NSAWS speakers included former National Science Foundation Director Rita Colwell; Carol Etherington, former president of Doctors Without Borders; CBS News Medical Correspondent Emily Senay; National Museum of Natural History and Smithsonian Institution paleobiologist Kay Behrensmeyer; Stacie Weninger, senior editor of the journal Neuron; and Margaret Kemeny, director of the Queens Cancer Center and professor of surgery at Mount Sinai School of Medicine.
This year's third convening of the NSAWS was funded by the Office of the Provost, the Office of the Dean of the Faculty of Arts and Sciences (FAS), all nine science departments in the FAS, Harvard College, the Ann Radcliffe Trust in Harvard College, the Radcliffe Institute for Advanced Study, the Harvard Undergraduate Council, Microsoft, the Harvard Coop, and Staples.