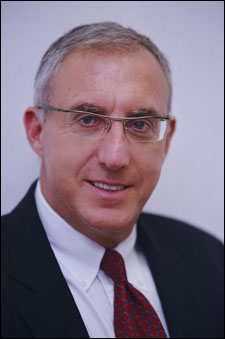 Harvard has named Isaac T. Kohlberg associate provost and chief technology development officer to oversee the development of new technologies based on discoveries made at Harvard.
Kohlberg, whose appointment is effective May 1, 2005, will assume a new post with responsibility for all technology transfer activities across the University. The new position was created in recognition of the changing nature of science from a field with several discrete disciplines to one that is increasingly inter-disciplinary and collaborative, requiring more complex, larger-scale efforts.
Harvard Provost Steven E. Hyman said Kohlberg's appointment signals a renewed effort by the University to make as efficient as possible the transfer of discoveries at Harvard into useful treatments and applications.
"Technology transfer at Harvard should maximize opportunities to advance basic science, to positively affect the work of scientists elsewhere, and to advance our ultimate mission of reducing human suffering," Hyman said.
Academic technology transfer seeks to translate new knowledge into practical solutions, useful products, and better ways to heal and treat disease.
Kohlberg, who is currently chief executive officer (CEO) of the Tel Aviv University Economic Corporation and CEO of its technology transfer organization, received his LL.B. from Tel Aviv University and his M.B.A. from INSEAD, Fontainebleau, France. Previously, Kohlberg served as vice provost of New York University and vice dean for industrial liaison and research administration at the New York University School of Medicine. Kohlberg was associate dean, science and technology administration (1994-98), and, before that, vice president for industrial liaison at NYU Medical Center. From 1982 to 1989 he was CEO of the YEDA Research and Development Company, the technology transfer company of the Weizman Institute of Science.
Kohlberg said he is happy to be coming to Harvard and said he looks forward to the challenges the new post will bring.
"Technology transfer is an excellent and time-tested means of fostering and advancing basic science research programs, thereby enabling them to reach fruition. The 21st century will bring many new opportunities and challenges for the University community in technology transfer and collaborations with industry. The changes under way at Harvard shows its commitment to the future, and to leadership in technology development and transfer, as well as to economic development in the Commonwealth," Kohlberg said.
The previous director of Harvard's Office of Technology and Trademark Licensing, Joyce Brinton, announced her plans last winter to retire at the end of the academic year. A University-wide strategic review of Harvard's approach to patents and licensing was undertaken, led by Hyman and a faculty advisory committee. The faculty committee also assisted in the search that led to Kohlberg's hiring.
The review considered both internal and external perceptions of the process through which Harvard discoveries and technologies are transferred to the marketplace. It also sought to define University goals and examined current administrative
structures in this area.
One outcome of the discussions was the decision to bring the technology licensing activities throughout the University under the direction of a single senior administrative officer, the newly established associate provost and chief technology development officer, who will report directly to the provost. That change was made in response to the need to accommodate significant changes in the growth of science and multiple new, interdisciplinary multi-school scientific initiatives at the University over the next 20 years.