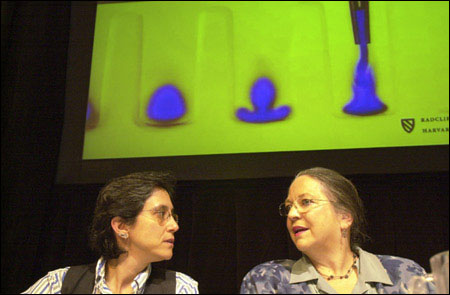 A Radcliffe Institute for Advanced Study conference on women's reproductive health aimed to pierce a global sense of complacency that contributes to hundreds of thousands of women in poor countries dying in childbirth each year.
"In the minutes spent introducing this program, 10 women in the world giving birth died," said Harvey Fineberg, president of the Institute of Medicine of the National Academies of Science Emeritus professor at the Harvard School of Public Health, and former Harvard provost. "Each year hundreds of thousands die. These deaths are avoidable."
Fineberg was the opening speaker for "Reproductive Health in the Twenty-First Century," which took place Thursday (Oct. 14) and Friday (Oct. 15) in Radcliffe's Agassiz Theatre.
The event featured discussions of a wide variety of reproductive health issues, including the history of reproductive health, new technology, culture, and the relationship between health and reproduction.
Radcliffe Institute Dean Drew Gilpin Faust said that a re-examination of the issues surrounding reproductive health is important, particularly since the groundbreaking United Nations International Conference on Population and Development, known as the Cairo Conference, was held 10 years ago.
Both Faust and Barbara Grosz, the Radcliffe Institute's dean of science, said that the many issues surrounding reproductive health – science, ethics, religion, and culture – make it an appropriate issue for Radcliffe to study.
"The interdisciplinary reach of this conference … make[s] it especially appropriate for the Radcliffe Institute [to examine]," Faust said.
Grosz said organizers hoped that one result of the gathering would be a forging of relationships among participants, so work could continue after the final session.
"We hope the speakers and all of you will leave with new ideas and new colleagues to go out and deal [with these problems]," Grosz said.
Fineberg made opening remarks on Thursday, drawing a stark picture of the health care disparities between developing and developed nations that make an important but fairly routine event like childbirth in industrialized nations into a potentially life-threatening physical ordeal in poorer countries.
One stark statistic is that one in 14 women dies in childbirth in Africa, compared with just one in 4,000 in the United States.
Fineberg said that a key question will be whether to direct energies toward new applications of existing knowledge to solve problems, or whether to invest in new science in an effort to come up with novel solutions to current challenges.
"We can apply what we know, what we have today, or find new ways to answer the problems of tomorrow," Fineberg said.
One of the biggest challenges is to overcome complacency in policy-making circles on reproductive health issues. An example of that complacency, Fineberg said, is the lack of aid directed toward reproductive health in international aid efforts.
One of the two-day conference's panels discussed new technology in reproductive health, first examining a diverse global contraceptive landscape with many different regional preferences. That landscape, however, still sees many unplanned and unwanted pregnancies and many unsafe abortions.
Entering the picture are several new contraceptive technologies in various stages of development. A one-year female contraceptive ring would help women gain greater control over reproduction, by preventing lapses possible with daily pills or due to the inconvenience of barrier methods. Other new contraceptives include a variety of patches, gels, and sprays that aim to add convenience and, consequently, effectiveness.
An experimental gel under development includes a microbicide, making it effective not just as a contraceptive, but also as a protection against sexually transmitted diseases, including AIDS.
New male contraceptives are also on the way, including an oral hormonal contraceptive, though questions remain about the willingness of men around the world to use it.
Carolyn Westhoff, of Columbia University's Department of Obstetrics and Gynecology, spoke of a new hormonal contraceptive for women, similar to the birth control pill, that would reduce the number of menstrual periods to four per year, rather than the 13 on the traditional pill. That change reflects recent scientific thinking that has linked the lower reproductive rates of modern women to a rise in breast cancer rates.
Westhoff said women in industrialized nations today typically go through 450 menstrual cycles during their lives, compared with an estimated 160 cycles in a hunter-gatherer lifestyle. With better nutrition, women today typically enter puberty sooner. They also have fewer pregnancies and spend less time lactating, all of which have an effect on their bodies, Westhoff said.
"When asked whether women are interested in reducing their periods to four per year, the majority of women said, 'That's a cool idea, I would go for that,' " Westhoff said.
The panel also dealt with the struggle of couples to have babies, with one speaker describing the reception of in vitro fertility (IVF) clinics in the Islamic world.
More than two decades after the first test-tube baby was born in 1978, IVF clinics are found all over the world, according to Marcia Inhorn of the University of Michigan. Practices in Islamic countries reflect each nation's predominant branch of Islam, she said. There are more restrictions on donor cells and surrogate parenthood in countries dominated by Sunni Islamic majorities than in nations that have Shiite majorities.