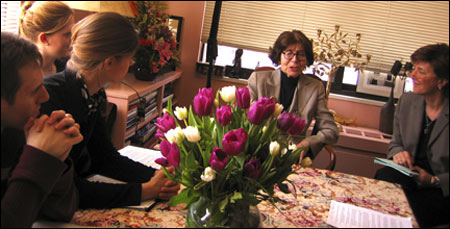 "The light sustains me. The light and the view," smiles Betty Comden as she looks from her 26th-floor apartment across the rooftops of Lincoln Center toward the Hudson River. Up here in the pink apartment, traffic noise and the jumble of buildings that are the Upper West Side are muted. Comden – Tony- and Grammy Award-winning Broadway lyricist – is hosting Carol Oja's undergraduate seminar in musical theater for lunch. The students have come prepared with questions.
"These students," says Oja by way of introduction, "are passionate about musical theater."
"Oh?" quips Comden wryly. "Well then let's get a barn and put on a show!"
Along with Adolph Green, Betty Comden wrote lyrics for "Wonderful Town" (1953), now playing in a revival a few blocks down the street at the Hirschfeld Theater. She was a member of the Revuers, a nightclub act that also included Judy Holliday, and she collaborated with Green on the screenplay for "Singin' in the Rain" (1952), the lyrics for "Peter Pan" (1954), and the book and lyrics for "On The Town" (1944). She's also acted onstage and on the big and little screens.
Comden is 85 now and happy the class has come to her home, rather than asking her to travel to Harvard, which had been the original plan. She's comfortable here, surrounded by her things. They're amazing things … signed photographs from Groucho Marx and Fred Astaire. Tony awards, a Grammy. A signed Picasso, a Matisse. Her piano.
The students pack around Comden's dining room table, asking her about training, creative process, collaboration, especially with her longtime partner, Adolph Green, who died two years ago.
"Adolph and I worked every day for 60 years. He came at 1 and we worked from 1 to 5. We worked every minute when we were in the middle of a project. The piano was in my home, so we worked there."
Comden talks about how important it is that songs come at the right time in a show: "Song has to come naturally out of what characters want to say to each other and has to further the story. We'd find a situation that needed music, decide what form – get together with Lenny, and think about music and lyrics at the same time."
Lenny is Leonard Bernstein.
Comden's interests, like Bernstein's, were originally classical. She spent many weekends as a girl attending productions staged by the Metropolitan Opera at the Academy of Music in Brooklyn in the late 1920s and 1930s: "I loved 'La Bohème.' I don't care what anyone says."
The questions come faster and faster:
What does she think of musical theater now?
"If Steve [Sondheim] is writing, it's a wonderful place."
How is it different now?
"It doesn't start off any differently. Someone thinks it up and then everyone contributes. You hope everybody gets along and has the same idea of how it's going."
What was it like to write roles for herself?
"It's not easy."
For people she knew?
"It's good to know strengths or weaknesses of a performer; you can write to those limitations."
What was her worst experience?.
"One New Year's Eve – we were fired in the middle of the night after one show. (I'm just trying to discourage you," she winks.)
Her happiest moment?
"Hearing Judy [Holliday] sing 'The Party's Over.' Judy didn't have a style – she did what she did so artfully you didn't think of it as a performance."
The visit ended with students Pedro Kaawaloa '06, Susan Merenda '07 (accompanied by Ben Green '06), and Michael Mitnick '06 singing a combination of their own tunes, a song with lyrics by Comden and Adolph Green, and another by Fats Waller.
"I can't believe I'm playing on Betty Comden's piano," said Mitnick. "I wonder if she'll autograph one of the books we read for the class!"
Of course she would, along with signing CDs, notebooks, anything the students could find. And in turn, Oja gave Comden a Harvard sweatshirt on behalf of the class.
One senses it's not just the light through her windows and the view that keeps her going. It's the theater, the music, the city, her art, friends, photos, memories, and a chance to connect with young people.
The field trip was made possible by the Office for the Arts in collaboration with the Department of Music's Blodgett Distinguished Artist program at Harvard.