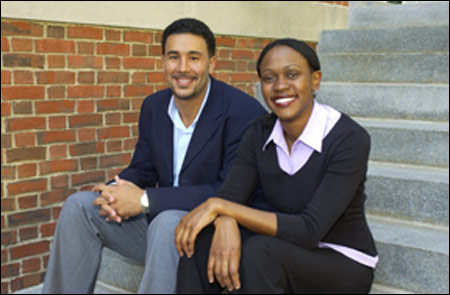 Mariame Patricia McIntosh and Daniel Walton Reed, members of the M.B.A. Class of 2004 at Harvard Business School (HBS), have been named Dean's Award recipients for their accomplishments over the past two years in community building – or, more precisely, "nation building" – among students at the Business School, Harvard University, and the Massachusetts Institute of Technology.
McIntosh, an M.I.T. graduate and a Rhodes Scholar at Oxford who hails from Jamaica, and Reed, who earned his bachelor's degree at Northwestern and is a Michigan native, are the founders of "Nation Building," an organization that brings African-American graduate students together from across Harvard and M.I.T. But the duo also has received accolades for their roles as student affairs co-directors for the HBS African-American Student Union (AASU), and for other efforts that range from co-founding the Caribbean Business Club (McIntosh) to serving as Educational Representative for Section C (Reed).
"Dan Reed and Mariame McIntosh are two of the most dedicated individuals to the cause of community building that I have ever met," noted a student who nominated them for the Dean's Award. "They have had a massive impact on the HBS and greater Harvard communities and, moreover, have created institutions that multiply their impact."
Nation Building grew out of McIntosh's and Reed's work on behalf of AASU, said Torarie Durden, co-president of the student club. "To be honest, we were a bit skeptical at first when Dan and Mariame proposed the idea for Nation Building," said Durden. "It was so ambitious, beyond the scope of anything we had done before." But McIntosh and Reed were convinced that the community-building techniques that work so well at HBS could be replicated to help African-American graduate students in Cambridge and Boston come together for a common purpose.
Just as students at HBS belong to sections during the first year of the M.B.A. Program that are microcosms of the School and that build lifelong relationships between students through shared experiences, McIntosh and Reed formed an organization of "nations" for local African-American graduate students. Each nation – there currently are 10 – is a small, interdisciplinary group that meets monthly so students can get to know each other, exchange ideas and interests, and build new initiatives. Every other month, all the groups come together for a "United Nations" gathering.
In the words of McIntosh and Reed, "Nation Building's design allows succeeding classes of graduate students to 'link' with other 'generations' of their respective nation. Nation members graduate from 'New' in their first year to 'Old' in their second year, to 'Elder' and eventually to 'Alumni' – with all 'generations' of the same Nation interacting with one another. This ensures that networks are built not only across disciplines, but across graduating classes and well into the alumni professional community."
More than 350 students joined Nation Building in its charter year, a figure that represents 75 percent of AASU members at Harvard Business School and 85 percent of all African-American graduate students at Harvard and M.I.T. But Nation Building's goals are focused on the communities beyond its campuses and include working with the Boston Foundation, the Boston Group, and other organizations that assist young, underprivileged African Americans.
This spring Nation Building was a semifinalist in the social enterprise track of the HBS Business Plan Contest, which enables students to develop entrepreneurial ideas into an actual business or nonprofit and find ways to market it. McIntosh and Reed plan to grow Nation Building into a national organization. As HBS professor David Thomas noted, "Dan and Mariame have built an entity that benefits the African-American community as a whole. They have made an enormous difference during their two years at HBS."