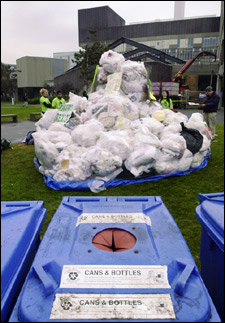 Drink up, Harvard.
Unfinished beverages are emerging as a problem after the annual waste audit Tuesday (Nov. 11), according to supervisor of recycling and waste management for Facilities Maintenance Operations (FMO) Rob Gogan.
The audit's smelly exercise in public education showed that the University's garbage still has a lot of recyclable items – 43 percent according to yesterday's audit. It also showed that nearly a third of the recyclables tossed into the trash were beverage containers, most of which still had unconsumed soda, spring water, fruit juice, or other liquid inside.
Tuesday's waste audit was the first part of a two-day effort to raise awareness on campus about recycling and the University's trash generation. Sponsored by University Operations Services, the Faculty of Arts and Sciences' Inter-House Resource Efficiency Proram, and the Environmental Action Committee, participants on Wednesday followed up on Tuesday's audit by building a 10-foot-high Mount Trashmore out of one day's garbage from Harvard Yard.
Next to Mount Trashmore was Mount Recyclemore, a collection of recycling containers holding recyclables. The effort, on the lawn in front of the Science Center, was a visible reminder to those passing by that the University can do more to recycle.
"We could cut that [waste generated] way down. We still have a long way to go," Gogan said.
The audit showed that recyclables of all kinds, including paper, cardboard, bottles, and cans, are being thrown away by members of the Harvard community. Annually, the University discards 9,500 tons of trash and recycles another 5,272 tons. Gogan said he believes another 2,500 tons annually could be recycled relatively easily. That would give Harvard a 50 percent recycling rate, he said, similar to that of several other institutions, such as Stanford University and the University of Massachusetts, Amherst.
With the results of the audit in hand, Gogan said he'll make recycling bottles and cans a priority in the coming year. Of 232 pounds of recyclables recovered from the 60 bags of trash, 77 pounds were from beverage containers. Gogan estimated that 80 percent to 90 percent of the beverage containers' weight was made up of the liquids they contained.
Since Harvard pays to dispose of its trash by weight, that could mean big bucks. If the audit numbers are representative across the University, they indicate that Harvard will pay $71,000 this year just to dispose of unconsumed beverages. That's an increase of roughly $19,000 from the same figure last year, Gogan said.
"We're paying, we're paying big time," Gogan said.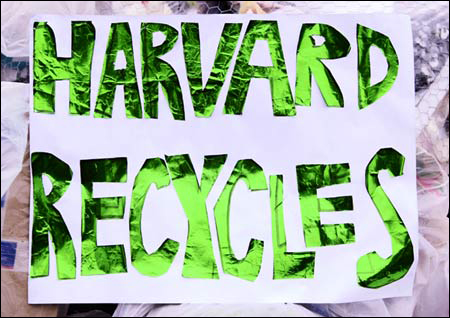 Another focus will be to increase the recycling of paper, Gogan said.
During Tuesday's audit, 20 students working in two shifts voluntarily sifted through 60 bags of randomly selected garbage from dormitories, academic buildings, and administrative buildings.
The 43 percent recyclables in the trash is about the same as last year's audit, Gogan said, and comes despite annual improvements in the University's overall recycling efforts that pushed its recycling rate to a record 36 percent last year.
"We recycle a lot, so that's good, but there's lots of trash that could be recycled," Gogan said.
On Wednesday morning, four or five students helped Gogan and Facilities Maintenance Operations staff unload bags of garbage from a white FMO panel truck and stack it on Mount Trashmore or pile it into recycle bins for Mount Recyclemore.
"I think people don't realize it adds up very quickly," said Allison Rogers, a senior in Mather House and co-captain of the Resource Efficiency Program (REP). "Almost half the trash that goes out could have been recycled."
The students, who work as dormitory reps for the Resource Efficiency Program, said the audit also shows how valuable their efforts can be.
"Our jobs as REPs is to increase the efficiency of Harvard," said Brian Matthay, a senior and Resource Efficiency Program representative in Quincy House. "For us it's also a shock to see how much people waste and [it shows] the potential of our work to change behavior."