Story by Alvin Powell, Beth Potier, and Ken Gewertz
Feast for the eyes, gluttony for the ear
Much is made of the visual richness of Harvard's Commencement ceremonies: the banners that flutter beneath the leaves of Tercentenary Theatre, the odd and colorful regalia invoking an ancient code of academic hierarchy, the tens of thousands of faces that stream through Harvard Yard.
Yet Commencement morning is an aural feast, as well, one that, this year, occasionally teetered toward gluttony. Standing beside Widener Library at about 8 a.m., a bystander could be caught in the sonic crossfire as two sets of bagpipers, the Harvard Band, and the Memorial Church bells clashed in cacophonous convergence.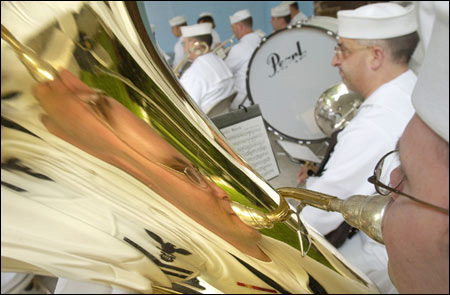 'The multitude of the wise[guys]'
The Rev. Professor Peter J. Gomes, the Plummer Professor of Christian Morals and Pusey Minister in the Memorial Church, seemed pleased – if spiritually concerned – at the standing-room-only crowd of graduating seniors that packed the Memorial Church Thursday morning for the Senior Class Chapel Service.
"There are more of you here than there were at Baccalaureate," he observed, "which means that you are truly desperate."
For his parting words to the graduates, Gomes drew from the "The Wisdom of Solomon," musing on the passage "The multitude of the wise is the welfare of the world." He cautioned the seniors to moderate their wisdom with modesty, lest they become morally arrogant.
"Smart people like ourselves often cause more harm than good because we think we know it all," he said.
Gomes kept his brief remarks light and tart, mixing admiration for the seniors with good-natured teasing. Not all of those who receive honorary degrees, he ventured, would be standing on the platform.
"Some of you are living proof that it is still possible to fool a lot of the people a lot of the time," he said.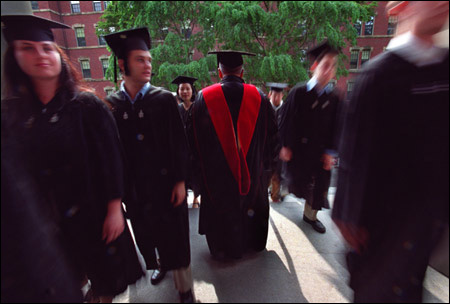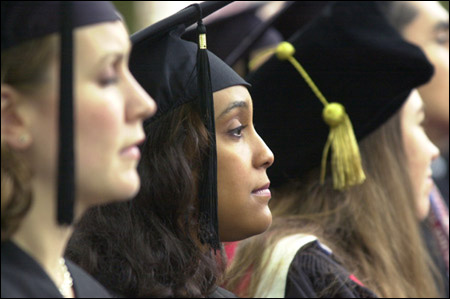 'Not goodbye . . .'
At the end of a long line of undergraduates, which itself was at the end of a long line of dignitaries, honorands, and faculty during Thursday's procession into the Morning Exercises, stood Harvard's seniors from Mather House. And at the end of that line stood Kelly Ramundo, Rachel Hermes, and several friends.
"Since our house was last, we thought we'd be the last of the last," they jointly explained.
They compared their feelings on their impending Commencement and the prospect of their leaving Harvard behind to the story of "The Three Bears":
"Goldilocks found the right word," Hermes said, "it's just right."
They were more concerned with leaving each other behind. Hermes, who was awaiting word of her posting in the U.S. Peace Corps, said the friends all planned to keep in touch.
"We're not saying goodbye, it's just ta-ta for now," Hermes said.