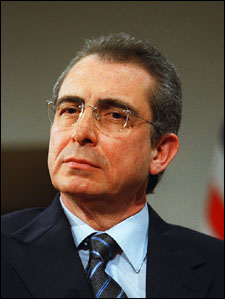 Former Mexican President Ernesto Zedillo, who after six years in office oversaw the transfer of power after 71 years of single-party rule, will be Harvard's 2003 Commencement speaker at the Afternoon Exercises.
"Ernesto Zedillo is a person of extraordinary leadership and intellect, both a statesman and a scholar," said Harvard President Lawrence H. Summers. "His embrace of democratic values and economic reforms had a profound effect on Mexico, and his thoughtful observations on globalization are timely and important. We very much look forward to welcoming him to Harvard on Commencement Day."
Zedillo, currently a professor in the field of international economics and politics at Yale University and director of the Yale Center for the Study of Globalization, led Mexico through major economic and financial challenges. He instituted many economic, political, and judicial reforms, and has been credited with moving Mexico toward democratization.
"He will always be identified with Mexico's definitive transition to democracy," said Monroe Gutman Professor of Latin American Affairs John Coatsworth, director of Harvard's David Rockefeller Center for Latin American Studies.
Coatsworth said Zedillo's popularity increased during his years in office, as Mexico transitioned from an economy in crisis to years of stable growth.
In recent years, Coatsworth said, Zedillo has dedicated himself to convincing developing nations to pursue free trade agreements and has emphasized his view that the developed world has an obligation to consider the welfare of other nations when formulating policies.
"He has a message that developed countries like the U.S. have a responsibility to consider the impact of their policies on the vast majority of mankind that lives in poverty," Coatsworth said.
Harvard Alumni Association President Charles Brock said Zedillo is an excellent choice as Commencement speaker.
"Zedillo is unusual – an eminent scholar, a dedicated public servant, and an educational reformer," Brock said. "He's a true believer in democracy and therefore a great choice in these troubled times."
Zedillo was born in Mexico City in 1951 and attended Mexican public schools. He graduated from the School of Economics at the National Polytechnic Institute and then earned a doctorate in economics at Yale in 1981.
After leaving Yale, Zedillo began a career as economist, deputy manager of economic research, and deputy director of Mexico's Central Bank. In 1987, he was appointed undersecretary of the budget for the Mexican Federal Government, where he helped to design economic reforms. A year later, he was appointed secretary of economic programming and the budget, a post he held until 1992.
Zedillo was appointed secretary of education in early 1992 and in nine months launched a reform of Mexico's basic education system. The reforms updated the national curriculum, established special programs for poor students, and decentralized the system, giving power to the Mexican states.
In 1993, Zedillo left the government to head Institutional Revolutionary Party (PRI) presidential candidate Louis Donaldo Colosio's campaign. He became the PRI presidential candidate himself after Colosio was assassinated in March 1994. Zedillo was elected in August 1994 and inaugurated the following December.
After taking office, Zedillo was faced with a major financial and economic crisis, which he met with an austerity plan that, along with pledges of aid from the United States, staved off collapse of the Mexican currency. He bequeathed to successor Vicente Fox a stable democracy that had seen from 1996 to 2000 its highest five-year gross domestic product growth in a quarter of a century.
After leaving office, Zedillo chaired the United Nations High Level Panel on Financing for Development. He was awarded the Wilbur Cross Medal and an honorary doctor of laws degree from Yale in 2001. He became director of the Yale Center for the Study of Globalization in September 2002.
Like other Harvard Commencement speakers, Zedillo will speak during the Afternoon Exercises' annual meeting of the Harvard Alumni Association.
Previous Commencement speakers include former U.S. Sen. Daniel Patrick Moynihan; former U.S. Treasury Secretary Robert Rubin; Alan Greenspan, chairman of the Board of Governors of the Federal Reserve System; and Mary Robinson, the United Nations high commissioner for human rights and former president of the Republic of Ireland.