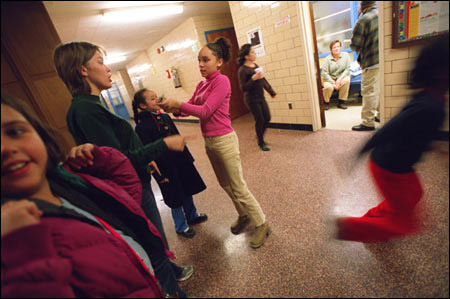 Lindsay Hyde '04 knows firsthand the impact of a strong female role model. She credits her impressive resume – which includes launching and developing curricula for not one but two public service organizations before she graduated from high school – to her mother.
"My mom is amazing," says Hyde. "I've always had women around me telling me 'You can do it.'"
Rallying her classmates from Southwest Miami High School to volunteer for her first service project, which sought to help teenagers understand the importance of organ donation, Hyde realized many of the female students lacked the confidence her mother had instilled in her. She did some research and learned that elementary-school-aged girls had self-confidence in spades, but by high school, it generally eroded.
While still in high school herself, Hyde started the mentoring program Strong Women, Strong Girls (SWSG) to close that self-esteem gap by giving girls the strong female role models she had. She secured a grant and wrote a curriculum that paired learning about prominent women with activities to promote healthy self-esteem.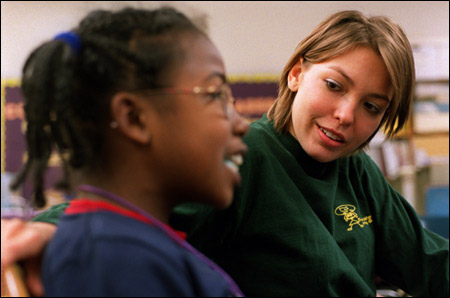 "If you can build that self-esteem while they're in elementary school, they'll have a good foundation by the time they get to high school," she says.
When Hyde came to Harvard from Miami, she brought SWSG with her.
"I literally bounced into Phillips Brooks House Association," she says, and by the spring of her freshman year she had established SWSG through that organization. SWSG has flourished: This year, 30 Harvard women mentor 200 at-risk girls in seven Boston after-school programs.
Skills for success
At the Hurley School in Boston's South End, Hyde and mentor Elizabeth Whitman '05 are fighting with each other. Whitman, noisily eating some potato chips, refuses Hyde's request to crunch more discreetly, so Hyde grabs Whitman's bag of chips and tosses it in the trash.
"That would be really mean," says fourth-grader Kassandra Ledesma of the fight – a fake one – between the mentors. Ledesma and the three other fourth-grade girls in the SWSG group suggest how their mentors might have mediated their differences. Hyde could have asked again, very nicely, says Saleemah Glover. Whitman might have toned down the crunching, suggests Christina Benjamin.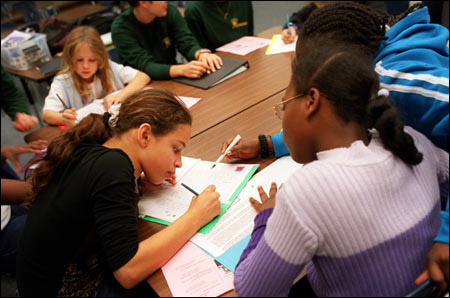 Whitman and Hyde then turn the role-playing to the girls, coaching them through conflict resolution and respect for each other. As the girls giggle and joke, blurring their own interpersonal tiffs with the staged fights, they're likely unaware that the exercise addresses one of the 10 "Countdown to Success" objectives on which SWSG's curriculum is based.
Goal-setting, developing cultural sensitivity, communicating ideas, and recognizing unique talents and abilities are among the tools SWSG aims to give girls; each "Countdown to Success" activity is linked to a notable woman the girls read about each week. Gov. Jane Swift, whose story of giving birth to twins soon after she took office gave rise to a discussion of stress, helped the girls think about handling stress and conflict in their own lives. Journal writing and some unstructured hang time with the college-age mentors and each other rounds out the SWSG experience.
"It's a simple model, but it's a good model," says Sister Helen Sullivan, education coordinator for the after-school program at Allston's Jackson-Mann Community Center, one of the SWSG sites. "I think the girls feel special when they get to be involved with Strong Women, Strong Girls."
"To see the girls really connecting with the program and really taking these messages to heart has been an incredible experience," says Hyde, who adds that flexing her own leadership skills and nurturing the mentors' growth have been equally rewarding.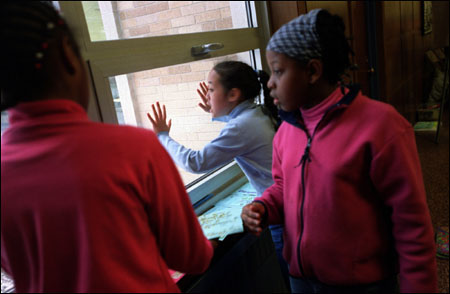 Beyond Harvard
Not surprisingly, Hyde's vision for SWSG reaches beyond her Harvard career.
"What I would love to do is to take the program and develop it into an independent not-for-profit, so I can serve a lot more girls in Boston," she says.
Until then, Hyde will continue to juggle mentoring and leadership with her course work, studying sociology and women's studies while learning the logistics of glitter glue and the careful politics of stickers. She also spreads the gospel of public service by speaking around the country on the importance of service learning curriculum for high schools.
Hyde's mother, who returned to school for a master's degree in educational technology when Hyde headed off to Harvard, will join her daughter on the podium at an upcoming conference, discussing electronic portfolio documentation as a component of service learning. The younger Hyde rejects the notion that the mentor and mentee have swapped places.
"I feel like I'm going to be upstaged. I think she'll be phenomenal," she says of her mother's newfound speaking career. For Hyde, the power of her first mentoring relationship endures. "My mom is the person I aspire to be."