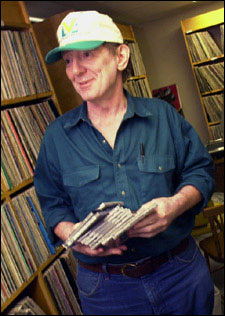 Brian Sinclair '62, a Harvard employee for three decades and co-host of the popular "Hillbilly at Harvard" radio program on WHRB since 1966, died Dec. 28 after battling leukemia. He was 62.
Sinclair was most recently senior data consultant in Harvard's Office of Human Resources. He was the assistant director for finance and administration at the Harvard University Police Department for seven years.
Beyond Harvard, Sinclair was "Ol' Sinc" to country music fans who tuned in to WHRB (95.3 FM) each Saturday morning for one of the region's longest-running and most respected country music radio shows. Sinclair's extensive knowledge of the genre, his witty banter with co-host Lynn "Cousin Lynn" Joiner '61, and his deep love of traditional country music made the show appointment listening for fans throughout the Boston area and, more recently, for Internet listeners around the nation.
"Working with Sinc on-air was always a joy and a challenge," says Joiner. "He had the quickest wit, the largest vocabulary, and the best timing of anyone I ever heard on radio – not to mention a great radio voice."
A host of "Hillbilly at Harvard" since 1966, Sinclair's initial involvement came several years earlier, when his roommate hosted the program using Sinclair's large record collection. Joiner, who had been involved with the program as an undergraduate, joined Sinclair in 1976 and the two had been an on-air team since then.
Sinclair brought his characteristic humility and self-deprecating humor to a 2001 interview about the program. "We're basically too lazy to do any work," he told the Gazette, adding "it must be fun" when asked about his longevity with the show.
"He was an incredibly unpretentious guy, so country music was a great fit for him," says local musician John Lincoln Wright, a stalwart of the Boston-area country music scene and a regular guest on "Hillbilly" since 1973.
Sinclair's passion for and thorough knowledge of country music shone through his sarcastic wit and casual demeanor, particularly in the insightful, respectful interviews he conducted with the many local and national country and bluegrass musicians who visited WHRB's studios.
"He was the most intelligent guy I ever knew," Wright says, adding that Sinclair could pull almost any song's writer, producer, label, or release date from his photographic memory.
Sinclair was born in Sabattus, Maine, on Nov. 4, 1940, to Roy and Thoris Sinclair. The family moved to Quincy where he attended North Quincy High School.
Sinclair studied French at Harvard and pursued graduate studies in linguistics at the University of North Carolina, where Joiner was studying anthropology. The duo made music their unofficial major, taking in fiddlers' conventions and playing music – "badly," says Joiner – in an apartment they shared.
Returning to Harvard, Sinclair never completed his doctoral thesis, instead finding employment in the University's administration, first as a research assistant then in Harvard's personnel and general counsel's offices. In the Office of Human Resources, he collected, managed, and manipulated data on the University's personnel.
"His ability to figure out what we needed was brilliant," says Lydia Cummings, associate director for labor and employee relations and a friend and colleague of Sinclair's for many years. "It was just so nice working with him. I don't think I've ever seen anyone so loved," she adds.
Ed Powers, a former Harvard employee who hired Sinclair for his first position and worked with him for several decades, recalls some particularly impressive research Sinclair produced regarding the University's pension investments.
"Derek Bok wrote Brian a note that said in effect: 'There is much significant research going on at Harvard, but the research you have done stands out,'" says Powers. "Brian was very proud of that note."
Joiner notes that while his radio persona was his most public face, Sinclair's interests were diverse, from a passion for horseracing to a genuine love for his job. "When he got sick, what he seemed to regret most was not being able to go to work," says Joiner.
Joiner, who had been breezily announcing to the "Hillbilly" audience that "Ol' Sinc is under the weather but we expect him back soon" for the past few months, will continue to host "Hillbilly at Harvard."
"It won't be the same because it won't have Sinc," he says. "He was really the heart and soul of the show."
A memorial service is scheduled for Friday (Jan. 24) at 3 p.m. in the Memorial Church. Donations can be made to the Community College of Southern Nevada Foundation, 6375 West Charleston W3D, Las Vegas, NV 89146 (make check out to "CCSN Foundation" and note "Sinclair Scholarship Fund" in the memo line). 'Hillbilly at Harvard' airs Saturdays from 9 a.m. to 1 p.m. on WHRB, 95.3 FM. To read a Harvard University Gazette article about the program, go to http://www.news.harvard.edu/gazette/2002/01.10/14-hillbilly.html. Visit the program's Web site at http://www.whrb.org/hah/.